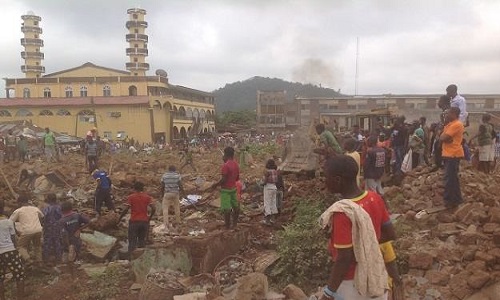 Ekiti State Governor, Mr. Ayodele Fayose on Saturday morning kept to his words as bulldozers moved in on the popular Erekesan market (Oja Oba) in Ado-Ekiti, the state capital.
The bulldozers, which pulled down structures at the market, arrived the area around 5am and began work immediately.
Owners of shops had earlier been paid compensation by the government along with provision of alternative markets at Agric Olope and Awedele areas of Ado Ekiti.
Some shop owners confirmed that they had received compensation before the demolition and applauded the governor for having the political will to do it.
They, however, appealed to Gov. Fayose not to forget his promise to return them to the market when completed.
The Commissioner for Works, Mr Kayode Osho, who was on site when the demolition started, reiterated the resolve of the state government to give preference to former shop owners when the new market is built.
"The project is already accepted by the people and would continue to benefit the people: the Oba and the Ewi in council supports as well as well-meaning and prominent Ekiti indigenes have all accepted it:
"Compensation was done in collaboration with market owners and in line with standards in the industry, about N120 million was expended on compensation for affected traders. The project of market will be gulp about N2billion. It is going to be an elaborate shopping mall with many other facilities such as filling station, police station, motor parks, and banks among other social infrastructure", he said.
Mr. Osho also assured that over 1000 shop owners who have lost their shops to the reconstruction would have their shops back after its completion.
"We already have the list of those who have lost shops and they would be taken care of, and there would also be many other shops as we are going to have over 700 shops to be constructed in the mall", he said.
The demolition and excavation of the old market will take two weeks after which construction works will begin on an ultra-modern market to be ready in the next 24 months.