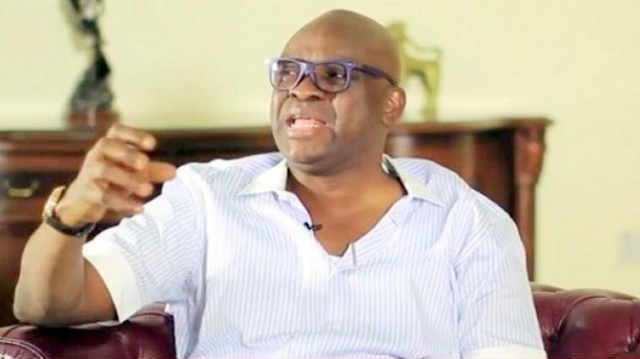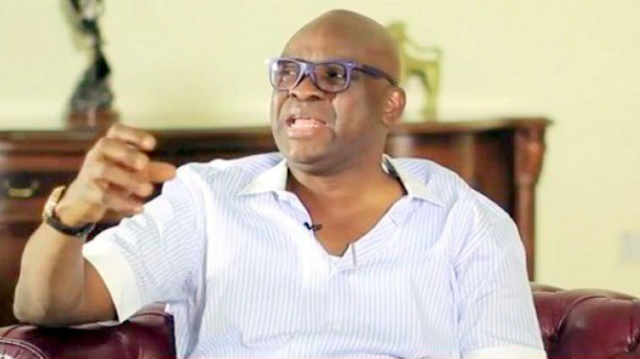 Chief Ayodele Fayose, yesterday told the All Progressives Congress (APC) in the state that it should be ready to wait for more years in the trenches as Ekiti people would not vote for it in the July 14, 2018 governorship election.
The governor asked," How can the APC win? How can it convince Ekiti people that it will do better if it gets back to power ? What meaningful project does the Fayemi administration has to its credit for the APC candidate to campaign with? May be the huge debt it plunged the state into. Certainly, no teachers will like a return of the APC government in Ekiti."
The governor was reacting to comments credited to the State Deputy Chairman of the APC, Mrs Kemi Olaleye, urging the Peoples Democratic Party (PDP) to prepare for defeat as it was not willing to remain in the trenches for another four years. Her statement, "We are determined to win the coming election. We will use every legal and constitutional means, adopt the right strategy to win the July 14 governorship election, we will send the PDP back to the trenches."
"For APC to be saying that it would deploy every power within its means and other strategies to win the coming July 14, 2018 election is a careless display of desperation that is unbecoming of an opposition party that has since lost relevance both at the centre and in the state. For the avoidance of doubt, let me assure them that they will remain in the trenches as opposition figures in the state for many years.
" Ekiti people are now wiser and won't waste their votes on selfish characters whose stock in trade is to continually waste funds meant to develop human and material resources of the state on white elephant projects that only exist on papers and the imagination of their members. "In 2010, the party had, through the back door and what is known as 'Salami-gate', come into power and foisted itself on the people. That was a lifetime opportunity they would have used to their advantage and win the hearts of the people by providing impactful leadership, but they blew the golden chance and in spite of being blessed with fat allocations from Abuja.
"The administration devoted its time to unneccesary victimisation of poor teachers in the name of politically motivated test. The teachers who they claimed were not competent to work under their administration are the same that have coached the students from the state to come first in NECO exams in 2016 and 2017.
" Let me assure them expressly that Ekiti people will not tolerate rigging with federal might in the state, neither are they gullible puppets that can be bought over by tokens. They will vote PDP and Professor Kolapo Olusola and defend their votes. That is an assurance I give to the APC come 2018," he said.
Support InfoStride News' Credible Journalism: Only credible journalism can guarantee a fair, accountable and transparent society, including democracy and government. It involves a lot of efforts and money. We need your support. Click here to Donate