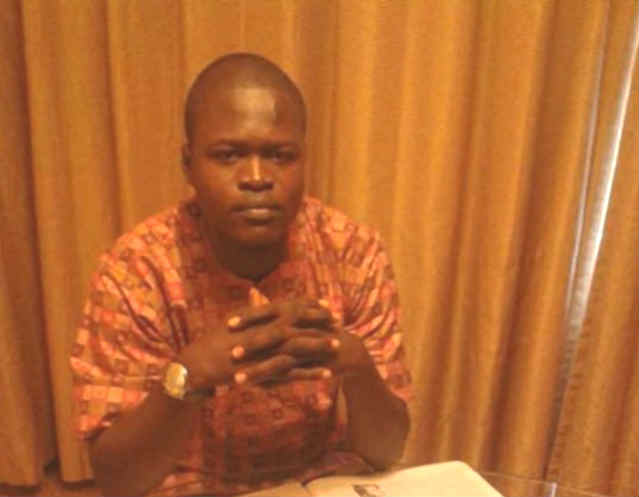 The Cross River State most popular Public Affairs Analyst-cum-Social Commentator, Prince Thomas Abi Jr (PTAJ) was interviewed by Efio-Ita Nyok, the Editor of Negroid Haven(NH), on a number of trending topical considerations bordering on the political clime in the state especially as they transpire in the Governor Ben Ayade first term thus far.
Prince Thomas Abi Jr bears his mind on Ayade's Budget of Deep Vision, the much talked about Signature Projects, Garment Factory(GF), Green Police(GP), the much anticipated 4G lite Internet facility, Party leadership, Employment,  Defections and Environment, etc.
What follows is PTAJ's seminal articulations in an over half an-hour interview.
NH: Please, may I meet you Sir?
PTAJ: Okay, I'm Prince Thomas Abi Jr. I am from Ogoja LGA, Egbe-Mbube to be precise. I had my university education at Caritas University, Enugu where I studied Information Technology(IT). I was born and bred in Ogoja LGA. I happen to be the second son of my late father, Chief Augustine Abi. My dad was a school administrator for 27 years. He passed on about 5 years ago. I am a Social Commentator who has actually brought out to limelight so many socioeconomic problems; I am a strong party man of the People's Democratic Party(PDP). A loyal citizen of the Federal Republic of Nigeria who believes justice has to be done to the common man.
NH: Sir, What is your perception of the general leadership style of His Excellency Gov. Ben Ayade?
PTAJ: I would say the general leadership style of HE Sen. Prof. Ben Ayade is wonderful. You see, Sen. Prof. Ben Ayade came into politics at a time when we actually needed him the most, to the people of Cross River State, Prof. Ben Ayade came into CRS in 2011 with his 'politics with ethics'. And since his entrance into CRS, CRS has received fresh air.
Today, the people of CRS can now smile; it gladdens my heart so well that if I go to Egbe-Mbube my place, the people talk about the governor with sweet savour. You go to Ogoja, people talk about and pray for the governor. Civil servants are smiling home. It has never happened where civil servants received their salaries at the end of the month, but Ayade has come to pay workers' salaries and is performing. I believe Ayade is doing well and his leadership style is wonderful. It's great.
NH: Let's take a look at the Governor's Signature Projects.
PTAJ: HE on the 29th day of May 2015, during his speech he said, he was going to handle Signature Projects. For a man who understands the economic situation of the state to say he is bringing 'signature projects' to Cross River implies he means well for the state. Looking at the Calabar-Ikom-Ogoja road: recently I was in Ogoja, I tell you most solemnly, I had to take paracetamol because of the bad nature of the road.  You're from the Southern part of Cross River State, I am sure you may not have been to the northern part recently. And for HE to say look 'am taking a 260km superhighway from Calabar down to the north', is a welcome development and is something that I call on all and sundry in CRS to key into.
You take a look at Green Factory(GF), before Sen. Prof. Ben Ayade came into government, the women of CRS have been into real abject poverty. But Prof. Ayade out of his large heart has decided to build a GF that would house over 6,000 women; the GF on completion, CRS would be able to sow costumes like the Carnival costumes, military and paramilitary uniforms, tailors would be able to get materials and all that; it is a welcome development because with what HE is trying to do in the GF, it would boost the economic activities of CRS. Cross Riverians will be able to get jobs, not just women, youths. You could go there, work, and get paid. It would be wonderful. You see Sen. Ayade is trying to industrialise CRS, he is trying to make CRS to be the next Dubai in Nigeria.
I liken Prof. Ben Ayade to the like of Al Matoum the leader of Dubai. Seeing that CRS is really indebted, he is still bringing in projects. Someone would say I am elitist, but I would tell you that they are wonderful. He understands that CRS has large water bodies and so he wants to dredge the waterways. He is trying to bring in the seaport. By the time he opens that seaport, there will be an evacuation corridor using the superhighway. If you follow the recent trend, you will understand that President Buhari has given a nod to the port.
The deep seaport and the superhighway will work hand in hand to bring in boosting socioeconomic activities in the state, decongesting the Lagos Seaport which is over congested. And so, most of the economic activities would be in CRS: Tinapa would be revived, businesses would spring up, so it's wonderful.
NH: How realisable is the Signature Projects considering the debts ridden character of the state and the withdrawal of Zenith Construction Ltd?
PTAJ: The Signature Projects is very very realiseable because Sen. Prof. Ben Ayade is one man that comes from a very humble background, he comes from a background so many would have lost hope in. He is a man who, when he focuses his mind, his body would follow. So, for Ayade to fund the signature projects is secondary. Like he always say, he is roving the entire globe in order to make sure he gets more to fund his projects. And CRS, like HE has always said, is not putting in a kobo, and so the withdrawal of Zenith Construction Ltd from the signature projects does not affect the construction of the superhighway, the GF, Deep Seaport, and all; it doesn't affect them because HE knows what he is doing.
NH: The governor is reputed for having long convoys with blaring sirens: is that positive for his public perception?
PTAJ: You see the governor is only…He is the Executive Governor of the state and so he is only trying to bring in the glamour that goes with that office. He's only trying to dignify that office. He is only trying to make people know that there's so much dignity in that office and like he has always said, each time he passes and he sees his people waving at him, it gives him so much joy. He sees people coming out to cheer him, it spurs him, it inspires him to work, because as a leader you must give your people hope. And so, his long convoys and blaring sirens is only trying to bring to bear the dignity that follows as a governor.
NH: To what extent will the trend of executive foreign travels pay off positively on HE's administration, in your opinion?
PTAJ: HE's foreign tours will actually be beneficial to CRS. As you know, HE was in China, and during his trip, he met with some investors where he signed an MoU on CRS having a 4G lite internet facility. You know, by the time you bring the 4G lite internet facility into Calabar, and you have 1 million subscribers, and you pay N1000 for the bandwidth: N1000 by 1 million persons, you are looking at N1 billion. N1 billion will go a long way in boosting the economy of the state.
You look at his rice city: you know we have so much rice in CRS. If you go to Bansara in Ogoja LGA, we have large deposits of rice. But it is very unfair that our rice deposits are being taken to neighboring states of Ebonyi, milled and sold as 'Ebonyi Rice'. Same with our Cocoa, CRS cocoa is taken to Ondo, processed and named as 'Ondo Cocoa' or Bournvita. So, HE travelling all over is wonderful because he is not just roving, he wants to bring in investors that will invest in his signature projects; investors that will invest in CRS economy. Investors that will add value. Investors that will invest in our Carnival Calabar. Investors that will key into medical tourism. Investors that will key into our educational sector.
If you go down to Ogoja, hitting toward Bekwarra, you have a lot of groundnuts. Before HE inaugurated his EXCO, I was discussing with Prof. Anthony Eneji, who happen to be the Commissioner of Agriculture. I told him you must help HE actualize his dream of making CRS a world class, putting CRS on the world map in terms of agriculture, because if you go to down to Bekwarra, we have a lot of agricultural produce, and so HE travelling all over the world is for the greater good of the people of CRS.
NH: What's your take on the state of 'cleanliness, greenery and serenity' of the state under Ben Ayade within these 7 months?
PTAJ: When Sen. Prof. Ben Ayade came into power he had a lot on his mind. He had so much to do. He met a state that was literarily very dirty! But I tell you, he is trying to restore the lost glory of CRS. It cannot happen in one day, it will take a little time but believe you me he will achieve it. Today, the streets of Calabar are experiencing a face-lift. Garbage are being evacuated. The streets are being swept. Street lights are being lit at night. Port holes are being patched and repaired. Grasses are being planted to boost our aesthetic condition. It cannot happen in one day; but it will happen. CRS will come back to become the cleanest city in Nigeria under the leadership of Sen. Prof. Ben Ayade. And I am so happy that he brought an environmentalist who is savvy in terms of environmental issues as his Commissioner for Environment, Engr. Mike Eraye. He's been working round the clock making sure CRS remains green, clean and serene.
NH: Did Ayade actually lift a 20 year embargo on employment into the state civil service?
PTAJ: Yes. You see so many persons have actually misunderstood HE when he said he lifted a 20year old embargo. HE actually lifted a 20 year old embargo. Before now, CRS civil service had been jam-packed; no jobs at all, but HE actually lifted a 20 year old embargo on employment. He has come to create jobs and that is why he is bringing in the GP and GF. As a leader, you must put food on the tables of your people and that is what Sen. Prof. Ben Ayade is doing. Bringing in the GP, and as you know, when HE went to Barcelona in faraway Spain, there was a standing ovation when he made mention of his GP. The Brazil GP is nothing to compare to what Gov. Ayade is about to do. Brazil is getting billions of dollars from their GP. So, what Ayade has done and is trying to do in bringing in the GP is that he is lifting an embargo on employment. People who would work in the GF will make money. It's a way of lifting embargo on employment. People who will work in the seaport will make money. They will make leverage from there. Families will be touched. Lives will be touched. People will be able to feed and fend for their families. It is a way of lifting the embargo.
You look at the superhighway, thousands of jobs will be created. It's a way of lifting embargo on employment. Sen. Ayade wants to bring in this glamour into the Civil Service. That is why he is checkmating so many ghost workers who are on government payroll and they are just collecting money. Dead persons who are just collecting government funds. And so, he has come to checkmate all these things so that those who have not been promoted, can be promoted. Those who are overdue promotion, will get promoted and those who are due retirement will leave for younger persons to be absorbed into the Civil Service. He is performing. He is doing great.
NH: The governor is alleged to have edited former Governor Liyel Imoke's budget proposal and presented same to the CRSHA without Honourable Members having a copy. How do you react to this?
PTAJ: I was actually present at the presentation of the 'Budget of Deep Vision'. HE Sen. Prof. Ben Ayade did not clone any budget proposal from the last administration of Gov. Liyel Imoke. The budget presentation was very erudite and scholarly. He had already memorised what he wanted to present. Since being very savvy, knowledgeable, erudite and idealistic, it was practically a lecture. He was practically lecturing the Honourable members and audience who were there to witness the budget presentation. HE made it clear that he was creating 12 new ministries to the 16 ministries that were existing. And in his budget he stated it clearly what he intended doing through climate change. And he said, climate change is boom to the world. As a professor of environmental sciences, if he keys into climate change, it will make a lot of money, create jobs for people using climate change.
He created  a very powerful ministry like  the ministry of power. CRS can create a lot of wealth. He stated clearly that by the time we generate our own electricity using our Agbokim water falls and a host of others, CRS will be able to create 30 megawatts of electricity and send it to the national grid making money. He stated clearly that by his ministry of gas, CRS has some hydrocarbon deposits. And so his intention to create those ministries was because he knows where he is heading, he knows where he is going to, knows where he is driving to. For someone to say HE actually cloned the budget, the budget that was very erudite and apt is malicious because HE was practically lecturing the Honourable Members. After presenting his over 45minutes speech on the budget he actually showed the world that he is erudite and scholarly.
NH: Will Ayade's friendship with an APC-led Center bring positive impact on Ayade's administration.
PTAJ: Yes. Sen. Prof. Ben Ayade's romance with an APC government at the center with President Muhammadu Buhari is welcoming. As you know, CRS was the first state that Mr. President visited outside Abuja, and he came for the groundbreaking  -the 260km groundbreaking! That shows that Mr. President is a president for nobody and for everybody. It goes to show that Mr. President has CRS at heart. Mr. President wants to develop CRS. As a smart man, who is very exposed, who is people oriented, and wants to bring the true dividends of democracy to his people, it is only natural that he keys in and get a cordial relationship with Mr. President! I tell you, you cannot walk alone. You need the government at the center.
So many persons have said the governor's relationship with Mr. President is because he is defecting to the APC. But I don't see that coming. Mr. President has always said he is a president for everybody and a president for nobody. And he has demonstrated that clearly with the appointment he has given to CRS. He has given us Minister of Niger Delta Affairs, Pst. Usani Uguru Usani, given us the Head of Service, Mrs. Winifred Oyo-Ita, given us the Chief of Naval Staff, Rear Admiral Ibas Ibok so the relationship with Mr. President is wonderful. It's good. It's perfectly healthy. And relating with Mr. President will only help in introducing economic turnaround into CRS. Opening CRS to the outside world. His relationship with Mr. President is welcoming.
NH: What's your take on the Goddy Agba's and Venatius Ikem's defection to the APC as it borders on HE's party leadership style?
PTAJ: Before March 2015, CRS was perceived to be a one-party state. The defection of Prince Goddy Jeddy Agba, Barr. Venatius Ikem and a host of others that have left to the APC folk is welcoming. It's only healthy for our democracy. You see, you cannot force someone to remain in a ship. They have their own perception. They have their own political ambition. And if they feel their ambitions can only be realisable through a political alternative, then so be it. Everyone has the constitutional right to relate with whichever party; they have the right to marry the APC, they also have the right to marry the PDP. So, I don't see their defection into the APC as something that will deter HE Sen. Prof. Ben Ayade from working, it won't. It's only healthy for our democracy.
NH: As a public affairs analyst, what is the level of popularity of HE with the masses?
PTAJ: You see, we the people in Cross River north, we regard Sen. Prof. Ben Ayade as a god. Of course, we have worked so hard to see a northern governor emerge. And today if you go to the heels of Ogoja, Obudu, Yala, Obanliku  to the creeks of Calabar South, Bakassi, Yakurr, everyone is for Ben. Everyone is Ben Ayade! Ben Ayade! Ben Ayade! Why? Because he is performing. He has come to bring positive transformation; he has come to pay workers' salaries, he has come to listen to the plight of the people.
Civil servants can now go home and be rest assured that every 25th of each month they will get their salaries. Today, in CRS we have a governor who puts smiles on the faces of the people even when he is faced with big problems, but CRS is a state with so much potential, he has always affirmed his believe in his people and his people have continuously reaffirmed their believe in him. Ben Ayade is working. Ben Ayade is loved by the people. You need to see the cheers he gets when he's passing. You need to see how people talk about him with sweet savour. You need to see how he is been celebrated by his people, on media, on ground, even people who are in the opposition party celebrates him. He is performing. His leadership style is wonderful. Here is a man who has come to create jobs for his people, even when the state is experiencing economic hardship. Prof. Ben Ayade is creating jobs, Prof. Ben Ayade is going into a 260km superhighway, he is going into a deep sea port, a GF, GP, Prof. Ben Ayade is keying into sustainable development, Prof. Ben Ayade is evacuating refuse, even when the state had lean resources, so any one who says Ben is not performing in 7 months, is not fair to the people of CRS because there are so many states who are owing workers' salaries, but here is Ben as you know, civil servants received their salaries on the 16th of December, it has never happened in the history of CRS. Over the years, workers were owed for 4/5 months, but today workers go home smiling.
Many persons may take it that paying salaries is not an achievement, but I believe for Prof to be able to pay workers' salaries with the wage bill, servicing of debt and all that, he is performing, his leadership style is wonderful.
NH: On a parting note, what's your message to Cross Riverians?
PTAJ: To Cross Riverians, I urge them to continue to support Prof. Ben Ayade; in Ben we believe, in Ben we stand, in Ben CRS will move forward. CRS will consolidate from third world to first world. Cross Riverians must shun malicious criticism, Cross Riverians must criticise constructively where it is needed. It is only by having constructive criticism that CRS will move forward. But if we, because of party affiliations do criticise, or because we are aggrieved that we are not carried along, we are not in government, etc we will only be killing our state. We will only be taking CRS backward; and so I urge Cross Riverians to remain united and stand with one big voice in order for the state to move forward.