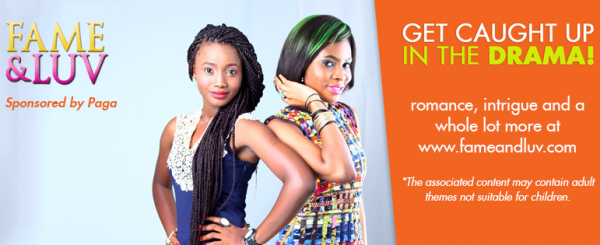 It's the weekend and #FameAndLuv is here!!
…This time with Episode 9 – "To try or not to try."
Find out what happens next with the 4 main characters: Shewa, Lumi, Aminu and Chi-Chi…
Last week, Episode 8 was released and it was called "Slips and Stumbles":
Lumi and Aminu plan their school party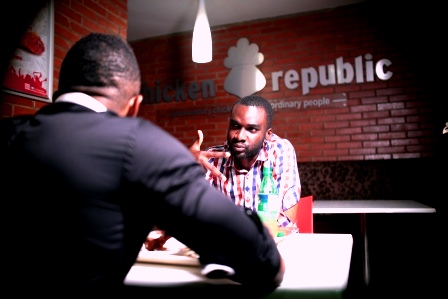 Shewa and Aminu almost found themselves kissing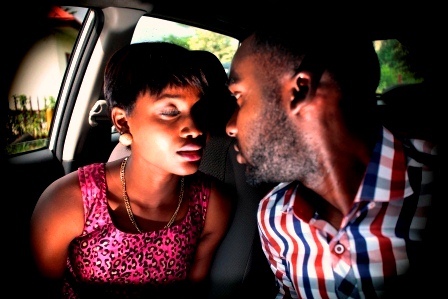 *****
Wondering what happens in Episode 9?
Find out right here!
Start reading Episode 9 – "To try or not to try" – here…
*****
Episode 9 – To try or not to try.
LUMI'S ROOM – 10am.
Lumi is getting ready for class.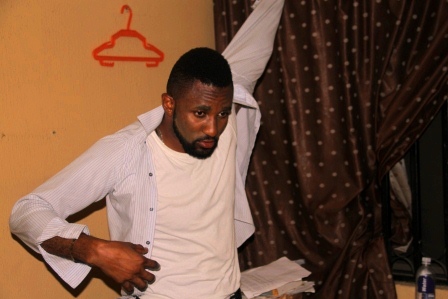 He is in his room alone.
His Phone rings.
He walks over and picks it up. It's Shewa calling.
He answers the call.
LUMI
hello?
SHEWA
hey. How are you doing?
LUMI
I'm good.
SHEWA
are you at class?
LUMI
no. my first lecture is by 11am, so just getting ready now.
SHEWA
so you're in your room?
LUMI
yeah. Why?
SHEWA
emm… I want to see you.
LUMI
oh yeah?
SHEWA
yeah. Can I come over, I could be there in ten minutes.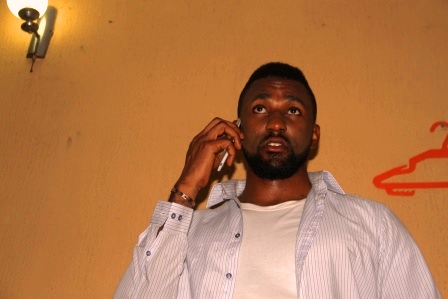 LUMI
…okay, sure.
SHEWA
okay, see you.
LUMI
yeah.
He ends the call.
LUMI'S ROOM – 10:20am.
Shewa just gets to Lumi's room door.
She knocks.
He opens up and she goes in.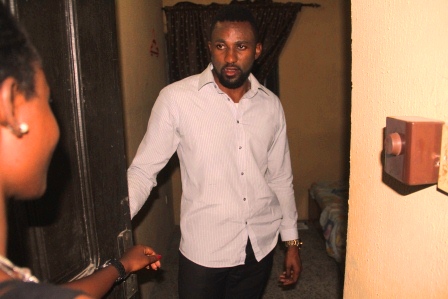 SHEWA
hi.
LUMI
hey.
He shuts the door.
She sits on the bed.
He sits beside her.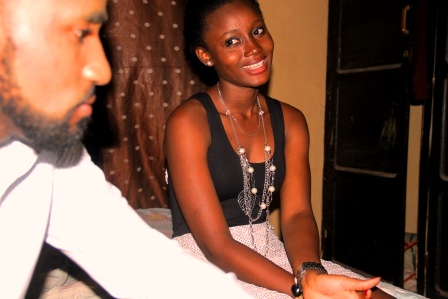 SHEWA
yeah, I wanted to tell you. I got the modeling job – I did the photo shoot last week and they paid me two-fifty K.
LUMI
for real?
SHEWA
yeah.
LUMI
…that's great. I'm happy for you. I guess you found what you were looking for.
SHEWA
well… I'm happy about it though. I'm sorry we had a fight over it.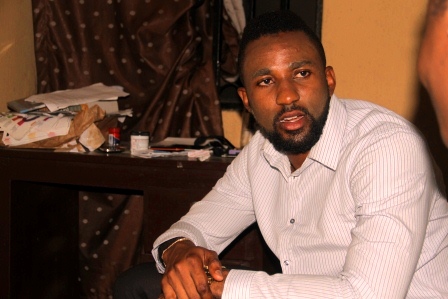 LUMI
yeah, I'm sorry I wasn't… you know, supportive. It's just that I care about your safety; everybody knows modeling isn't so easy.
SHEWA
I don't expect it to be easy.
A short silence.
LUMI
so… what are they going to use your pictures for?
SHEWA
for the whole AD campaign. They'll put it on billboards and in newspapers.
LUMI
hmmm… you're going to be famous.
SHEWA (smiling)
yeah!
LUMI
if that's what you want, I can understand. I can see now how much it means to you; I don't want to be a bump in your road… it's just that I wouldn't want anything that'll take you from me.
A short silence.
They stare each other.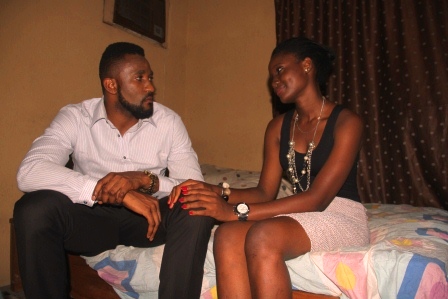 SHEWA
can we go back to the way things were?
LUMI
are you ready for that?
SHEWA
I'm ready to try again. I don't mean to be selfish… just that I need you right now.
They lean towards each other and kiss.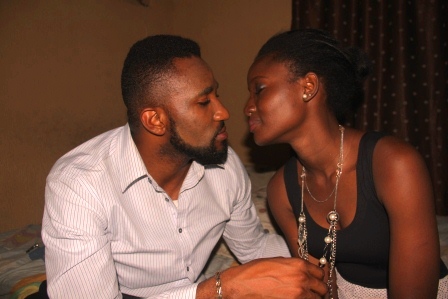 LUMI
yeah, let's try again.
They kiss again.
She puts her arms around his neck.
They both lean back on the bed.
He gets on top of her.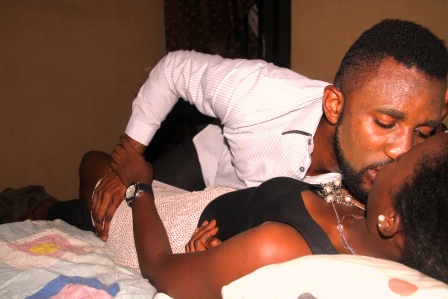 She wraps her legs around his waist.
CAFETERIA – 2pm.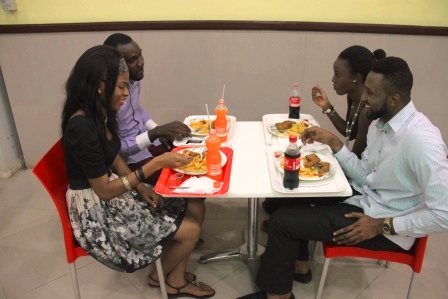 The whole gang is sitting together, having lunch; Shewa, Lumi, Chi-Chi and Aminu.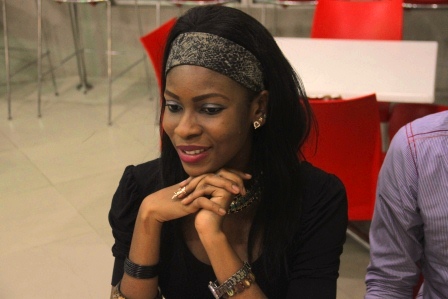 CHI-CHI
I've been wanting to tell you guys – ever since Shewa got her modeling job and made her dream come true, I've been thinking of what my dream is… and I just realized it.
SHEWA
what?
CHI-CHI
I think I want to be a TV presenter – I think I can do it!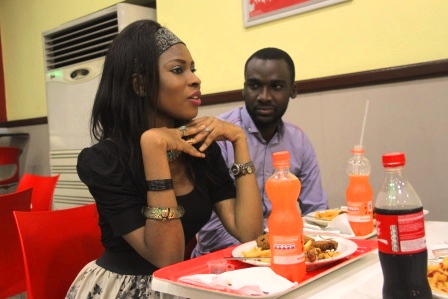 AMINU
hmmm… it's possible, it's possible.
LUMI
TV… I always wanted be on TV too.
CHI-CHI
really? Have you ever tried out?
LUMI
naa, never really went after it.
CHI-CHI
well, I heard that there's an audition for a young presenters at Koga TV. I'm thinking of going, just to try my luck.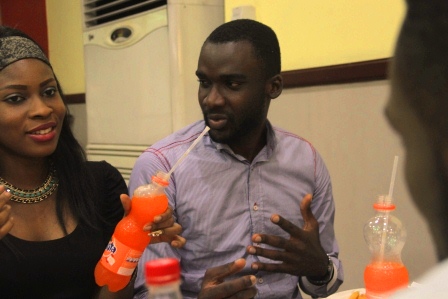 AMINU
when is it?
CHI-CHI
emm… today. At 5pm… truth is I'm still not sure if I should go… what do you guys think?
LUMI
I think you should go.
SHEWA
I think so too.
AMINU
I'll take you there, no wahala… but it's all the way in Ikeja o, we have to leave soon, so you can get there on time.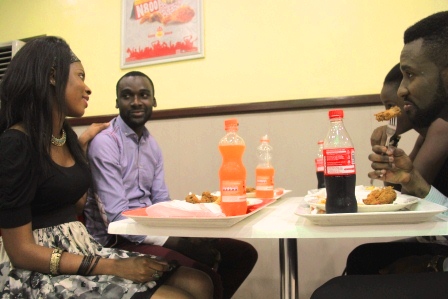 CHI-CHI (to Aminu)
really?! You're such a sweetheart.
AMINU
anything for you… plus you might need the morale support.
CHI-CHI
okay then, I'm going to do it! Fingers crossed.
LUMI (to Chi-Chi)
no one knows if you'll get it but you'll get it one day, if you keep trying.
CHI-CHI (to Lumi)
…it's what I want to do. It'll make me happy.
A short silence.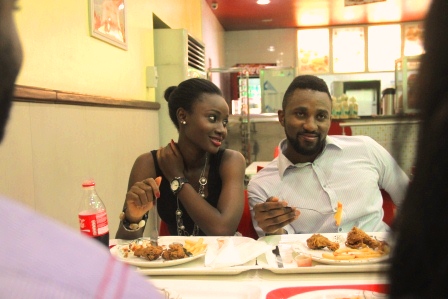 SHEWA
in other news… there have been some… [smiling at Lumi] some changes.
CHI-CHI
what?
Lumi smiles back at Shewa.
Aminu is curious.
SHEWA
Lumi and I are officially going out.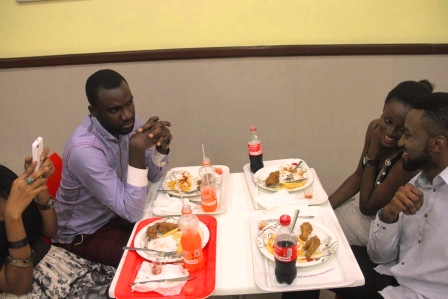 AMINU
…oh yeah?
LUMI
yeah mehn.
CHI-CHI
…that's nice.
AMINU
I'm really happy for you two… it's a shame that Chi-Chi won't take me back; we'll have been a cool double-couple.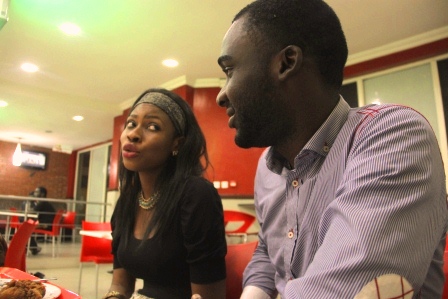 CHI-CHI
that is so not happening.
They all giggle.
*****
THIS IS A SNIPPET.
To read the full episode, go to:
www.fameandluv.com/episode9
Written & Produced by: Femi Balogun.
Support InfoStride News' Credible Journalism: Only credible journalism can guarantee a fair, accountable and transparent society, including democracy and government. It involves a lot of efforts and money. We need your support. Click here to Donate