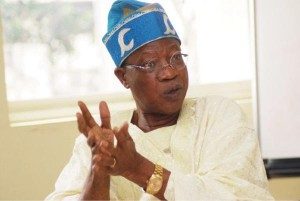 The minister of information and culture, Lai Mohammed, has said that the federal government did not pay any ransom to secure the release of 82 Chibok girls.
Mohammed said aside the exchange of five commanders of the Boko Haram for the girls, no other bargain was made by the FG with the sect.
The minister said: "I emphatically deny on behalf of the Federal Government that any form of ransom was paid in exchange for the release of the 82 Chibok girls.
"Apart from the five Boko Haram commanders, the exchange of which we had already made public, no other concession was made. Any other thing to the contrary is absolutely false."
Mohammed reacts to a BBC report which quoted a source as saying that €2m was paid to the Boko Haram insurgent group during the course of negotiation.
A total of 113 girls are yet to be released out of the 276 girls abducted in April 2014 by the Boko Haram in Chibok town, Borno State.