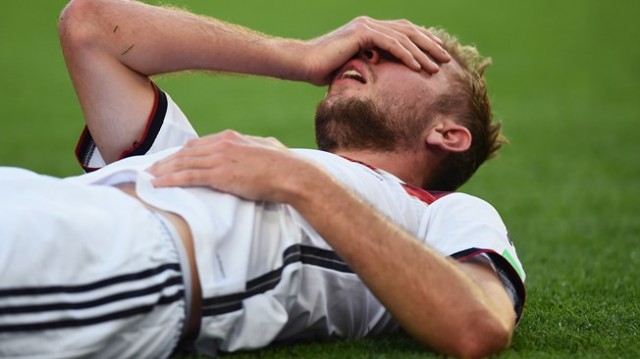 © Getty Images
Football involves the use of one's head more often than the sport's name would suggest. 13 per cent of all injuries sustained at FIFA World Cups™ involve the head and neck, with roughly one in seven of those injuries resulting in concussion. Football clubs, their doctors and world governing body FIFA have been investigating acute head injuries and the effects of heading a football for many years. Several different studies have already been carried out under the supervision of Jiri Dvorak, Senior Consultant at Zurich's Schulthess Clinic and FIFA's Chief Medical Officer. In 2006, these studies prompted the introduction of a new rule stating that any player deemed to have deliberately elbowed an opponent in the head must be sent off, a rule which has since halved the number of serious head injuries sustained in football matches.
As well as prevention, determining the most appropriate medical treatment for footballers after head injuries is also crucial. With this in mind, researchers from University-Hospital Zurich's Clinic of Neurology and Zurich's Schulthess Clinic have launched a collaborative project with FIFA and have defined the initial factors needed to determine exactly when a player should return to football after suffering a mild injury in the course of play.
Six days' rest required after concussion before returning to the football pitch

"First and foremost, it is crucial that the condition is examined in detail and assessed appropriately within 24 hours of the event," explains Professor Jiri Dvorak. This serves to determine whether there are any fundamental problems such as loss of memory, disorientation or eye movement disorders, or any peripheral causes such as a problem within the inner ear, located in the petrous bone. "While a head injury initially requires a resting phase, in the event of an inner ear problem we recommend a swift return to training that should include exercises targeted at coordination," says Dvorak. After a mild head injury it is recommended that players gradually increase their activity levels, ideally making a return to full participation in football six days after sustaining the injury.
As part of this collaborative project, Dr Nina Feddermann is currently leading a neurological and neuropsychological examination of male and female players from teams in Switzerland's highest football leagues at the start of the 2014/15 season, as well as an examination of the players' sense of balance and eye movements. If a player sustains a head injury during the course of the campaign, this will also be investigated and the results compared with the original examination. Determining differences in results before and after an injury will make it possible to identify slight impairments that even the player may not notice in everyday life. "For example, if a player makes a premature return to the game, slower reaction times or reduced alertness may increase the risk of further injury and ultimately raise the risk of long-term consequences," Feddermann explains.
Different factors influence the recovery time of each player
A pilot project carried out with 120 professional footballers during the 2013/14 season showed how vital it is to carry out initial examinations. The recovery time required between sustaining a head injury and returning to football depends on any limitations in neurological function identified after the head injury. It should also be noted that important neurological functions such as thinking speed, alertness, memory, balance control, eye movement coordination or ability to focus differ widely even in good health and can be influenced by factors such as motivation, sleeping habits, fitness, learning impacts or receiving instructions. This last factor is further complicated by the presence of several different mother tongues within many football teams.
The results of the pilot project also suggest that an experienced neurologist should decide within 72 hours whether an early return to football is advisable and suggest a conservative approach to recovery whenever there are signs of fundamental problems. Where balance was the primary issue for some players, physiotherapy specifically targeted at balance improved the condition. "The aim of our project is to get injured players back on the pitch as quickly and as safely as possible," concludes Professor Dvorak. The results of the study will be presented by FIFA's Medical Committee.
FIFA.com News
Support InfoStride News' Credible Journalism: Only credible journalism can guarantee a fair, accountable and transparent society, including democracy and government. It involves a lot of efforts and money. We need your support. Click here to Donate