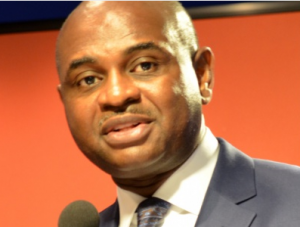 Former Deputy Governor of the Central Bank of Nigeria (CBN), Kingsley Chiedu Moghalu, has been appointed a professor at Tufts University's Fletcher School of Law and Diplomacy in Boston, Massachusetts, United States.
"I am honored by this appointment by The Fletcher School, one of the world's leading schools of international affairs, of which I also happen to be a proud alumnus" said Moghalu, who is also the Chief Executive Officer of Sogato Strategies LLC.
"It demonstrates a recognition of the growing importance of Africa's emerging markets in the global economy, and will perfectly compliment my work at Sogato Strategies, a global strategy and risk advisory firm with a focus on emerging markets," he added.
Moghalu will be the Professor of Practice in International Business and Public Policy effective July 1, 2015. He will teach a course on Emerging Africa in the World Economy in The Fletcher School's Master of International Business (MIB) graduate degree program and the Institute for Business in the Global Context, focusing on the interplay between globalization, business and government.
Kingsley Moghalu served as Deputy Governor of Nigeria's central bank for a five-year term that he completed in November 2014. He led the implementation of far-reaching reforms to Nigeria's banking sector as Deputy Governor for Financial Stability, and is the author of four books including the acclaimed Emerging Africa: How the Global Economy's 'Last Frontier' Can Prosper and Matter (Penguin Books, 2014) and a forthcoming book on global banking reform.
He obtained his Ph.D. at the London School of Economics, an M.A. from The Fletcher School at Tufts University, an LL.B. degree from the University of Nigeria, Nsukka, and an International Certificate in Risk Management from the UK Institute of Risk Management in London.
Prior to his service at the CBN, Moghalu worked for the United Nations for 17 years and subsequently founded Sogato Strategies S.A. in Geneva, Switzerland in 2009.