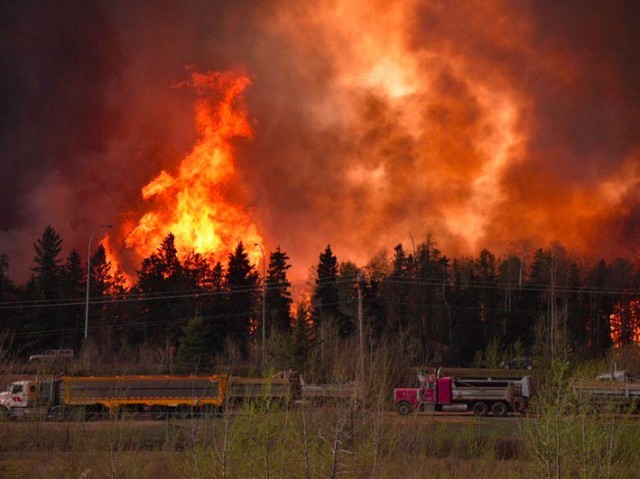 Long before the oil era, Fort McMurray first flourished as a fur trading hub tucked in a valley of northern Canada's boreal forest. Even then, the area's shiny black soil stood out.
Devastated by wildfires this week, this outpost for oil-sands workers 700 kilometers (540 miles) northeast of the industry's high-rise headquarters in Calgary has known boom and bust for generations. The latest seeds of wealth were sown in the 1960s, when large-scale production of crude from sandy bitumen started. The gateway to the world's third-largest reserves, the city became the beating heart of Canada's oil patch, an icon of an ascendant energy superpower drawing labor worldwide despite rents that rivaled Manhattan.
The recent commodities slump tempered the boom before blazes swept across entire neighborhoods and laid siege to the downtown core. Oil production is still forecast to grow, despite low prices, high costs and, now, the fire. The optimism that led the world's oil nomads due north in the first place is buoying hopes about what's next, while some fear the worst.
"It can be better than ever, I promise you," says Brian Jean, an Alberta lawmaker and business owner who first arrived there in 1967. His house and those of several of his relatives were razed in the fire. "Do you think a small-town hick guy like me could have the opportunity I've had except for what Fort McMurray has given me?"
Surging oil prices lured thousands of rig operators, engineers, welders and builders in recent years, often staying in work camps for a few weeks at a time. The city's households speak more than 80 languages, census records show, while the median family income was C$181,240 ($141,017) in 2013, 31 percent above Canada's next richest community and well more than double the national median. Labor, hotel rooms and services grew scarce. Housing prices surged as another boom cropped up — a baby boom, with a birth rate well above the provincial average.
For Cherie and Giles Wash, who came to Fort McMurray from Australia, that prosperity provided them with the means to have a third child, the couple said while camped out at a friend's home in Plamondon, a couple hours' drive south of where fires still raged.
Giles, 48, got a job as a manager at a general contractor that took on work at Suncor Energy Inc.'s mining and drilling projects and Cherie, 39, was able to reinvent herself from social worker to become a health and wellness coach and business owner.
The city was in a frenzied growth spurt when they arrived in 2007, Cherie says, remembering three-and-a-half hour waits at the motor vehicle registry office, help-wanted signs in almost every business window and housing prices that rivaled beach-front homes in Sydney.
As the downturn cut C$50 billion ($39 billion) of spending from Canadian energy producers, tens of thousands of people lost their jobs and saw their way of life dramatically change. With the fires, Cherie worries that people won't rebuild and, worse, that the blazes that are still burning destroy the oil-sands operations the city's economy revolves around.
"It's going to be a ghost town," Cherie says. "I want it to look like how it was five years ago, when things were plentiful."
Before its human tragedy drew international attention this week, Fort McMurray has been a flashpoint in many debates — over climate change, oil production and the economy.
When the Canadian currency was strengthening on the back of a crude rally, locals were spending big on imported cars and goods, while manufacturing, long Canada's economic driver, declined in the east. The boom soaked up labor from slumping sectors across the country. Now that many are losing jobs in the energy industry and for-sale signs pop up on lawns, Albertans are reviving discussion over diversifying the provincial economy away from the oil Fort McMurray is all about.
"It's almost what's been pulling everything into the province for the last 15 years — people, capital, international attention," says Andrew Leach, a University of Alberta business professor who specializes in energy. "It really has been, for a city of 100,000 people, at the center of a lot of things."
That continued this week, as critics equated the fire that razed the community with both climate change and the role of the oil sands in that. Prime Minister Justin Trudeau, however, led the charge against that, saying it's "neither helpful nor entirely accurate" while pledging support to help Fort McMurray rebuild. It's been a pledge echoed by many from the community.
California native A.J. Rosenthal, 37, the vice-president of Fort McMurray's largest construction firm Casman Group of Cos., says he and his colleagues are working with Jean, energy and lodging companies and others to get Fort McMurray residents back to work as quickly as possible potentially in temporary homes at first, under an initiative they've branded "Rebirth of the North."
Andrew Harnett, 36, a director of oil and natural gas contractor CEDA who was born and raised in Fort McMurray, was working in Fort McMurray when the fire hit and woke up in the middle of the afternoon following a night shift. After getting stuck multiple times trying to head south, he and a friend drove north to load his friend's wife and kids on a helicopter. Then they hopped on vehicles and got out of town by offroading around traffic, as the flames jumped from the forest beside them. The destruction in his home town is catastrophic, he said.
"It's ruined," Harnett said. "But if anything, I think it will be rebuilt stronger."
(c)2016, Bloomberg: Josh Wingrove, Rebecca Penty via The Washington Post
Support InfoStride News' Credible Journalism: Only credible journalism can guarantee a fair, accountable and transparent society, including democracy and government. It involves a lot of efforts and money. We need your support. Click here to Donate