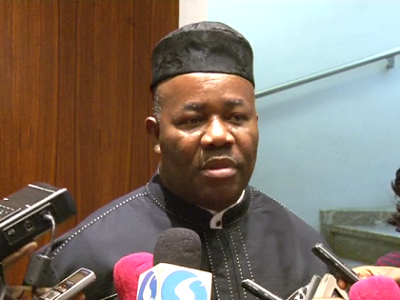 Uche Secondus has said that Senator Godswill Akpabio has endangered his political career.
Akpabio formally dumped the People's Democratic Party (PDP) for the ruling party on Wednesday, August 8, 2018.
The PDP chairman also said that it was a pity that the Senator will move to a sinking ship.
Secondus said that Akpabio defected to the ruling party without the blessing of Akwa-Ibom state people.
He said "I cannot fathom any reason why on earth Senator Akpabio should work against the tide, moving at opposite direction to a place reasonable persons are escaping from.
"How on earth can anybody who has his eyes wide open be seen walking into danger knowingly?
"I urge you to remain focused and continue to give support to your hard working governor, Emmanuel Udom, as he remains unrelenting in the delivery of democracy to the people."