Mr. Taiye Haruna has formerly taken over the baton as the Permanent Secretary, Federal Ministry of Special Duties and Inter-Governmental Affairs, following the recent redeployment of the immediate past Permanent Secretary, Mrs. Winifred Oyo-Ita to the Federal Ministry of Science and Technology.
In his remarks at the handover ceremony on Tuesday, the new Permanent Secretary pledged to pilot the affairs of the Ministry as the Accounting Officer, towards the realization of the Federal Government's Transformation Agenda.
Mr. Taiye Haruna, a Fellow of the Institute of Chartered Accountants of Nigeria, graduate of the University of Lagos, is an indigene of Ondo State, South West Nigeria; and until his redeployment, was the Permanent Secretary in the Federal Ministry of Environment.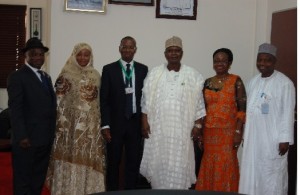 At the event, the outgoing Permanent Secretary said, she had enjoyed the good working relationship with the Minister, Alhaji Kabiru Tanimu Turaki, all Directors and Staff of the Ministry, which led to the numerous achievements recorded within the one year of the Ministry's existence.
She noted among other things, that the Federal Ministry of Special Duties and Inter-Governmental Affairs has creditably carried out the monitoring and evaluation of the constituency projects across the country; successfully organized the first Stakeholders' Forum; hosted the key functionaries of Local Governments in Nigeria and also making preparations for the hosting of Commonwealth Local Government Forum Board meeting in 2014.
While speaking at the function, the Minister, Alhaji Kabiru Tanimu Turaki, who stated that both the new and outgoing Permanent Secretaries represented the best the country is blessed with, congratulated the former Permanent Secretary for having left the Ministry better than she met it. He stressed that the Ministry and all its Agencies had a smooth working relationship under her leadership. He however, urged her successor to build on her achievements.