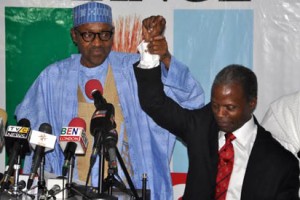 Prof. Yemi Osinbajo has expressed confidence that the Presidential candidate of the All Progressives Congress (APC), Gen. Muhammed Buhari will wipe out the Boko Haram insurgents and create jobs in Nigeria if elected in 2015.
Osinbajo, who is Buhari's running mate said this while answering questions from his Twitter followers. He claimed that Jonathan's administration is unable to end Boko Haram insurgency because of corruption that has eaten into defence funds, which has affected the kitting and motivation of soldiers.
"The current administration has politicised Boko Haram. The corruption around defence funds has created a situation where soldiers are not well equipped/motivated. GMB wiped out Maitatsine, another Islamic insurgency in his own administration by sincerely identifying the problem as a challenge to the authority of the state to maintain law and order. The administration took command and funded the military transparently and that's what we need to do now to end this insurgency.
According to Osinbajo, if elected in 2015, Buhari will tackle the problem of unemployment in the country by supporting every state to create 20,000 jobs.
"We expect every state will be supported to create 20, 000 jobs directly funded. The FG will also match the creation that for every additional job created over 20, 000 mark. FG will pay a stipend to every youth corper for a year while they are looking for employment and in that year will give vocational training. FG will undertake a massive public works programme; this is expected to have multiplier effect of producing hundreds of thousands of jobs. FG will give tax breaks and recognition to employers of labour who provide a certain minimum number of jobs," Osinbajo said.
He slammed the administration of President Goodluck Jonathan for condoning corruption. He promised that the APC government will not tolerate it.
"One of the fundamental problems is that there is no consequence for corruption, I think that what everyone will agree to about a Buhari government is that it will not tolerate corruption. If the number one citizen has a clear and uncompromising anti-corruption stand then the anti-corruption policy will work. If the number one and two have a strong stance on anti-corruptrtion then our policy can succeed. In Lagos state, we were able to deal with judicial corruption by dealing with issues of remuneration and a strict policy on consequence in sanctions where judicial personnel are found to be corrupt. That model can be replicated," he noted.
Osinbajo stated that the difference between the APC and the PDP is that the former focus on policies that will impact the lives of the common man, unlike the latter.
"We have social programmes such as social welfare (first in Africa), free education, mass employment, universal healthcare insurance and the free meals programme in primary schools. The difference is in the ticket, integrity is key," Osinbajo wrote.
Support InfoStride News' Credible Journalism: Only credible journalism can guarantee a fair, accountable and transparent society, including democracy and government. It involves a lot of efforts and money. We need your support. Click here to Donate