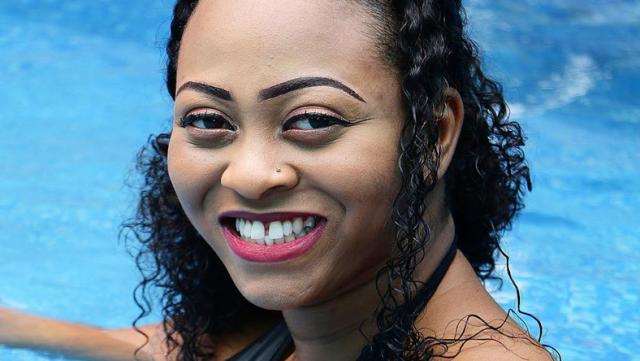 Nigerian entertainer, Uglygalz has come out to say that getting people to understand that she is different from her chosen career is challenging.
According to her, she is a porn actress and she does adult entertainment movies for a living but she does not want to be addressed as a sex worker because she gets paid for acting and it is not money for sex.
She added that since 2014, she has had sex with over 100 men.
Her words to Pulse, "I am a porn actress, I do adult entertainment movies or what is called porn films. I have been called a sex worker several times. People mistake me for those who have sex for money. I am an actress first and foremost and I get paid for acting aside enjoying what I do. Again, I have an opinion on who I choose to act with, there are protocols and several people are on the set but many people don't see it this way, they still feel, it's money for sex."
"Often, I get calls from unknown men demanding sex from me. I recently got a call from a man, who said he got my number from my website and wanted to have sex with me for two rounds and I got so irritated that I just ended the call and blocked the number."
"As of 2014, I have had sex with over 100 men. Please, let's not talk about it (laughs) but it's not up to 1000 but getting close to 1000."
"I remember when I was 17, I used to have this book, where I wrote down the names of people I have had sex with and the situation that led to the sex and my sister's husband saw the book and he flogged me mercilessly."
"I almost got expelled from school for having sex with my principal. I was the one who actually lured him into it and later, people got to find out and I was almost expelled but in my university days, I willingly traded sex for grades especially for courses I found hard passing."
"Funny enough my dad isn't really a Nigerian – his mum is Ghanaian and his dad Scottish – so, I think, we don't really think like Nigerians. They respected my decisions and understand that I am not killing or harming anyone.
"They actually found out through a relative who challenged me when he found out about my site. So, I was trying to defend myself but he said he was going to tell my parents and finally, he told my brother-in-law, who later told my sisters and then told my mum and later my dad found out. They have been supportive because they know it's my decision."
"Adult movie business is profitable and I make more because I own my production arm and website although I still subscribe to some porn sites."
"Porn in Nigeria is still in hypocritic stages. We are now pushing for it to become an industry where the actors and actresses will be bold enough and totally professional about it. We are yet to have professional porn stars in Nigeria.
"I would have been a revered sister if I didn't opt for porn. My mum will be so proud of me because she would have loved me to be a reverend sister. Not that she's ashamed of me but you know when you desire for your child to be a doctor but she chose to be a lawyer, the level of pride is different."
Support InfoStride News' Credible Journalism: Only credible journalism can guarantee a fair, accountable and transparent society, including democracy and government. It involves a lot of efforts and money. We need your support. Click here to Donate