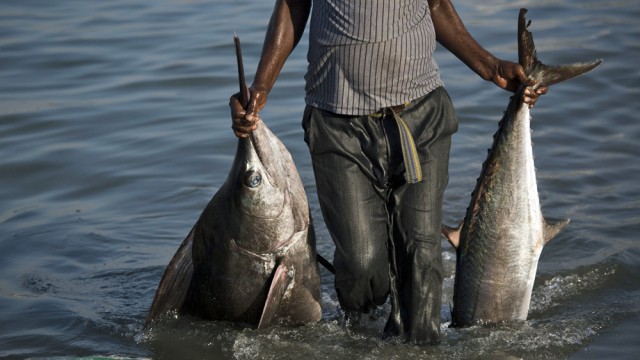 Durduri, Somalia – A hundred years ago, it was a bustling port that served the vibrant fishing community living along Somalia's coastline, the longest on mainland Africa.
Now, Durduri is a sun-bleached, wind-swept, white-sand graveyard of stone structures. There is no harbour, no jetty. The drying and smoking house is just a tumble of bricks.
This is one of many historical coastal trading towns that have risen and fallen with empires. When the busy trade routes moved away, fishing was one of the few lifelines left.
Talk to locals now and you will find this too has dried up – they say there are no more fish in the sea. They blame not the pirates who brought the attention of international law enforcement to Somalia's waters, but the foreign fishing boats that have plundered sea-life stocks.
And if things don't change, they say, a return to piracy will be their only way of survival.
'They take everything'
Ahmed Mohamed Ali walks disconsolately along the beach at Durduri, 100 kilometres west of the port city of Bosaso, perched on the northeastern point of Puntland, Somalia's semi-autonomous northern state.
Ali said he was forced to quit fishing, the only job he has ever known, after a foreign fishing ship bore down on him and his colleagues one night at sea.
"It was a huge ship. We fled for our lives. Had we not it would have all been over and we'd have been dead," the 27-year-old told Al Jazeera.
Large foreign vessels "come at night and take everything", he said, gesturing angrily out to sea. "With their modern machinery, there is nothing left."
And the Somali fishermen can't match them. "We don't carry guns; we don't even have any weapons," he said.
Ali's accusations are backed up by two new pieces of research, conducted by separate Somali development agencies, which suggest that international fishing vessels – particularly Iranian and Yemeni, but also European ships including Spanish – are illegally exploiting the East African nation's fish stocks on a massive scale.
Legacy of piracy
In a country torn apart by civil war, without a federal government until as recently as 2012 following more than two decades of fighting, the population of 10.5 million largely suffers from a crippling paucity of economic opportunities.
Somalis say illegal, unlicensed, and unregulated fishing forced them to turn to piracy 10 years ago in order to recoup their losses. "We got fed up and took guns to the sea," said one Bosaso fisherman, Mohamed Adan Ahmed.
Piracy put a stop to illegal fishing, but these findings suggest it was merely a hiatus; now that international anti-piracy task forces have halted the hijackings, illegal fishing vessels have returned.
In 2014, 86 percent of Somali fishermen spotted foreign fishing vessels close to the shore, according to a report by international charity Adeso, which conducted interviews down the length of the coastline over a six-month period last year.
Sightings were more frequent in Puntland and have more than doubled in the last five years, according to the IUU Fishing in the Territorial Waters of Somalia report.
It first became a problem in the mid-1990s, according to Halimo Isman, who said at the time she was the only fisherwoman working in Durduri's waters.
In the new village that has sprung up close to the old port, she told Al Jazeera huge foreign fishing vessels dwarfed the Somalis' small, fibreglass skiffs. "It became impossible to share waters with them."
Her family were originally pastoralists, but, like many Somalis, they lost their livestock in a drought, so came to the coast in search of a new livelihood. Isman married a fisherman in 1987 and he taught her how to fish, repair nets, and dry the catch of the day.
"Fish, including sharks, were available everywhere," the 55-year-old recalls. But in 1996, she quit. The seas were out of fish, she said. Today, Isman keeps goats and sheep and grows vegetables and date palms on the brackish land.
Search for a better life
Foreign vessels take three times more fish than Somalis do – 132,000 metric tons each year compared to 40,000 by locals – another report released in September said.
From 12 months' research, the agency Secure Fisheries found the amount of fish being harvested is unsustainable. Illegal vessels are harvesting tuna stocks at the maximum capacity, leaving nothing for Somalis, it said.
"Piracy can come back because people have nothing," said elder Saed Jama Yusuf, speaking at the harbour in Bosaso, where his fellow fishermen bemoaned their feeble catches. "We will make preparations, gather our resources for funds."
The federal government's Ministry of Fisheries and Marine Resources was unavailable for comment, but Minister Mohamed Omar Aymow has previously denied there is a risk of piracy returning.
"There is not a big fear," he told Voice of America in September. "We don't have pirate men who are organised like the group we are fighting against now [Al-Shabab]."
However, in March two Iranian vessels suspected of fishing illegally were seized by Somali pirates, an incident described as the first successful hijacking in three years. The crew of one ship escaped after nearly five months, while the others remain in captivity.
"If the illegal fishing doesn't stop, people will look for alternatives – like piracy, joining al-Shabab, becoming criminals, or migrating," said former fisherman Ali.
Last month, residents of Durduri told Somali news agency Hiiraan Online that members of ISIL had arrived on a boat and taken as many as 40 young men.
With no work available, it is easy for such violent groups to recruit young men, Ali warned.
Will anyone help?
The challenges of policing Somalia's waters are enormous. The 200-nautical-mile economic exclusion zone, representing 830,390 square kilometres, is far larger than its land area.
The maritime police in Bosaso, where human smugglers shelter migrants trying to sail north across the Gulf of Arden – one of the world's busiest shipping lanes – operate on a shoestring budget of less than $10,000 per year, said Colonel Mohamed Ali Hashi.
Coastguards are volunteers, dressed in makeshift uniforms, cobbling money together for fuel, he told Al Jazeera.
Hashi, the commander of Bosaso's maritime police, said foreign vessels are employing Somalis on board as armed guards, but he has "no speedboats, no firearms".
"If the government doesn't authorise me to fight illegal fishing, I can't," he said. "Since NATO has been here, piracy is down but illegal fishing has increased. NATO and the EU never help us, never give us a hand."
Robert Mazurek, director of the Secure Fisheries agency, told Al Jazeera "the international community has done very little to combat [illegal] fishing in Somali waters".
Asked for a response to the accusation, NATO responded: "Actions to counter illegal fishing would breach the scope and capabilities of the mission."
---
RELATED: The other side of Somalia's pirates
---
So what is the way forward for Somalia's fishing industry and security in its waters?
Development organisations want new legislation, improved information sharing between international and regional bodies, increased use of satellite tracking to identify vessels operating there, and investment in local fisheries infrastructure.
"We need more concerted efforts, advocacy, a holistic approach to address both illegal fishing and to support local communities affected by illegal fishing practices," Adeso programme director Abdi Mohamed Dahir told Al Jazeera via email.
Locals such as Ali believe Somalia's rulers must take responsibility.
"We have a government but it's fragile," he said. "A strong government that could protect our seas would be a solution. There is no other way."
By Jessica Hatcher
[Al Jazeera]
The post Illegal overfishing and the return of Somalia's pirates appeared first on African Media Agency.
Support InfoStride News' Credible Journalism: Only credible journalism can guarantee a fair, accountable and transparent society, including democracy and government. It involves a lot of efforts and money. We need your support. Click here to Donate