28 January 2014 – Peace and security, sustainable development and human rights are on the agenda at the second summit of the Community of Latin American and Caribbean States (CELAC), which opens in Cuba today and where United Nations Secretary-General Ban Ki-moon delivered a wide-ranging address.
In his remarks, Mr. Ban said the Latin American and Caribbean region has undergone "turbulent times, but has come through stronger". That progress is visible across the work of the United Nations. Indeed, over the last 20 years, extreme poverty in the region has been cut in half and differences are being resolved through peaceful dialogue. "Many of the world's human rights conventions have been inspired by the Latin American experience," he said.
"Of course, challenges remain in your region and far beyond: insecurity; inequality; and injustice," the UN chief said, but stressed that in Latin America and the Caribbean, he sees countries that are determined to tackle such obstacles together and share their example with the world. "This summit is proof of just that. I pledge the support of the United Nations in all aspects of our shared agenda," he said.
Touching on the region's efforts to close the severe inequality gap by, among others, boosting social protection and expanding health education, and in using its position as a "biodiversity superpower" to advance disaster preparedness, resilience and response, the Secretary-General also praised CELAC's discussions on confronting the drug problem, in defending democracy and promoting the rights of migrants.
"I look to you for even greater engagement and support across the full range of the work of the United Nations around the world," said the Secretary-General, adding that regional organizations are crucial to achieving shared goals with the UN. "In our increasingly interconnected world, this is ever more important. When CELAC is stronger, the United Nations is stronger."
Following his arrival yesterday to Havana, Mr. Ban visited the Cuban National Centre for Sex Education (CENESEX) where he attended an event related to his campaign UNiTE to End Violence against Women.
"Violence against women is the most pervasive human rights violation in the world," Mr. Ban said.
"Our message is clear: Women and children have the right to feel safe and live with dignity – in all places, at all times – in war and peace, in poverty and prosperity, inside and outside their homes, schools and places of work," he added.
Cuba is a leader on many development issues, including expanding opportunity for women and girls, Mr. Ban said. However, as in all countries, the challenge of violence against women and girls remains.
"To solve any problem, we must recognize that there is a problem – not hide or minimize it," he said, urging young men to not raise their hands in violence but instead to raise their voices to stop it.
"Thank you for sending the message: El Valiente no es violento," said Mr. Ban quoting in Spanish 'The Brave is not violent.'
He called CENESEX's work "magnificent" and said he was "touched and inspired" by the powerful stories he heard there.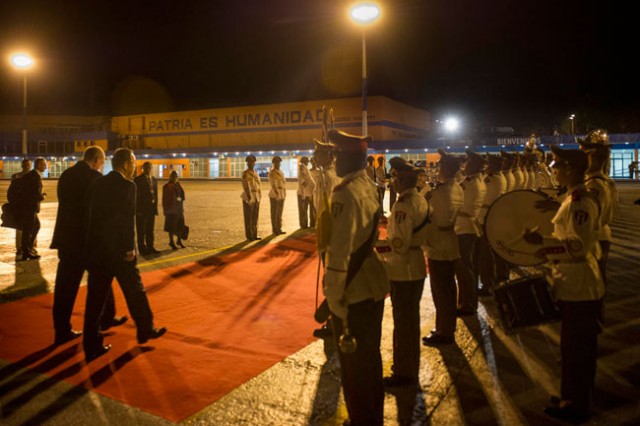 Arriving in Cuba for the first time, Secretary-General Ban Ki-moon is greeted at the airport in Havana by Rodrigo Malmierca, Minister for Foreign Trade and Foreign Investment. UN Photo/Mark Garten
Secretary-General Ban meets with Raúl Castro Ruz, President of the Council of State and the Council of Ministers of Cuba in the Palace of the Revolution. UN Photo/Mark Garten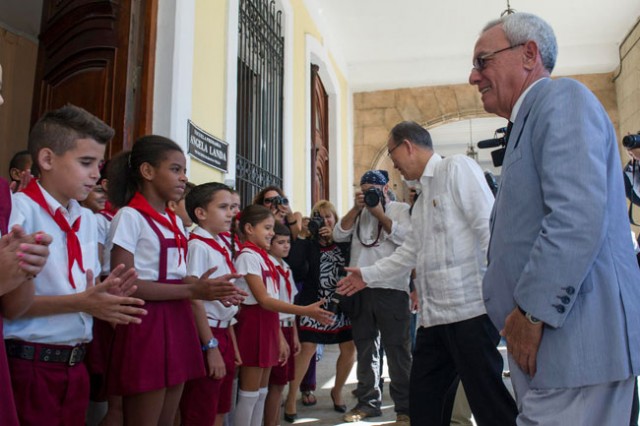 Mr. Ban greets schoolchildren as he visits projects linked to the economic transformation of Old Havana accompanied by Eusebio Leaf, city historian and UNDP Goodwill ambassador. UN Photo/Mark Garten
The Secretary-General tours the monuments of Old Havana, Cuba on his visit to development projects accompanied by the city's historian, Eusebio Leaf. UN Photo/Mark Garten
During his visit to Old Havana, the Secretary-General gets an impromptu haircut at Solon Correo. UN Photo/Mark Garten
‹
›
His audience included Mariela Castro, CENESEX director and activist for lesbian, gay, bisexual and transgender (LGBT) issues, who is also President Raul Castro's daughter.
Following Mr. Ban's speech, Ms. Castro said she was symbolically giving the Secretary-General her personal commitment to join the UNiTE campaign. Launched by Mr. Ban in 2008, the campaign has gathered UN agencies and offices to galvanize action across the UN system to prevent and punish violence against women in the countries in which they work.
Among his activities yesterday, Mr. Ban met President Castro with whom he discussed Cuba's role as chair of CELAC. The two leaders also spoke about Cuba's strong progress in achieving the anti-poverty targets known as the Millennium Development Goals (MDGs) – including topics related to climate change – and a sustainable development agenda that will build on their foundation after the 2015 deadline.
According to Mr. Ban's spokesperson, talks also included Cuba's role as host to the Colombian peace talks and its ongoing efforts in nearby Haiti, as well as the impact of the United States embargo on Cuba and human rights.
The top UN official also discussed these topics with Miguel Díaz-Canel, First Vice-President of the Council of State and the Council of Ministers.
During his meeting with Marino Murillo, Vice-President of the Council of Ministers and Chairman of the Permanent Commission for Implementation and Development of the Economic and Social Policy Guidelines, the two leaders discussed "at length" Cuba's social and economic reforms, Mr. Ban's spokesperson said.
The UN chief also discussed implementation of the policy guidelines with Esteban Lazo Hernández, President of the National Assembly. During the talks, Mr. Ban underscored the importance of parliaments' and women's participation, and noted Cuba's strong record on both, his spokesperson said.
Mr. Ban's meetings included talks with Cuban Minister of Trade and Investment, where the topics ranged from the latest UN Development Assistance Framework (UNDAF) to Cuba's opening of a new deepwater port of Mariel, and UN's role in Cuba's economic and social transformation.
While in Havana, Mr. Ban yesterday toured Old Havana to look at the development and economic transformation of the area. Residents and tourists reportedly gathered around as he visited the colonial quarter, and even stopped into a barber shop for a haircut.
The UN Development Programme (UNDP) and other UN agencies are working "very closely to help the Cuban Government and people to preserve this area," Mr. Ban said.
Along with speaking to CELAC delegations at the Summit, the UN chief also today addressed officials at the Latin American School of Medicine (Escuela Latinoamericana de Medicina/ELAM) and met with dignitaries, including Fidel Castro Ruz, the former President of Cuba.
Mr. Ban is also due to meet with the chief of civil defence, before leaving Cuba this evening for Germany.
Source: UN News Centre – Americas
Support InfoStride News' Credible Journalism: Only credible journalism can guarantee a fair, accountable and transparent society, including democracy and government. It involves a lot of efforts and money. We need your support. Click here to Donate