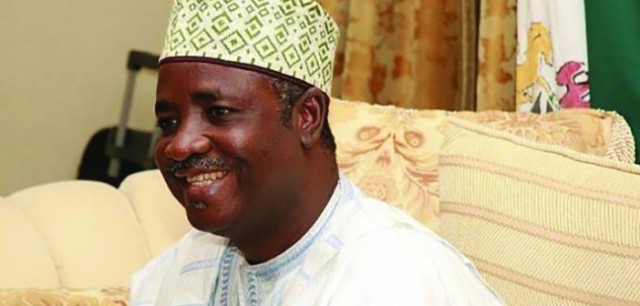 Governor Aliyu Wamakko of Sokoto State has advised those criticising his Adamawa State counterpart, Murtala Nyako, over his memo addressed to Northern States' Governors Forum, accusing the Federal Government of genocide in the region, to leave him alone.
In an exclusive interview LEADERSHIP on Saturday night, Gov. Wamakko insisted that Nyako spoke on behalf of millions of Nigerians, who are frustrated over the ongoing insecurity in the country.
He said, "Nyako is speaking the minds of millions of frustrated Nigerians who are genuinely seeking a holistic change in the way the issue of insecurity and insurgency are being addressed in the country.
"Nyako is a patriot and committed Nigerian who is seeking a new way to handle our present challenges. He should not be castigated or attacked on an issue that concerns all the stakeholders. The time has come for all of us to address the issues raised by him".
A cross-section of Nigerians had lampooned Nyako over his recent memo on security challenges in the North. At the expanded National Security Council meeting attended by governors and presided over by President Goodluck Jonathan, the Adamawa governor's memo was tabled with his colleagues reportedly condemning him for the tone of language he used and the contents of the memo in general.
The memo, dated April 16, 2014, among other things, alleged systematic decimation of the north in the fight against Boko Haram insurgents.
The memo reads in part: "While every state government is doing everything possible using virtually all its resources to stem the tide of near disaster facing all of us especially in the north, it is a well-known fact that the present federal administration has now become a government of impunity run by an evil-minded leadership for the advancement of corruption that is apparently enjoying the protection of the federal administration as a citizen of this country should enjoy but is being denied by the administration using its mass murderers/cut-throats imbedded in our legitimate and traditional defence and security organisations. It is very clear that the protection of life and property of innocent citizens in northern Nigeria and recognising their human rights and voting right in the forthcoming general elections is no longer a cardinal principle of the administration".
He adds: "Clearly the victims of the administration's evil-mindedness are substantially northern Nigerians. The administration is bent on bringing wars in the north between Muslims and Christians and within them and between one ethnic group and another or others in various communities in the region. Cases of mass murders by its bloody minded killers and cut-throats are well known, but it attributes the killings to so-called Boko Haram. Thousands of our young girls and boys have been kidnapped by clearly organised militia in the last few years and kidnapping is now a random affair all over the far north. These organised kidnappers must have the backing of the federal administration for them to move about freely with abducted children just as those who convey ammunition and explosives from the ports to the safe houses of so called Boko Haram in the north.
"Hurrah, we are no longer being deceived! We no longer accept, let alone believe, that our prominent Mallams in the mosques in Kano and Zaria have been killed by 'innocent' Boko Haram members or Christians in the north, nor do we believe that the killing of the pastor and other worshippers in the Christ Apostolic Church in Jimeta-Yola was done by any Muslim or Boko Haram members. We know where we are now pointing our fingers. There have also been attempts to assassinate the Senate president (northerner) in Imo State, two executive governors of states in the north (the governor of Benue State and my humble self), two of our most prominent traditional leaders (Shehu of Borno and the Emir of Kano), senators and others too numerous to mention, all from northern Nigeria. This is in line with the demonic policy of the evil few in and around the administration that have advocated how northerners, both Christians and Muslims, are to be so dealt with, ill-treated and oppressed!
"No wonder we in the northern Nigeria are now facing an organised ethno-religious campaigns of hate fuelled by the federal administration to make communities which hitherto had remained peaceful for centuries to start killing the minorities in their midst and to facilitate mass killings of the innocent and the arbitrary arrests and torture of elders of minority ethnic groups in the various northern communities. The reader is please requested to note what has been happening in Plateau State and the recent happenings in Benue and Nasarawa states. We, in Adamawa State, have been battling this heinous machination in the last three years. Yes, we noticed it! We also saw it as the beginning of genocide. Genocide kingpins are now on the prowl in northern Nigeria!
"Fulani communities in parts of the north who have been in their locations for over 100 years are now being raided and uprooted by paid killers within the Nigerian Army for the satisfaction of the federal administration instead of being protected as citizens with their rights and dignity safe-guarded. This has happened to those communities at Keana L.G. in Nasarawa State and Laddoga and Kachia in Kaduna State. It is presently extended to Benue, Zamfara and Katsina states. Furthermore, it is a well-known fact that virtually all the soldiers of northern Nigerian origin recently recruited to fight Boko Haram have been deceived in that aspect. They are being poorly trained, totally ill-equipped, given only uniform and are killed by their trainers in Nigerian Army training centres as soon as they arrive in the Nigerian Army camps being used by so-called Boko Haram insurgents. Virtually all the Nigerian Army soldiers killed/murdered in these operations so far are of northern Nigerian origin. The administration has also hired militia from all across especially North Africa who have been deceived into accepting to come because they were made to believe that they would be fighting infidels.
"The federal administration's affront to frame northerners is also an open secret. Senior special assistant to Mr President tried to hoodwink us into believing that Malam Sanusi Lamido Sanusi was kingpin of Boko Haram. Typical bullsh*t from the federal administration. Mr Henry Okah, the convicted leader of MEND, also stated under oath that he was being put under pressure by the administration to implicate senior northern elements such as IBB and Buhari as financiers of Boko Haram terrorism. We are in deep trouble. We have begun to sleep with 'both our eyes widely open'!"
Support InfoStride News' Credible Journalism: Only credible journalism can guarantee a fair, accountable and transparent society, including democracy and government. It involves a lot of efforts and money. We need your support. Click here to Donate