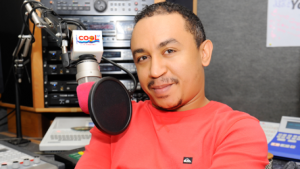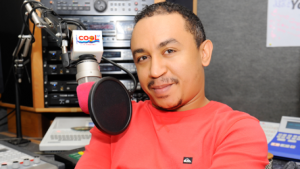 The name Ifedayo Olarinde might not illicit any response from many people, but say the name Freeze and it is more than likely that a few people will frown.
The veteran on-air-personality who you can call one of the voice of Lagos has that uncanny ability to rub people the wrong way. He is divisive and his opinions make him a polarizing figure. Spilling out details of his former marriage hasn't made him a more likeable person in the eyes of many women also.
Despite Freeze's public image he keeps on ticking, and his personality keeps on getting better. What makes Freeze relevant despite not having much love? Is Freeze a jerk?
Freeze is not a jerk. Look at him more like a social critic, someone who points at the flaws and shortcomings of the society we live in. Yeah he might piss you off when he expresses himself but you can't deny Freeze makes some very good points.
Yesterday Freeze wrote about Olajumoke Orisaguna, Ayodele Daniel Dada the first Nigerian to graduate from the the University of Lagos with a perfect CGPA of 5.0, and how the Nigerian society has treated them differently.
In his Instagram post write up "'POVERTY MENTALITY'
When are Nigerians going to celebrate real achievements? On the left is Mr. Ayodele Daniel Dada the first Nigerian to finish university with a perfect CGPA of 5.0 and on the left is Mrs. Olajumoke Orisaguna a 'former' bread seller.
Before Ayodele, no one had 'EVER' finished with a perfect CGPA in UNILAG!!! Since it was established in 1962, he made history by becoming the first to achieve such a commendable feat! "Now, so many questions come to mind. How come my dear friend Kunbi of 'April with Kunbi' hasn't styled him or recommended him for styling? How come CNN hasn't done a story on him? How come his life isn't documented on blogs daily? How come he isn't a brand ambassador for any product?
The questions are ceaseless. Ciara put up a post of an equally beautiful traffic hawker selling some type of fruit yesterday and she was described, in Ciara's own words as 'beautiful and talented'. If these two 'hawker beauties' were discovered less than 2 months apart, it means that beautiful girls that hawk commodities aren't in short supply in Lagos. While people who finish with with a 5.0 CGPA are almost non existent! It took 54 years to produce the first one!"
Now those emotionally attached to Olajumoke's story might not necessarily agree with Freeze but it is the truth. Nigerians don't pay enough attention on education but want the instant turn around success stories like Jumoke. This underlines our value system in Nigeria.
On February 19, 2016 Freeze did not spare the Elegant Stallion known as Onyeka Onwenu. In another lengthy post he slammed the veteran female singer for claiming that she was fired because she was Igbo. Prior to this Freeze tackled the Abia state Governor Okezie Ikpeazu on his Instagram for giving an old woman N1,000 and not tackling the issue of poverty in his state.
Looking at Freeze's recent utterances and statements Freeze seems to be a bright guy, but why then does he get a bad rep?
A look into his personal life might gives us answers. The half-Nigerian and half-Romanian married Ope over a ten years ago. The union yielded two kids but it did not last. Last year things got a bit ugly when Freeze called his ex-wife certain names and claimed she used to physically assault him. That turned out to be quite an unpopular move.
Throwing out his marriage details out there wasn't a good move. Many people questioned why he is attacking the mother of his kids.
Moving on Freeze's flaunting of his expensive wrist watches is on the same line as Davido showing off his Rolex watches which is an arrogant move. Topping it with that, his strange fight with former pal Basketmouth has us wondering what is going on with Freeze?
Freeze likes to shock people and seek attention. He is doing a great job of it judging from the headlines but not all of his colleagues think so.
"He tries often too hard to be a shock jock" a la Howard Stein but that flavour's long soured" says a top OAP who wished not to be named in this article about Freeze. The OAP also thinks that Freeze should not flaunt his wealth. "Freeze should commit to more CSR based on his much flaunted "wealth."
Another OAP who contributed to the feature on the basis of anonymity thinks Freeze is not afraid to speak his mind no matter what. "He can be quite opinionated. He's that guy who's not afraid to let everyone know what he thinks and does not appreciate being disagreed with" said the OAP to Pulse.
While Howard Stern's style might have faded Charlamagne Tha God a very opinionated radio personality has become extremely popular within the last three years. If Freeze could streamline his personality, forget the bling, bling and become more focused on societal issues he could have a bigger impact.
Is Freeze a jerk? Not likely but he needs to reduce his shock value and add a bit more substance to his game.
Support InfoStride News' Credible Journalism: Only credible journalism can guarantee a fair, accountable and transparent society, including democracy and government. It involves a lot of efforts and money. We need your support. Click here to Donate