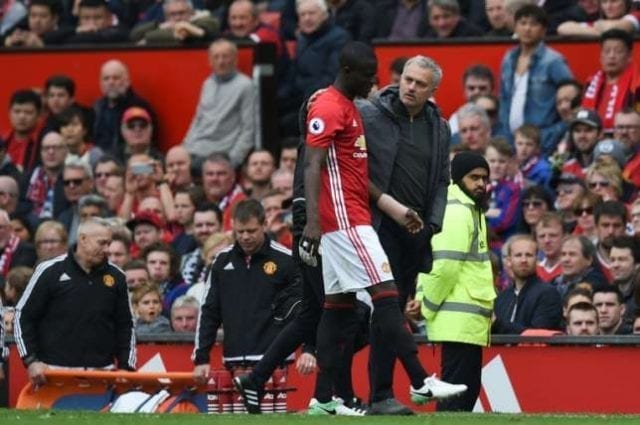 The stock excuse given for Jose Mourinho's behaviour back when he was actually living up to his price tag — not just economic, mind you, but mentally and emotionally, because this is one draining guy — was that he was a human lightning rod. Fans and media focused on him and his players could get on with it.
It's one quality that hasn't abandoned him and it was present in spades at Old Trafford on Tuesday night. After making such a big deal of how he wanted to beat Young Boys and seal qualification then and there, what does he do? He drops Paul Pogba, his most expensive player, who had started all but one game this season. Was he resting him for that tricky trip to Southampton, a club who haven't won at home in seven months? Is it a new-fangled midfield set-up? Is it a psychological ploy? Who knows?
Romelu Lukaku was also on the bench. Mourinho pointed out afterward that he hadn't scored at Old Trafford since March, which might have made more sense if he hadn't then brought him on. Completing the trifecta was Alexis Sanchez, who wasn't even in the match-day squad despite not being injured.
"Why do you always ask me about who is not playing?" Mourinho wondered. Possibly because those are three guys who you pay more than anybody else and it's legitimate to wonder why they're not starting in a game you describe as so important.
What we do know is that it's just more fodder for the commentariat.
His antics continued after kickoff. Marcus Rashford misses a chance after five minutes. Mourinho reacts theatrically, with the sort of overacted histrionics you'd expect from a "Saturday Night Live" character: back turned to the pitch, arms first outstretched in desperation and then crossed with a pout and a shake of the head. Gary Lineker, hosting Champions League coverage in the United Kingdom, said he'd be "absolutely livid" if he saw his manager "react like that."
Obviously, Mourinho was asked about it post-match and, again, enter the lightning rod. It wasn't enough to say he had an emotional reaction: "Can't I or another manager have a reaction of frustration?" Nope, he had to turn it back on his critics (in this case, Lineker, Rio Ferdinand and Paul Scholes) while pointing out that it was easier to "have lots of holidays in Barbados (?) and go to the television screen and touch the electronic dummies."
At the end, when Marouane Fellaini bundled home the winner — helped along by a pretty obvious handball (roll on, VAR) — he vented his frustration on the pitch-side Gatorade. It wasn't enough to just kick one tray over; he picked up another tray and slammed it to the ground.
(His technique, for those who are interested, was closer to Eddie Van Halen than Kurt Cobain.)
Afterward, when the simple thing to do was to praise his team's battling spirit and point out that, sure, they didn't take their chances but the most important thing was to advance, and to leave it at that, he said, unprompted, "For some of my lovers I just want to say: for the ones that like stats, 14 times in the Champions League, 14 times qualified through the group phases. Never one of my teams stayed behind in the group phase. The seasons I didn't play Champions League, I won the Europa League."
Sense a theme yet? It's all about him. And the response it got was hugely predictable.
Scholes, who evidently likes him only slightly more than he likes direct sunlight with no sunscreen, said, "I won the Champions League… I won the Europa League… last time I checked it was a team game." Others pointed out that it was the sort of thing latter-day Arsene Wenger would say about his fourth-place trophies. It amounts to reminding people of what you were rather than what you are and, more importantly, what you will be (or, better yet, though this might be too much to ask, what your team will be). Just like his "Respect!" rant earlier this season.
It's way too easy to blame the media for focusing on him (as this column does today) rather than on the team. He's the center of attention because he makes himself the center of attention. Part of it is simply being the manager of Manchester United, sure. Run a big club and that's what you get: the spotlight. But David Moyes and Louis Van Gaal also managed United and they rarely took it to these levels (though Van Gaal had his moments).
Instead, Mourinho is forcing people to write about him rather than his team. Or, more accurately, as well as his team, because this is United and people will still write about Phil Jones appearing for the first time since the Derby County Debacle and the worst start in 28 years and getting booed off the pitch at Old Trafford vs. Crystal Palace.
Is it part of a Mourinho Master Plan to deflect attention from the fact that, in what was most definitely not the "difficult" Champions League group he described — Young Boys had conceded 10 goals from four games and were without their top goalscorer and best midfielder, while Valencia are in the bottom half of La Liga and have won a whopping four of 18 league and European games this season — qualification shouldn't come down to a handled goal in injury time and a David De Gea superhero act?
Probably not.
The human lightning rod act might have worked like a charm in the past, but it's not working now; all it does is create more chaos and attract more negativity. It's been nearly two-and-a-half years now and we're no further forward. Mourinho doesn't need to remind us of his achievements because they didn't happen in the stone age. Everybody knows about the three Premier League titles, the two Trebles and the 100-point season at Real Madrid. Heck, he last won the league just four years ago.
The most serious accusation they can throw at him as a coach is that the game has evolved and he hasn't kept up. Well, the way to counter that criticism is via performances and results… not by reminding people what you did before. Nobody is going to take that away. Most of all, and this matters to any organization, is the enduring negativity and sense of drift that seems to accompany him like some maleficent aura. You don't get the sense that he's building toward anything but is instead in a perpetual kind of catch-up mode.
The man who once described himself as "a special one, one not from the bottle" was a leader guiding clubs on a mission. Whether it was Porto disrupting Europe (not once, but twice), Chelsea growing into a super-club, Inter returning to European glory after 45 years or Real Madrid knocking Pep Guardiola off his sainted perch, there was always a sense of purpose. You knew where he was going and you believed he would get there.
Now? All you know is where he's been. And that he sure as heck isn't there anymore.
Support InfoStride News' Credible Journalism: Only credible journalism can guarantee a fair, accountable and transparent society, including democracy and government. It involves a lot of efforts and money. We need your support. Click here to Donate