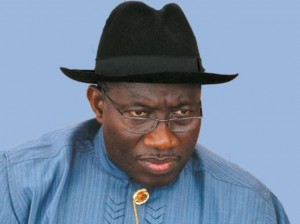 President Goodluck Jonathan has expressed his administration's commitment to a free and fair election, vowing not to tolerate violence of any form.
"Decisive action will be taken against any individuals or groups who attempt to disrupt the public peace before, during or after the 2015 elections," the president said on a New Year message yesterday.
"The elections are very important for us as a country. Their successful conclusion will further strengthen our democratic institutions and place our beloved country even more firmly in the comity of truly democratic nations.
"Given the challenges that have characterized some previous electoral contests in our country, the eyes of the world will certainly be on the conduct and outcome of our fifth post-military rule general elections.
"I reassure all Nigerians and the international community of our firm commitment to free, fair and credible elections. My commitment to free elections and one man, one vote remains unwavering.
"Our administration has worked hard in previous elections to prepare all key stakeholders, including the Independent National Electoral Commission (INEC), security agencies and the electorate optimally, to ensure a progressively improved electoral process in the country under my watch. We will continue to do so for the coming elections.
To ensure the smooth running of its conduct of the February elections, Jonathan said the government will adequately fund INEC, while ensuring its continued independence.
"We will continue to provide adequate funding to INEC and maintain the commission's independence and isolate it from any form of interference or meddling in its day-to-day affairs. This shall continue to guarantee its impartiality and ability to conduct more credible and acceptable elections.
"National security agencies will also be given all necessary support to enhance their ability to ensure that the elections are peaceful and violence-free.
"I am optimistic that with the cooperation of all law-abiding citizens of the country, our commitment to have a peaceful and violence-free election will be actualised.
He also urged politicians in the country to discourage divisions, violence and hate.
"I will like to say this, once again, to my fellow politicians and political leaders. None of our political ambitions is worth the blood of any of our countrymen, women and children.
"The improvement of their lives and living conditions ought to be our primary motive and the driving force of our quest for political power and leadership positions.
"Let us not promote sectionalism, disunity, intolerance, hate, falsehood or the malicious abuse of political opponents.
"Whatever we feel or seek, we must have a nation and a people before we can dream of political ambitions. Let us put the nation and the people first.
"Let us all conduct our electoral campaigns with the highest possible decorum and civility towards political opponents. Let us give INEC the fullest possible support and cooperation it requires to conduct credible and violence-free elections in 2015.
Electoral violence
"After the 2011 general elections, some unpatriotic elements embarked on an orgy of violence, resulting in the destruction of lives and property. That will not be allowed to happen this time around.
"This government will act decisively against anyone who disrupts the public peace, before, during or after the 2015 general elections.
"All Nigerians, of voting age, are free to vote based on their convictions. It is our duty to defend and protect that basic right, and let no one be in doubt, we will," the president said.
He however promised that the elections will not distract him from his duties.
Jonathan wished Nigerians a happy and prosperous 2015, urging them to enter the new year with renewed hope, patriotism and zeal to serve their fatherland.
Support InfoStride News' Credible Journalism: Only credible journalism can guarantee a fair, accountable and transparent society, including democracy and government. It involves a lot of efforts and money. We need your support. Click here to Donate