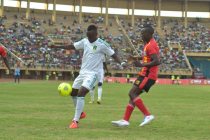 The line-up for the group phase of the Orange Africa Cup of Nations – Morocco 2015 is now complete.
The identity of the seven teams was known after the second leg matches of the second round of the qualifiers at the weekend.
The teams are: Botswana, Lesotho, Malawi, Mozambique, Rwanda, Sierra Leone and Uganda.
The biggest casualties were Kenya and Tanzania, who will yet again have to wait for another two years to realize their dream of participating at the continent's showpiece football event for the first time in as many years.
Sierra Leone had the easiest of paths, going through without kicking a ball following the withdrawal of Sierra Leone from the second leg. The Leone Stars won the first leg 2-0 in Freetown.
Kenya settled for a barren draw with Lesotho in Nairobi on Sunday, enough to see the latter through 1-0 on aggregate whilst Tanzania slipped to a 2-1 loss to Mozambique in Maputo. Elias Pelembe Dominguez scored the winner seven minutes from time. Tanzanian sensation Mbwana Samata canceled Josemar's first half lead mid-way through the second half.
In Nouakchott, the Cranes of Uganda silenced hosts Mauritania, thanks to Robert Ssentongo's late strike and seal their place 3-0 on aggregate.
Earlier on Saturday, Malawi and Rwanda edged Benin and Congo on penalties to go through whilst a 1-1 draw in Bissau against Guinea Bissau pushed Botswana into the final round.
The group phase will commence on 5 September 2014 through to 19 November 2014 with the winners and runners-up of each group, plus the best third-placed team, qualifying for the final tournament scheduled from 17 Jan to 8 Feb 2015 in Morocco.
Results
Saturday, 2 August 2014
Victoria (16h) Seychelles – Sierra Leone (0-2)
*Seychelles withdrew, Sierra Leone qualify
Bissau (16h), Guinea-Bissau 1-1 Botswana – (0-2)
Botswana qualify 3-1 on aggregate
Kigali (15h), Rwanda 2-0 Congo (0-2)
*Rwanda qualify 4-3 on penalties
Blantyre (14h30), Malawi 1-0 Bénin (0-1)
*Malawi qualify 4-3 on penalties
Sunday, 3 August 2014
Nairobi (16h), Kenya 0-0 Lesotho (0-1)
*Lesotho qualify 1-0 on aggregate
Maputo (15h), Mozambique 2-1 Tanzania (2-2)
*Mozambique qualify 4-3 on aggregate
Nouakchott (17h), Mauritania 0-1 Uganda (0-2)
*Uganda qualify 3-0 on aggregate
Composition of Groups
Group A : Nigeria, Rwanda, Sudan, South Africa
Group B : Mali, Malawi, Ethiopia, Algeria
Group C : Burkina Faso, Lesotho, Gabon, Angola
Group D : Côte d'Ivoire, Sierra Leone, DR Congo, Cameroon
Group E : Ghana, Uganda, Guinea, Togo
Group F : Zambia, Mozambique, Niger, Cap Verde
Group G : Tunisia, Botswana, Senegal, Egypt
Normal
0
false
false
false
EN-US
X-NONE
AR-SA
/* Style Definitions */
table.MsoNormalTable
{mso-style-name:"Table Normal";
mso-tstyle-rowband-size:0;
mso-tstyle-colband-size:0;
mso-style-noshow:yes;
mso-style-priority:99;
mso-style-parent:"";
mso-padding-alt:0in 5.4pt 0in 5.4pt;
mso-para-margin-top:0in;
mso-para-margin-right:0in;
mso-para-margin-bottom:10.0pt;
mso-para-margin-left:0in;
line-height:115%;
mso-pagination:widow-orphan;
font-size:11.0pt;
font-family:"Calibri","sans-serif";
mso-ascii-font-family:Calibri;
mso-ascii-theme-font:minor-latin;
mso-hansi-font-family:Calibri;
mso-hansi-theme-font:minor-latin;}
Confederation of African Football (CAF) News
Support InfoStride News' Credible Journalism: Only credible journalism can guarantee a fair, accountable and transparent society, including democracy and government. It involves a lot of efforts and money. We need your support. Click here to Donate