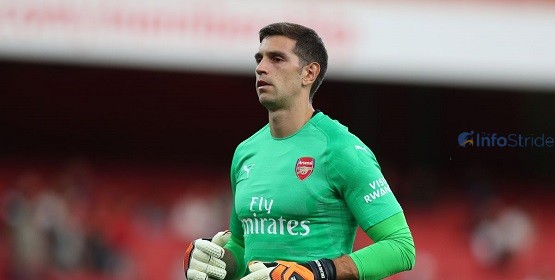 Arsenal goalie, Emiliano Martinez has come out to say that he feels totally secure as a goalkeeper at the London club.
He recently revealed that playing alongside David Luiz and Shkodran Mustafi has made him feel safe between the sticks for the Gunners.
According to him, Luiz and Mustafi are top players and they do not deserve the criticism they get from fans and pundits.
He added that he is pleased to be keeping clean sheets at Arsenal because the defense has been solid in recent games.
His words, "Now, we have structure, we have a gameplan, we have game management and the defence looks stronger and stronger,"
"Believe me, David and Musti are top players. David has been at the top for so many years and it's the same with Musti.
"Sometimes when you make mistakes at big clubs you get punished. With Arsenal, people always seem to blame the defence for defeats. But I feel really safe behind them.
"They have experience and they are constantly talking through the whole game. When you play behind them, it's not like what people say. It's not, 'Oh, they make mistakes, they don't know how to play football'.
"I feel really safe, and now that we've kept three clean sheets on the bounce in the Premier League, people are starting to say that the defence is actually solid."
On the manager, "We knew Mikel would be a good manager when he signed here, but we didn't know he would be this good,"
"He is incredible. He knows how to deal with experienced players, with young players. He gives us a gameplan against anybody and gives us hope when we do the training sessions.
"He knows what position you have to be in in every department, whether you are a goalkeeper, a striker or a left-winger.
"And then, when we go into the games, those scenarios we worked on in training actually happen, so we start believing in every word that he says."