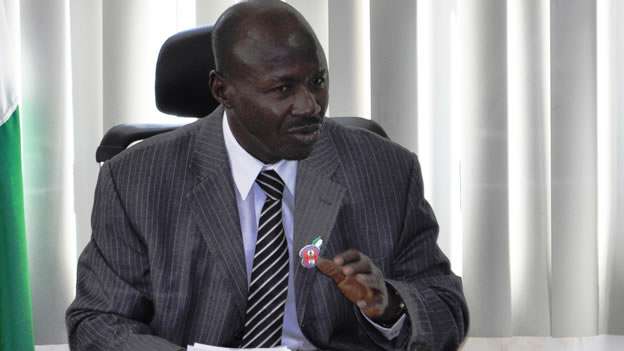 Ex-minister of finance and secretary to the government of the federation, SGF, Chief Olu Falae has come out to react to the arrest of ex EFCC boss, Ibrahim Magu.
Chief Olu Falae revealed this in a recent interview with members of the press.
According to him, no one is above the law and he must be prosecuted if evidence proves that he has broken the rules of the nation.
He added that the rules are the rules and without laws, Nigeria will be an anarchic nation.
On Magu and his arrest, "No one is above the law and therefore, anybody suspected of fraud should be investigated by the law enforcement agencies objectively. It if he is found to have committed no offence, he should be released and his respect and other privileges should be restored.
But if he is found to have broken the law of this country he should be prosecuted. Again, there should be no discrimination against any person, the law should take its normal cause. Let us remember one thing, what stands between us, Nigerians, and anarchy is the law. That is why we respect the law. If there is no law, Nigeria will be an anarchic nation. So, the rule of law is the fundamental foundation of every nation.
I remember before independence, Chief Obafemi Awolowo was always saying the rule of law must be entrenched as a fundamental principle for the Nigerian nation and fundamental human rights must be entrenched in the Nigerian nation. So, those are the things that stand between the Nigerian citizens and arbitrariness. The rule of law is absolutely important."
On restructuring, "This is not about the present government, it will be good if any government believes in it and starts working on it. It is unfortunate but it does not matter whether any government believes and accepts it or not. I have no doubt in my mind that by the grace of God, in my life time, Nigeria will be restructured because that is the best thing to happen. Eventually, we will get there. People know what is right. Nothing is working.
The roads are not working, there is insecurity. As I used to tell people, when I was 14 years old, I started going from Akure to Lagos to attend secondary school in Igbobi college. At the end of the term, I, alone, returned from Lagos to Akure in 1953 and thereafter, after the holiday, I would go back to Lagos from Akure.
I did that for three years and then, there were no kidnappers. But at the age of 77, a grandfather several times over. I have been Secretary to the Government of the Federation, Minister of Finance, Director for Economic Planning for Nigeria, and Managing Director of a bank. After holding all those positions, I was Kidnapped on my farm, I was no longer safe.
As a child, I was safe. It was when I turned 77 that I was no longer safe and the government decided that to avoid any security crisis in Nigeria, I would not be allowed to leave the presence of the police for the rest of my life because when I was kidnapped, there was a major challenge to the security of Nigeria and they did not want that to happen. We can all see that things are not working, there is no security, no employment, there is no freedom of relating with one another now.
We are training children who would come out of school unemployed. Clearly, this system has not worked for 60 years. I have no doubt that matters will go on and some matters will come to a crisis point where people will say enough is enough. That is the basis of my optimism. There must be a push before this chance can occur, those who are suffering will not accept it indefinitely."
Support InfoStride News' Credible Journalism: Only credible journalism can guarantee a fair, accountable and transparent society, including democracy and government. It involves a lot of efforts and money. We need your support. Click here to Donate