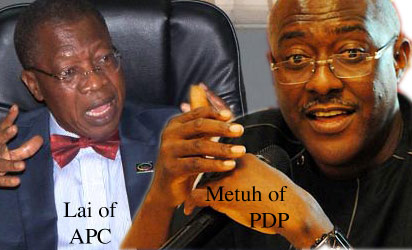 The Peoples Democratic Party, PDP, Publicity Directorate has rejected the offer of a crash course on speaking for an opposition party made by the spokesperson of the APC, Lai Mohammed, on Friday.
The PDP said the offer was arrogant and self-serving.
The PDP's response was contained a statement signed by an aide to its spokesperson, Olisa Metuh, Richard Ihediwa, on Sunday in Abuja.
"Alhaji Mohammed in his usual ill-mannered and condemnable approach left the issues and dwelt on insults, disdainful comments and personal attacks", the statement said.
It also said Mr. Metuh stands by the party's statement that the APC is plotting to impose a one-party system in the Nigeria and is now approaching some senior members of the PDP with phantom promises and threats ostensibly to destabilize the party.
"Is Alhaji Mohammed feigning ignorance of the various recent open and nocturnal meetings of his party with highly respected members of the PDP?
"We are aware that as part of the plot, the APC in the past few weeks, has been luring and encouraging some of our members to issue derogatory statements against the leadership of our party. While some of their accomplices have openly decamped, we know that others have been instructed to stay back and cause crisis within our ranks", it said.
PDP said even in states where it lost, the APC has engaged in violence and instigating crisis all in the bid to impose a one-party system in the country.
"The PDP National Publicity Secretary does not need Alhaji Mohammed's so-called six weeks crash course in party publicity.
"He does not need a course on how to insult and denigrate the office and person of the President of our country. He has already made it clear that the PDP will do no such thing but only focus on constructive criticism while presenting credible alternatives to the policies and programmes of the incoming administration in a manner that will promote democracy and the well-being of Nigerians.
"Nobody can learn anything from the APC National Publicity Secretary except abuses, divisiveness, lies and hate campaign. Nigerians know that Lai Mohammed is the originator of hate campaign with which he fouled our contemporary political arena. It is to say the least, despicable that his style badly influenced hundreds of young people who now engage in abusing each another on the social media thinking that such is what publicity is all about", PDP said.
The party also challenged Mr. Mohammed to go back to the statements the PDP and APC issued in the last three months and he will realize that while he was busy with hate campaign, raining insults and telling lies, Mr. Metuh focused only on points, marketing its candidates while promoting policies and issues that engender national unity, stability and progress.
"He therefore has nothing to learn from Lai Mohammed", they said.
PDP argued that Mr. Metuh is not in any way the weakest link but has only chosen to be mature, humble and civil in dealing with national issues.
"We therefore counsel Alhaji Mohammed to be careful with the way he is parading himself as a Colossus bestriding the globe; otherwise one would think that he is suffering from Narcissist Personality Disorder (NPD).
"While we urge him to purge himself and learn to be civil in his approach to issues, we also strongly advice that "those whose palm kernels were cracked for them by a benevolent spirit should not forget to be humble", PDP said.
Support InfoStride News' Credible Journalism: Only credible journalism can guarantee a fair, accountable and transparent society, including democracy and government. It involves a lot of efforts and money. We need your support. Click here to Donate