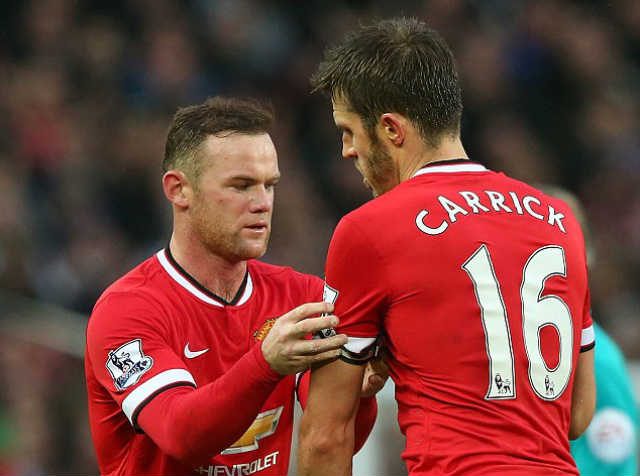 It's the summer of 2006, and Manchester United are in a crisis.
This is not the usual football "crisis" — which increasingly means little more than "they've lost their last two matches" — but a genuine, wide-ranging, major question about how Manchester United are attempting to achieve success. Chelsea have won the last two Premier League titles. Arsenal have reached the Champions League final and are moving to a new home, while Liverpool have followed European Cup success with FA Cup success and are surely now ready to challenge for the title.
And what of Manchester United? They've gone three seasons without a league title, the longest barren spell in the Premier League under Sir Alex Ferguson, and they finished bottom of a relatively weak Champions League group. Their most consistent performer from the previous five years, Ruud van Nistelrooy, has left for Real Madrid, and the two players supposed to step up in his absence, Cristiano Ronaldo and Wayne Rooney, have had a bust-up at the World Cup so serious that recently retired Alan Shearer (now a television pundit) is encouraging Rooney to turn up for preseason training and punch Ronaldo.
In central midfield, long-serving captain Roy Keane was effectively kicked out midway through last season following a row with management. Paul Scholes missed the second half of the campaign with a vision problem that could threaten his career. United's two most-used central midfielders in the 2005-06 Premier League were John O'Shea, a defender, and Alan Smith, a forward. In truth, it's a bit of a shambles.
In response, Ferguson signs one player. One single player: Michael Carrick, for £18 million, from Tottenham Hotspur. Few are convinced. "Ferguson shreds his legacy at every turn," wrote one United-supporting journalist. "The signing of Michael Carrick, a Pirlo when a Gattuso was needed, is a band-aid for a bullet wound and a ludicrously expensive one at that."
But over the next seven years, until Ferguson's retirement in 2013, Manchester United would enjoy a truly remarkable spell of success. Five league titles, two second-place finishes (both taking the title race down to the final day), one European Cup and two more finals (only beaten by Pep Guardiola's legendary Barcelona). There were dozens of factors in the turnaround, not least Ronaldo's sudden improvement. But in terms of finding a true turning point, the signing of Carrick is crucial.
Carrick was not a typical English central midfielder. In 2006, English football fans were still mourning the end of the Roy Keane vs. Patrick Vieira rivalry because they were tough tacklers; they were also still pondering precisely why Steven Gerrard and Frank Lampard, two attack-minded up-and-down players, couldn't play together. Carrick didn't make hard tackles and wasn't a box-to-box player. The most common analysis of his play was a question rather than a statement: "What does he actually do?" In the period before people went crazy for Xavi Hernandez, Carrick had to change perceptions of his position.
What did he do? Well, Carrick was a phenomenally gifted passer, capable of spraying the ball 50 yards towards the wingers in keeping with United's tradition of playing with width. But equally crucial was the fact that he wasn't incessantly attempting to play those passes, never guilty of turning to Hollywood balls. For the most part, Carrick was careful and methodical with his distribution, slowly knocking simple passes into the attacking players, making himself available for return balls and gradually putting United in control.
Defensively, Carrick rarely crunched into tackles simply because he didn't need to: His positioning was excellent, and his reading of the game faultless. He was never as reckless as his longtime midfield colleague Scholes, whose indiscipline without possession undermined his undoubted ability with the ball. More than anything, Carrick has been hugely consistent, a steady presence who rarely underperformed. Even the criticisms have generally been unfair: Rewatch the European Cup final of 2009, when Carrick was supposedly overrun by Barca's midfield, and you'll find that he's the man desperately trying to get United going with his passing while teammates are struggling to get into the game at all.
It's unquestionable that Carrick was more widely appreciated outside his home country. After a trip to Inter Milan in 2009, La Repubblica wrote glowingly about "El Magnifico Carrick." Xavi and Xabi Alonso name-checked him as their favourite English player. Guardiola recently declared him "one of the best holding midfielders I've ever seen in my life. He's the level of Xabi Alonso, Sergio Busquets in Barcelona and Bayern Munich."
Yet Carrick, who for so long appeared the obvious answer to England's midfield problems, was barely involved for his country throughout his long United career. At World Cup 2006, shortly before signing for United, he was widely considered England's best player in the second-round victory over Ecuador but was dropped for the quarterfinal when Gary Neville returned after injury, meaning Owen Hargreaves switched from right-back to central midfield. Incredibly, he never played at a major tournament for England again, not even at World Cup 2010, when he was in the squad but Fabio Capello preferred a clearly unfit Gareth Barry.
It was often unclear whether Carrick was left out of squads because managers didn't fancy him or whether he wasn't keen: He's suggested he felt borderline depressed when on international duty. Either way, finishing with just one more cap than Kieron Dyer and two fewer than Shaun Wright-Phillips means Carrick is the most underused England player of the past 25 years — far more so than 66-cap Scholes, who was allowed the luxury of a starting place for two years when he was, by his own admission, not playing well enough to justify his selection.
England weren't blessed with great quality in the holding midfield role, with only Hargreaves rivalling Carrick in that sense, and his career was sadly disrupted by injury. But like Ryan Giggs, whose lack of international caps contributed to his incredible longevity at club level, Carrick's Manchester United form probably benefited. He was one of the few constants throughout that seven-year period of success between 2006 and 2013, and at Manchester United's final end-of-season awards ceremony under the management of Ferguson, it was Carrick, rather than Robin van Persie or David De Gea, who won the club's Players' Player of the Year.
Recent years have been tougher for United, although Carrick has played another 150-odd games and never looked out of place in the starting XI. Between heart problems and declining mobility, Carrick has barely been seen this season — he's played just 24 Premier League minutes in a defeat at hometown club Newcastle and made three cup appearances. Yet his off-field influence remains significant: Paul Pogba recently credited Carrick with advice about how to time his forward runs, which is intriguing considering that was hardly a Carrick speciality, and it underlines the extent of his football brain. He'll remain at United next season as a coach. As in his playing days, he'll be working to improve other United players in an understated way.
Carrick will play some part in United's final game of the season at home to Watford on Sunday, his farewell match. But there was also a rare sight of him on-screen last Sunday when he was spotted in the audience at the World Snooker final. That felt like an appropriate setting: a sport about positioning, angles, tactics and patience, all qualities also relevant to Carrick's game but features that English football has too often overlooked throughout his career.
Support InfoStride News' Credible Journalism: Only credible journalism can guarantee a fair, accountable and transparent society, including democracy and government. It involves a lot of efforts and money. We need your support. Click here to Donate