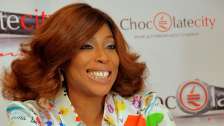 It was two halves of celebration on September 11, 2017, for Mo Abudu as the media personality and movie producer turned a year older.
This celebration comes just two days after her second movie as a producer, "The Royal Hibiscus Hotel" received glittering reviews from some of the world's top actors, directors, and producers.
The cast and crew of the movie took out time to celebrate with Mo Abudu at the Toca Restaurant in Toronto's Ritz Carlton. Zainab Balogun and Kenneth Okolie who were the lead cast of the movie could not but only pour out well-felt eulogies on Mo'.
This is definitely another interesting movie just like the previous record breaking movie produced by Mo Abudu "The Wedding Party".