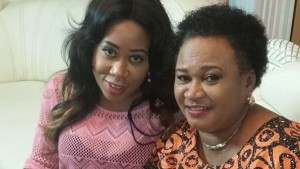 Pretty Nigerian actress, Moyo Lawal has revealed why she hasn't had s*x for a long time now.
The 'Journey To Wedlock actress' disclosed that she is always busy on movie sets and attending events that she forgets she's still a spinster let alone think of s*x.
In a recent chat with The Punch, Lawal said: –
'I am not dating anybody but I would start dating soon. I haven't had s*x in a while. I work too hard to think of s*x. I am always on set and even during my free time, I always have an event to attend. I honestly don't even have the time to think that I am single.
'The only time I remember that I am single is when my father asks me about my private life and family members ask me when the wedding bells would ring. I have so many people who look after me and I am forever grateful especially my fans.'
Speaking further, she said, 'In all honesty, I don't think I am sexy. I make sure I am myself at all times and I don't know why people think I'm sexy. I don't think I am pretty and I'm not tall, I'm just myself.'