The National Agency for Food and Drug Administration and Control has warned the general public against taking more than the recommended doses of diphenhydramine (Benadryl); an allergy medicine.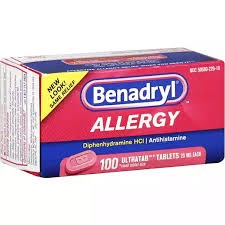 NAFDAC stated that the continuous taking of an overdose of the drug, is capable to cause serious heart problems, seizures, coma, or even death.
According to NAFDAC, a tiktok video is currently trending, which is advising people to take an overdose of diphenhydramine. The tiktok video is tagged 'Benadryl Challenge'.
NAFDAC further stated that Diphenhydramine is is used to temporarily reduce symptoms of hay fever, upper respiratory allergies, or the common cold, such as runny nose and sneezing.
The Benadryl medicine manufactured by Johnson & Johnson. NAFDAC has therefore charged consumers, parents and caregivers to keep diphenhydramine and prescription medicines out of the reach of children.
NAFDAC have charged health care providers to be cautious of the "Benadryl challenge" occurring among teenagers and alert caregivers about it. NAFDAC have therefore advised consumers to report adverse effects experienced from the use of the medicines to the nearest NAFDAC office.