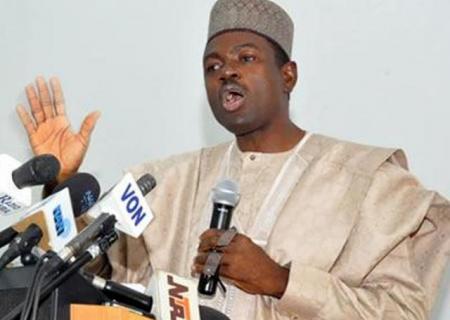 The Minister of Information, Labaran Maku, at the weekend, stated that he would make known his governorship aspirations only when the coast becomes clearer for him to do so.
He noted that it was still improper to kick start campaigns for elective positions in the 2015 general election even when the Independent National Electoral Commission (INEC) has not lifted the ban on political campaigns yet.
Maku, who is rumoured to be interested in the governorship election in Nasarawa State, made this known when he met with his Nasarawa Eggon kinsmen, who came in their numbers to appeal to him to throw his hat in the race for the 2015 governorship race.
The information minister, while playing coy, insisted that all appointed public officials were currently putting all efforts into supporting President Goodluck Jonathan in the implementation of his transformation agenda.
He told journalists after the meeting that, "This is my immediate community. They said people have been coming home jumping around that they want to be the governor of Nasarawa State.
"That they looked at all these people and they are thinking that I must come home to rescue Nasarawa State in the position of governor.
"I told them I am conveying the president's message to them and I told them that for me, it is not yet time for me to make an open proclamation.
"I am working with the president, we have a lot of work to do and shortly, they will hear from me but they should continue to work for the victory of the PDP in the state because we know that only PDP can deliver peace and development to Nasarawa State", he said.
Mr. Maku urged the people to embrace peace at all times and support the administration of President Jonathan in his drive to ensure peace, security and the development of Nigeria.
He stresssed that the country witnessed unprecedented development in all the critical sectors of the economy under the Jonathan administration.
The gathering resolved, according to Maku, to send him with a message to the president, urging him not to be discouraged by the spate of insecurity in parts of the country.
He said, "They have resolved all over the state to send me with a message to the President that he should not allow the things that are happening in the country, especially in parts of the North to discourage him.
"That they are aware of his development stride across the country and that even without peace, he has done better than many presidents in four years.
"Therefore, they believe that with what he has done in Almajiri education, in new universities, in building railways in the north and in the south, in supporting agriculture, in building roads across the country and in working hard to give this country the best economy in Africa, they believe that he is the president of the present and the future", he said.