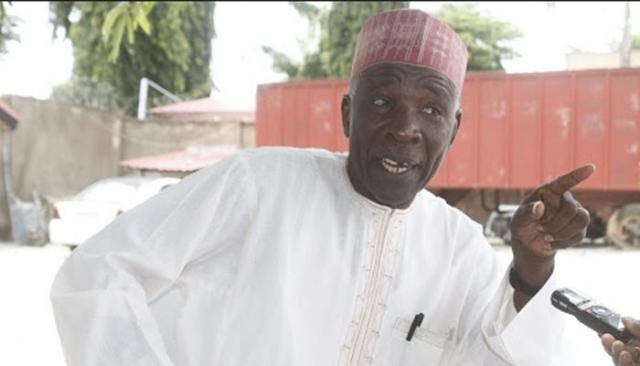 Reformed All Progressives Congress (R-APC) chairman, Buba Galadima has come out to say there is no clear evidence to back Buhari's second term victory.
According to him, Nigerians should unite and fight against the fascist encroachment on their liberty and democracy.
Buba added that contrary to several opinions, Buhari is not under pressure from higher authority and his incompetence has been his own doing.
On why he was arrested after the recent election, his words, "Well, I have addressed that matter sufficiently and have told the world several times over that I did not want to divulge what had happened, but I will say a bit. I was tipped off by a friend. I did not take his advice until when physically I saw people come for me and they had one mission. The mission was to take me out of circulation for the elections to be held, they did that without harm and I do not want to say much, because saying much will also betray them."
On how he went against Buhari despite being is being his old friend, "In the first place, I would not want to accept that I was his old friend. I am still the best friend he has on earth. My parents told me that whoever cannot look you in the eyes and tell you the truth should be avoided because he is not your friend. I kept to that as I look at him straight in the face and tell him what I think is right. It may not even be right, but I am convinced that what I am telling him is the correct situation."
"So, he cannot find a better friend than me, who will tell him exactly one's frame of mind. Of course, sycophants and bootlickers would say I was once his friend and now his enemy. Secondly, I cannot say whether President Buhari categorically said he will do only one term in office. But he told the world press conference in 2011 that that would be the last time he would ever contest election and everybody in Nigeria and the world saw him weeping, in hot tears. He tested God's will and God made him lose the election, yet he came back to re-contest the election.
If I were him, under any situation, once I say 'no', It will be my no, because my integrity will be called to question and my integrity is worth more than anything in the world, including the presidency of Nigeria."
On if Buhari is under pressure, "A lot of people have said many things in that regard, but I want to disagree. Here is a man that is about 80 years old and he had been but everything that a human being could ever want to become in this country.
Just to mention a few, he was the chairman, Petroleum Trust Fund. He was a governor, minister, head of state and now a president, meaning that he was not only at the corridors of power throughout his life, but he had the power himself.
Therefore if anybody influences him to do what is wrong, then I would call his own capacity to question. Hence, he is not under any spell or pressure from anybody. As such, anything that happens will be by his wish."
Support InfoStride News' Credible Journalism: Only credible journalism can guarantee a fair, accountable and transparent society, including democracy and government. It involves a lot of efforts and money. We need your support. Click here to Donate