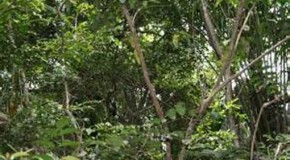 GUSAU (Environment Ministry Report) – The Governors of the North – East geo-political zone, including that of Zamfara State, Abdulazez Yari Abubakar Shettima and Saidu Nasamu Usman Dakingari of Kebbi State have expressed support for the Federal Governments' Great Green Wall Project aimed at foresting eleven front-line states that are being ravaged by desertification.
The Governors affirmed their support from their respective state capitals lately when the Environment Minister, Laurentia Laraba Mallam visited them in Gusau and Kebbi respetitively. During the visit, four first-class traditional rulers from the two states – the Emir of Gusau, Kabir Muhammad Danbaba (Alhaji); the Emir of Maru Banaga, Abubakar Chika Ibrahim (Alhaji) from Zamfara State and the Emir of Gwandu, Mohammadu Ilyiasu Bashar as well as Emir of Argungu, Samaila Mohammed (Alhaji) have all pledged to mobilize their subjects in their respective domains towards commencement of tree planting activities in support of the forestation programme, in order to check the ravaging desertification as well as position themselves to reap the long term economic benefits of the project.
According to the Environment Minister, the week-long massive environmental sensitization campaign of the North-West geopolitical zone was targeted at governors, traditional rulers and people of the zone to drum up support for the 'Great Green Wall' project which is key to President Goodluck Jonathan's Transformation Agenda for the environment sector.
While at the palace of the Emir of Argungu, the Minister informed him that no community or individual will lose a grain of soil to the Federal Government or anyone as a result of the Great Green Wall project, insisting that Government will execute the project in liaison with the communities and hand over to the respective owners of the land for permanent ownership and full economic benefits. He also appealed to the Emir to help in sensitizing the people under his domain on the positive impact of the project, demanding him to convince the people to take ownership of the Great Green Wall project.
In an interview with journalists, the District Head of Bachaka under the Kebbi Emirate told them that the Great Green Wall Project within his domain is progressing satisfactorily, especially in terms of tree planting.
In her address to the Gwandu Emirate Council at the palace of the Emir of Gwandu to acquaint the Emirate with the concept of the Great Green Wall Project as well as solicit their support, the Minister appealed to the people to participation in the project in mass.