8 August 2014 – Gravely concerned for the physical safety of civilians in northern Iraq and the humanitarian situation in areas now controlled by the group, Islamic State in Iraq and the Levant (ISIL), the United Nations human rights office today called on the international community and the Governments of Iraq and the Kurdistan region to protect people affected by the fighting.
"We are deeply alarmed by the situation in northern Iraq, and in particular the situation of vulnerable minority groups, including the Yezidi, Christian and Turkomen communities," Ravina Shamdasani, Spokesperson for the UN Human Rights Office (OHCHR) told reporters in Geneva.
She underscored that widespread or systematic attacks directed against any civilian populations because of their ethnic background, religion or belief may constitute a crime against humanity.
OHCHR also voiced concern at "very disturbing reports" about the treatment of women. In specific, Ms. Shamdasani said they were told of women being sold as sex slaves, and being punished for not adhering to misinterpretations of Islamic laws.
The agency also had very worrying information about children dying and about the recruitment of child soldiers.
"All parties, including ISIL and associated armed groups, must abide by international humanitarian law, including the obligation to protect the civilian population," the OHCHR spokesperson said.
The Security Council and Secretary-General Ban Ki-moon yesterday voiced concerns about the displacement of hundreds of thousands of people as a result of the violence. There are reports of ISIL attacks in Kirkuk, and Qaraqosh, and earlier attacks in Tal Afar and Sinjar district of Ninewa Governorate, affecting mainly the vulnerable communities of Christians, Turkomen, and Yezidis.
The UN World Food Programme (WFP) is coordinating with the UN Refugee Agency (UNHCR) to provide assistance in the northern part of the country. Armed clashes have further exacerbated the situation there, forcing people to flee, including in Erbil city, according to the UN Office for the Coordination of Humanitarian Affairs (OCHA).
"An estimated 50,000 people are believed to be trapped on Sinjar Mountain, and over 200,000 are estimated to have made their way to Dahuk governorate over the past 72 hours," a UN spokesperson said in New York, stressing that the number of those displaced remains fluid and unverified.
The main priorities for the rising numbers of people fleeing Sinjar, which ISIL took over on Sunday, are water, food and shelter, and there are concerns regarding soaring temperatures, which are next week forecast to hit 111 degrees Fahrenheit.
UNHCR, WFP and the UN Children's Fund (UNICEF), along with partners, are providing assistance for up to 200,000 people who fled violence in Sinjar last weekend, and who are moving northward to Dahuk Governorate in the Kurdistan region.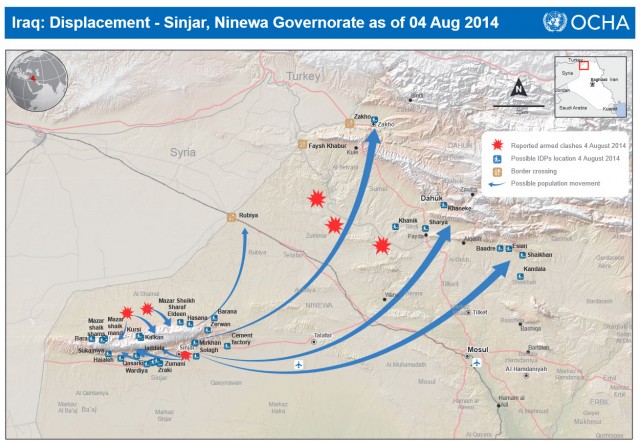 Iraq: Displacement – Sinjar, Ninewa Governorate as of 04 Aug 2014. Credits: OCHA
The UN agencies said that working with partners, they have pre-positioned stocks in Dahuk in order to rapidly respond to those arriving from Sinjar and other areas. WFP set up three emergency field kitchens in the area, in partnership with the local Barazani charity foundation, and said more would be established in coming days.
WFP is also trying to establish hubs in Basrah and Baghdad to facilitate food and transport arrangements, said spokesperson Elisabeth Byrs. Additionally, the agency is seeking to establish new transport corridors to bring food into Iraq, including a southern corridor through Kuwait.
"Hundreds of thousands of people have been displaced by the crisis," said Ms. Byrs. "Some people are in difficult situations in and around Mosul in hard-to-reach areas."
Before the latest wave of displacement, starting with the violence in Mosul in early June, WFP was already assisted about 240,000 people who had fled conflict in al-Anbar Governorate, as well as more than 180,000 refugees from the conflict in Syria, who were sheltering in Iraq.
Source: UN News Centre – Middle East
Support InfoStride News' Credible Journalism: Only credible journalism can guarantee a fair, accountable and transparent society, including democracy and government. It involves a lot of efforts and money. We need your support. Click here to Donate