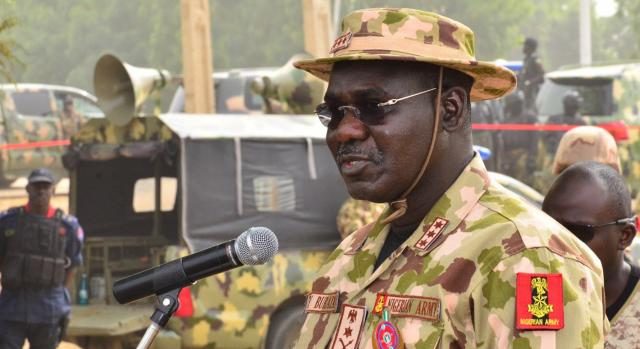 "The most important thing I learned is that soldiers watch what their leaders do. You can give them classes and lecture them forever, but it is your personal example they will follow." – General Colin Powell.
Nearly all leaders can stand adversity, bit if you want to text a man's character, give him a war. This very word fit into the compass mind under which the character of Lieutenant General Tukur Yusuf Buratai has evolved. In the war against terror, his leadership qualities stood out the most.
With this treatise, with this article, a reflection on the qualities of a Quintessential Gentleman and a Soldier begin… His name, Lieutenant General Tukur Yusuf Buratai, Chief of Army Staff (COAS), Nigerian Army.
Many will agree with the General in the very manner of summing up his philosophy — A passion for Excellence is contagious and uplifting. Passion cuts both ways… In creating passion in his own life and with those he cares for, General Tukur Yusuf Buratai wants to feel, experience and live every emotion and passion of his work….And such that he had determined to suffer through the bad for the heights of the good. Here, his story as a war time General and the Chief of Army Staff, starts as one of the very few who as the head, has witnessed war… Real War, and unlike many other, has Triumphed!
The war I am referring to, is not even just a war, not just a battle, but a war with a difference. The War on Terror. And Not just a war on Terror but a war on Boko Haram, arguably the Deadliest Terror group with as much of a political backing.
And to fight against these odds in a multi-plural polity like the Nigerian situation is such a hugely daunting task.
HOW IT ALL BEGAN
The Boko Haram first started as an uprising in 2009, in what was a conflict between Boko Haram, a militant fundamentalist group, and Nigerian security forces.
Violence occurred across several states in Northeastern Nigeria, which resulted in more than 1,000 dead, with around 700 killed in the city of Maiduguri alone. And that was how a full scale war had ensued since then.
Boko Haram appeared in the consciousness of most Nigerians outside of the Northeastern zone, for the first time toward the middle of the year in August of 2011.
The escalation of what started as a mere uprising developed into a full scale war toward the end of 2012 in which from Bornu state the Boko Haram Terror spread to the whole of the Northeastern states… It was this situation that became the focal point upon which the last administration of President Jonathan lost the 2015 elections after a three year period that produced minimal victories that left open the vulnerability of the military, especially the army, resulting in heavy casualties, low morale and mismanagement of resources… A dangerous situation it was for both the fledgling Nigerian democracy and the continued existence of a United Nigeria.
Such a country President Muhammadu Buhari inherited and a more severe and precarious circumstance Lieutenant General Tukur Yusuf Buratai inherited as the New Army Chief of Staff.
It is very important at this juncture in this discourse to point out the very issues that the army under General Buratai has been dealing with in this war against Terror since 2015.
Boko Haram has many arms and appendages… The most dangerous reality about the Boko Haram is perhaps its political arm, of which any army is not going to be so equipped to deal with by the book and neither by their training.
It is not uncommon to see this scenario play out — That a decision be made at the very top of the Army command and within minutes such intricate policy decisions made in secrecy is already known to the Terrorists…. Many times, the terrorists will be waiting in ambush to intercept the soldiers carrying out a mission regarded as a most secret maneuver and tactics…!
No sooner after debriefings are done and personnel deployed, would the same Terrorists will, by information somewhat obtained, know of it and launch an attack…!
The leaks were mostly done by politicians who are aiding and abetting the Terrorists…
This situation and many of such the Army Chief has had to face in his two years in the saddle.
To say the Truth, General Buratai has succeeded where others have failed in tackling the ever difficult challenge of tackling the political arm of the Terrorists… And we must say where we have the volatile mix of politics and religion, a very serious challenge ensues… But not insurmountable as the Nigerian Army under General Buratai has succeeded in locating, arresting and decimating the support systems of the Terrorists…
In August of this year, the Nation heaved a sigh of relief when the army announced that Two Boko Haram terrorists and principal logistics experts, fell into the ambush of Army troops deployed at Forward Operation Base Mainok in Borno state. So also were 4 armed men, 5 drug suppliers, 26 others arrested earlier this year for working for Boko Haram as informants.
In April of year 2016, the Nigerian Army announced that Six vital people noted for getting logistics support and information for the Boko Haram terrorists, were arrested in a swift military operation by troops of 3 Battalion, 22 Brigade.
Those arrested were described as "unrepentant and hardened insurgents", they include Musa Kalile Saba Kara, an Ameer, Babagana John, an informant and also seller of foodstuffs, Isah Abakar, an Ameer , and Usman Abasa, who specializes in cattle rustling and selling of food stuffs, as well Bukar Gujja, a tailor who prepare clothes for the terrorists and Bukar Kahalifa, also a tailor who prepares the dress for the Boko Haram terrorists.
The Nigerian Army under General Buratai has also through 'Operation Lafiya Dole' made a heavy breakthrough when it arrested a Caretaker Chairman of Mafa Local Government Area of Borno state, Alhaji Shettima Lawan Maina for hiding a top Boko Haram Commander…
Such are the few examples of the progress the Army Chief has made toward what has now largely been seen as a worn war over Boko Haram Terror. Being able to fight a largely unseen enemy, in an unconventional Terror war meant employing more than conventional weapons and tactics… This has also been a war of wits and bravery.
Lieutenant General Tukur Yusuf Buratai himself is from Biu local government of Borno State, right in the midst of all that has transpired so far in this war on Terror that started from Borno state.
As the General himself has demonstrated, In the Military, he has learned the essence of people. He has learned to be impartial.
In General Buratai, we have seen so many examples of self-sacrifice and moral courage, even waging a war upon those who might be friend, acquaintances and family. In the whole of different endeavors, not just in the Army alone, you don't get that many opportunities to be sure of such loyal impartial leaders who would administer decisions with such precision and total loyalty to his country over and above sectional interests…
Today, the people of the Northeastern zone, sleep peaceably in their beds at night only because Noble men like General Tukur Yusuf Buratai and his Gallant Soldiers stand ready to DEFEND their liberties on their behalf.
As it appeared his tenure was coming to an end and a glorious Nunc Dimitis is to be rendered to a worthy Gentleman and soldier, alas a decision came from the Commander-In-Chief… Which was not altogether a surprise.
It was therefore, not at all stupefying nor confounding, but a welcoming expectation, that on the 18th day of December, 2017, the President and Commander-In-Chief of the Armed forces, decided to extend the Tenure of Service of the Chief of Army Staff along with the services of the other Service Chiefs…
In a statement released by the Ministry of Defense , which says, "President Muhammadu Buhari, having carefully reviewed the on-going military operations across the nation and the efforts of the Chief of Defence staff and the Service Chiefs in the counter insurgency operations in the North East, coupled with the security situation of the Niger Delta region, has graciously approved the extension of tenure of Service Lieutenant General Tukur Yusuf Buratai, and others… "
Rather than say goodbye Sir, to a High Achiever, we are proud to say, "Good luck, Godspeed, and come home safe after your extended tenure, with the unalloyed belief that vanquishing the remnants of the Terrorists is only a matter of months!"
Our thanks and appreciation goes to President Muhammadu Buhari, the Federal Executive Council and our State Governors for the approval of $1 Billion for the use of our security agencies in tackling the many security challenges that we face, including the Boko Haram insurgency.
Part of these funds we are sure will be of benefit in routing completely the Boko Haram menace from our nation.
Our special thanks go to the Gallant soldiers under the able leadership of General Buratai for doing the nation proud, as we also remember those who have paid the supreme sacrifice in defending their motherland with their very lives…
Long live the Nigerian Army.
Long live the Federal Republic of Nigeria.
---
Comrade Oladimeji Odeyemi, a Youth and Gender Activist, a security analyst and a counter terrorist expert sent this article from Ibadan, Oyo State.
Credit: Olufemi Lawson Akindele
Support InfoStride News' Credible Journalism: Only credible journalism can guarantee a fair, accountable and transparent society, including democracy and government. It involves a lot of efforts and money. We need your support. Click here to Donate