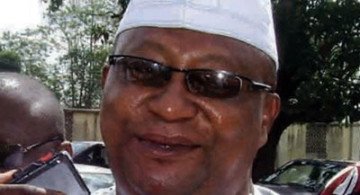 First Executive Governor of Osun State, Alhaji Isiaka Adeleke and former Chairman, House of Representatives Committee on Defence, Hon. Wole Oke, have both withdrawn from today's governorship primary elections of the Peoples Democratic Party, PDP, slated to hold in Oshogbo, the state capital.
Their withdrawal follows Tuesday's alleged assault on Adeleke by the supporters of another aspirant and former deputy governor of the state, Senator Iyiola Omisore as well as Wednesday's ward congress, which they have separately faulted.
Adeleke, who was a late yet surprising entry into the race, announced his withdrawal from the primaries at a press conference held at his residence in Ede on Friday evening.
He said: "There will likely be a breakdown of law and order if I participate in the primary election. Therefore, I am announcing that I will boycott tomorrow's primaries. Why should I allow somebody possessed by the devil to waste the lives of our people because I want to be governor?
"A minister has continued to threaten that he would waste so many lives in the primaries.
"I am boycotting the primaries, I will participate when our party decides to conduct a free, fair and violence-free primaries. But I will work for the success of President Goodluck Jonathan in 2015".
Adeleke added that his decision to boycott the primaries should not be mistaken for an act of cowardice or fear.
Similarly, Oke, who justified his decision to also boycott Saturday's primaries, which is now going to be a two-horse race between Omisore and ex-Minister of Youth Development, Senator Olasunkanmi Akinlabi, alleged that the state PDP chairman, Alhaji Ganiyu Olaoluwa, is working for Omisore.