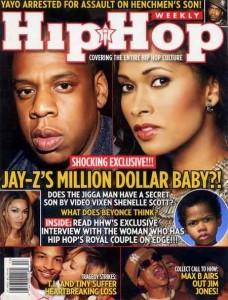 I bet by now you must have heard rumors that the millionaire power entertainment couple of Beyonce and Jay Z might be getting divorce but i bring you conclusive facts that might point towards that direction.
After all the joint tour, Beyoncé putting up affectionate photos of her family on Instagram and on her website, the rumors are still coming strong.
According to several tabloids, Bey and Jay – who are weeks into quite possibly the biggest show of the year– are ready to end their nearly 12 year union. PageSix recently reported that a source told them only "divine intervention" can save the troubled marriage. That while Jay Z seemingly is the one most at fault, he's also the one doing all in his power to keep the couple together, even hiring marriage counselors who are believed to be traveling with the super duo on their tour. The source had said:
"They are trying to figure out a way to split without divorcing . . . This is a huge concert tour and they've already gotten most of the money from the promoters up front. Despite the tens of millions the couple will pocket from the current tour, this will certainly be their last and the end of the tour could officially spell the end of the marriage. There are no rings, if you haven't noticed."
Been trying to brush aside the frivolous claims, but it does seem the power couple have been facing hard times since the infamous elevator fight at the Met Gala. And here are 9 signs that hint at a possible Jay Z and Beyoncé divorce.
1. SHENELLE SCOTT
You may have forgotten, but back in 2011, Star Magazine reported that video vixen Shenelle Scott had given birth to Jay Z's son nine years prior. In addition to keeping him a secret, it was rumored that Carter paid Scott over $1 million to stay quiet in addition to child support. Because the news dropped shortly after Beyoncé announced her pregnancy, many found it hard to believe, but this was just one of many rumors to surround the powerhouse couple.
2. ELEVATOR GATE
Two months ago, leaked security camera footage from the 2014 Met Gala unveiled a brutal physical altercation between Jay Z and Solange Knowles. To this day, the reason for their elevator brawl remains a mystery, but Beyoncé's reaction during the encounter (or lack thereof) have many thinking it has something to do with Jay's wandering eye.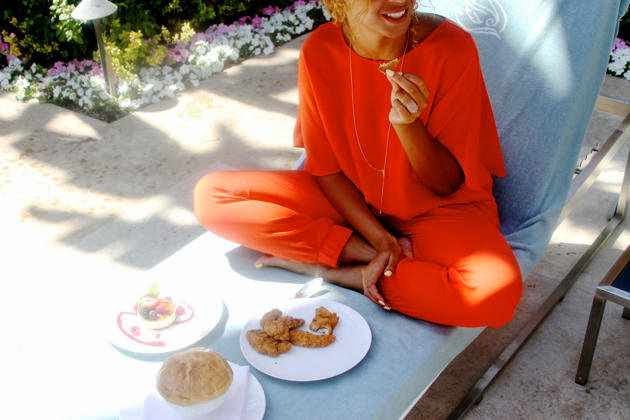 3. " IV" Tattoo Removed?
Shortly after the elevator scandal broke, everyone started to notice that Beyoncé was allegedly removing her "IV" tattoo, a symbol of her marriage and commitment to Jay Z. The above Instagram photo of Bey's wedding finger bandaged up is just one of many photos showing the faded ink.
4. Siding with Solange?
Queen Bey also made her allegiance to Solo public after posting several photos of the two together on her Instagram just days after "ElevatorGate." At this point, it seemed she had clearly chosen a side…and it wasn't her husband's.
5. M.I.A. For The KimYe Wedding
The high profile couple continued dodging paparazzi as they failed to attend the nuptials of close friend Kanye West and Kim Kardashian. Although Bey posted the above photo with well wishes to the newlyweds, many felt the Carters were simply not interesting in attending any events as a twosome.
6. Wedding Rings Off
Earlier this week, a source close to the "On The Run" tour dished to Page Six that the couple have stopped wearing their wedding rings and will announce their divorce at the conclusion of their summer run. "[Right now] they are trying to figure out a way to split without divorcing…This is a huge concert tour and they've already gotten most of the money from the promoters up front." Time will only tell if this rumor is true.
7. Rumored Couples Therapy
The two are also rumored to be conducting Skype counseling sessions when they're not maintaining appearances on stage and Instagram. "They have known their therapist for a long time and try to have weekly sessions just to keep communication open and make sure there are no misunderstandings," says a source to the Daily Mirror.
8. New Prenup
Back in 2010, Beyoncé admitted to signing a prenup which reportedly promises her tens of millions if they ever divorce. With separation rumors running rampant, many believe the singer is fighting to adjust their agreement.
9. Bey's "Resentment" Remix On Tour
Late last month during the Ohio stop on their OTR Tour, Beyoncé raised eyebrows after she adjusted the lyrics of "Resentment" to allegedly address her personal issues to Jay Z. Where she said he lied after she's been riding with him for 12 years.
Support InfoStride News' Credible Journalism: Only credible journalism can guarantee a fair, accountable and transparent society, including democracy and government. It involves a lot of efforts and money. We need your support. Click here to Donate