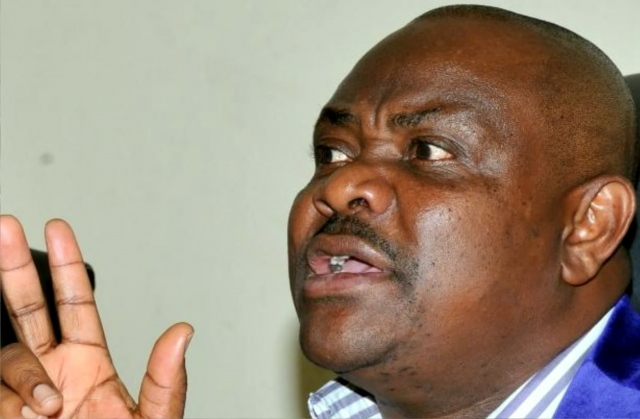 What began like a small story originated  by the Department of  Custom and Excise over the importation of combat holicopters allegedly abandonned at the ports is gradually blowing out of proportion.The handover of the attack choppers to the Nigeria Airforce by the Customs was supposed to be the end of the story. But in the Rivers State where every little thing provides an opportunity for mudslinging, which has not happened. That tiny story that most Nigerians were unaware of at first, is rapidly snowballing into a raging controversy.
It would appear that in the Rivers state, old habits die hard and so, somehow, that once beautiful State where life went on quietly and productive forces went to work, has transformed into a boiling culdrum of overflowing emotions and dangerous backstabbing. As a Nigerian, I  would have probably preferred to watch what is obviously the epic entertainment of an outgoing month from the sidelines. The trouble is, I come from Rivers State and I am not finding all of this funny at all.
We have seen with our own eyes, how on an account of our growing recklessness, Rivers state has lost its oil wells to Bayelsa State. We cannot pretend today that oil wells which belonged to the Rivers State have been ceded to Akwa Ibom State. Neither can we forget that with the connivance of some of our people,  oil wells that used to belong to the Etche Ethnic Nation have been given to Abia State.
We can play the ostrich as much as we like, but can we equally pretend that men, women and children are not being killed in parts of our State while the rest of us, including a government which by the nature of its existence claims our mandate, does nothing?
I have asked myself why we should turn ourselves into laughing stock in public. I have found no answer. I have asked myself why animosity of the worst consuming type is becoming our stock-in-trade. Still, the answer has been hard in coming. I have wondered why a deliberate attempt is made to put a spin on almost everything in the State of my birth. All that I get is an ominous silence as our people head towards an endless precipice. I have asked myself why I should keep quiet because I have become involved in politics. My soul simply can't take it anymore.
What is indeed happening? Why can't we move forward as a people? Why can't we have some quiet? Are we the only ones with established differences?
What is happening is proof, in my opinion, of reason gone mad. It is evidence of how personal interest instead of the collective interest of the Rivers people is overshadowing everything else.
Similarly, it is a worrying spectacle of a growing decay in our value system, the birth or rebirth of a fascist ideology that justifies the outcome of a deadly end and the advent of a society in which conscience, fairless and justice mean nothing at all.
Of course, respect, honour and  intergrity has been thrown overboard long ago because of the nature of our politics while guns speaker louder than words to this day.
In so far as the raging controversy arising from the helicopter episode is concerned, some may wish to blame the Nigerian press for all that is happening in Rivers State. Perhaps for the singular reason that in their search for a complete story, they ask so many questions and go on to publish responses obtained. Such is the nature of the press anywhere in the world.
Yet the media doesn't stick a gun to our necks. Neither does the media put words into our mouth. So, what we usually say to the press is a product of our temparament, our understanding of the situation, a reflection of our level of maturity and our appreciation of the consequential effects that the spoken or written word could have.
But alas in today's Rivers State where life is short and brutish, where politics is full blown conflict by other means, all has become fair as they say in war. What a shame!
It is strange that as we wash our dirty leanings on the streets of major Nigerian capitals, we have brought different interpretations for instance, to what decorum and decency actually means.
Good governance should mean the art or science of ensuring the welfare of a people through the deliberate provision of infrastructure as well as the guarantee of peace and security by government.
It should mean the provision of a conducive environment which allows for the free flow of goods and services, the freedom of the people, fruition of businesses, the creation of much needed jobs and the fulfilment of the social contract between the people and their rulers. But it would seem that in Rivers state where frightening differences exist and men are ready to go to war over minute issues, good governance has taken a different colouration as well. We can find the colouration in the comment which suggests that because the Rivers State Government under Amaechi could not deliver good governance, it resorted to the purchase of helicopters.
Wowwwww! That's Nigerian politics for you!! Strange? Isn't it?
What really should be good governance? Can good governance be attained through the deliberate promotion of falsehood, outright hatred and blantant lies in order to score cheap political points? Should good governance include the deliberate incubation of terror and the protection of persons who act as if law, and the order that it seeks to secure, do not exist? Should the destruction of the legacies of a preceding administration by another be seen as setting precedence for good governance?
Should the art of guaranteeing good governance include the absence of necessary policies which should create wealth, stabilize the State and bring smiles to the faces of Rivers people?
There are several questions to ask but several questions that may never attract answers. As Rivers people, we cannot encourage these shameful displays of unwarranted hostility which have become part of our hallmark to continue. It doesn't tell who we are; neither does it resonate with a great majority of a voiceless people in our home states that look on, despair in their eyes and pain in their heart.
These are indeed very strange times for Rivers state and the Rivers people caught in the middle of a bone-crushing struggle for power in which there is no retreat, no surrender.
I am acutely aware that I actively involved in the game too, if not as a participant, then as an observer. But when it comes to journalism or the expression of the right to free speech, the paramount interest of the Rivers people and the nation come first.
Having said this, it would be necessary to appeal to all the gladiators to put the welfare and wellbeing of the Rivers people and the Rivers State above all things.Here, I would urge Governor Nyesom Wike, more than anyone else, to refrain from actions or comments which have the capacity to ignite tension in the polity. In truth, no one needs a peaceful, stable and cordial environment in which to deliver the dividends of democracy more than himself.
Accordingly, he must shun what is turning out to be a kind of cavalier attitude that is unbecoming of a leader, and concentrate on meaningful efforts in finding how lasting peace can return to the State.
To say that Nyseom Wike or Rotimi Amaechi, the Minister of Transportation, had no responsibility to explain the issues surrounding the appearance of the said helicopters would be wrong.
What is wrong, in my view, as a son of Rivers State is the irritating tantrums that are being thrown at the moment. For the avoidance of doubt, the totality of what leaders do to promote peace, security and develoment, which have a soothing impact on the welfare and wellbeing of their people while in office translate in so many ways to the existence of good governance. Good governance cannot, in my mind, exist in an environment in which innocent lives are taken on a daily basis. Or exist in an atmosphere in which kidnappers, fraudsters, cultists and killers roam the land freely.
Bad governance shouldn't exist for that matter when a government acquires attack choppers for the purpose of fighting pipeline vandals whose activities constitute economic sabotage and a threat to the environment.
To promote the continuity of good government policies and programmes known to yield results ought to be a step in the right direction when looking at the notion of good governance.
When a serving administration acknowledges the accomplishments of other governments before it, embarks clearly on its own signature projects, and resists the temptation to take credit for what it hasn't done, it lays the foundation for transparency and climbs unto a high moral ground that helps to develop a culture of good governance.
We should never contemplate to accuse a government of poor governance  when it labours to provide basic infrastructure like schools, health centres and roads for the benefit of the people; when it ensures that the necessary structures which make it possible for such facilities to serve the general good are put in place.
Yet, by the same token, should we not talk of poor governance when a government, faced with obstacles that it is trying to surmount, cannot find immediate answers. Wike seems to have alluded to this when in explaining his side he made reference to government under Amaechi having access to much money.
However, obtaining loans and applying such loans in areas of need which can provide employment and generate resources required for the repayment of such debts could well be an effort at ensuring sparks of good governance. The reverse, strictly speaking, would provide a yardstick for measuring poor governance as some are doing, rightly or wrongly, when loans secured by the Wike administration come up for special mention.
Should the indexes of assessment when it comes to growth patterns indicate such borrowed funds were not properly utilized, the implication for Wike would be that due diligence was not followed in such a manner as to promote good governance. But if under Rotimi Amaechi, government provided infrastructure and in the process created much needed white-collar and blue-collar jobs through the multiplier impact of policies and economic activities which existed at the time, then it can be said of that era there was good governance, or a measure of it.
If the attempt early in the Amaechi administration to look at a state beyond oil which gave vent to investments in agriculture was visionary and futuristic, then a conscious effort was made through good governance to prepare for a future that is already here. If there is an increase in today's government activities which enables civil servants to see themselves as active agents driving the wheel of government progress, in terms of ensuring transparency and accountability, especially in regulating public procurement expenditure, the outcome of running such an open government could help promote good governance.
Interestingly, Wike is quick to talk about good governance issues, suggesting that given the chance, he would very much want to leave a legacy in this regard. That said, the ball is in his court and most Rivers people would very much want to see how he taps the ball towards the realisation of the overall goal.
To get close to this objective, Wike would require focus, establish a rapport officially with all the parties that are part of the Rivers project, and build strong bridges that will promote cooperation instead of confrontation.
Fortunately or unfortunately for him, Wike has two years to go; two years to prove to his support base that he didn't dissappoint; two years to go to pass the acid test set by the silent majority to whom the Rivers State genuinely belongs.
Finally, for all those who may be interested in judging the Amaechi administration which has left office or the Wike administration which is currently in office, a candid x-ray of their policies and programmes as well as their adherence to international best practices,  their track records in opening up the State for business and guaranteeing peace and security would provide a healthy basis either for drawing comparisons or reaching conclusions when it comes to good governance.
Ogbonna Nwuke sent in this piece from Port Harcourt, Rivers State
Support InfoStride News' Credible Journalism: Only credible journalism can guarantee a fair, accountable and transparent society, including democracy and government. It involves a lot of efforts and money. We need your support. Click here to Donate