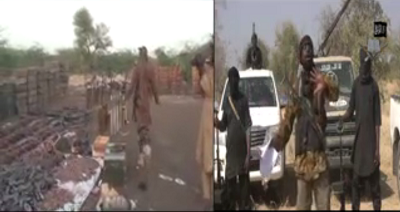 The controversial leader of the Boko Haram sect, Abubakar Shekau, on Tuesday released a disturbing video in which he set fire to the Nigerian flag, displayed a large cache of arms and ammunitions as well as threatened to end democracy in the country.
Shekau had also in the 36 minutes video, declared the All Progressives Congress (APC) Presidential candidate, General Muhammadu Buhari, and his Peoples Democratic Party, PDP, counterpart, President Goodluck Jonathan, as enemies and infidels, who Nigerians cannot rule Nigeria.
The leader of the Boko Haram sect, whom the military had claimed to have killed on at least two occasions but somehow manages to resurface, was seen in this latest video dressed in his usual apparel – full military kit with an AK-47 rifle hanging across his chest and wearing a head warmer, held a spiral bind booklet from which he read out his statement that lasted 17 minutes in Arabic. Thereafter he spoke for about seven minutes in Hausa and some few minutes, in English.
Shekau, who displayed his latest collection of quite a disturbing number of arms and ammunition his group purportedly seized from troops stationed in Baga, Borno State, ridiculed soldiers of the Nigeria Army as weaklings, who are hiding under the lies that they don't have enough arms to prosecute a war against his group.
According to the terrorist leader, the arms seized by his group from Baga was enough to prosecute war against the Nigerian State, how much more, neighbouring Cameroon.
He also warned that more killings and attacks would soon be recorded around towns and villages in Nigeria.
He said in Hausa, "We thank God for making us enter Baga and Doro-Baga in victory. We have today declared Baga as part of our territory and one of our operational base.
"Jonathan you are in trouble. All governors of Nigeria are in trouble. All these war equipment that you see being displayed in the screen are gotten from Baga and Doro. Your army kept deceiving the world that you can't fight us because you have no arms. Liars! You have all that it takes; you are just coward soldiers. You forgot that it is God that arms. Is it not amazing that we who started with sticks and machetes, are today the biggest headache to the almighty Nigerian soldiers? What a shame!!
"Jonathan, is it not shameful that now, even your supporters are insulting and cursing you? This should be a sermon to the world that you should not trust on humans. Any one that trusts a man will end up regretting. This is just the beginning of the killings; what you've just witnessed is a tip of the iceberg; more deaths are coming. This will mark the end of politics and democracy in Nigeria. This is to confirm to you that we carried out the Baga massacre, and we are going to do more.
"Nigerians are busy with politics, hailing Buhari! Buhari, Jonathan! Jonathan! Do you think the two of them are spared? Do you think even Buhari is a good Muslim? Buhari is not a Muslim as far as we are concerned – He is nothing but an infidel and our enemy.
"Muhammed Yusuf, the president of Niger, so you too have the temerity of coming out to pay sympathy visit to Francois Holland, the President of France. Is this your true character? Muhammed Yusuf, you have amazed us. You shall soon see our wrath, very soon.
"And you, Paul Biya, the president of Cameroon. Now you are asking for foreign assistance; please don't waste your time because God is more than all the helps you will get.
"And even you Idris Debby (President of Chad), you are not spared. You guys have acted too late. Very late.
"Before I end my speech; I want to react to a radio broadcast from France where the French said they are enemies of Islam and the prophet of Islam. I am going to read the France statement (he tried reading out the statement written in French)… In that broadcast, the French government and people after insulting the holy prophet of Islam, said a war against terrorism is the same as fighting Muslims.
"After this, I will be setting ablaze the Nigerian flag just like we always do in all the places that we have conquered. It is a useless flag whose relevance would soon be a thing of the past. We are now showing the world all the arms and ammunitions that we got from the Nigeria army barracks in Baga, Doron-Baga, Mile-4 and this barrack. What we have in our armoury now, plus all that we had before is enough to execute a victorious war against the whole Nigeria".
Shekau, who also threatened to attack Total Petroleum company's assets in Nigeria, in retaliation for the French government's pledge to fight terrorism, was later shown in the video setting a Nigerian flag on fire, and hoisting a Boko Haram flag in its place. He then recited an altered version of the first few lines of the Nigeria National Anthem, speaking in English:-
'I pledge to Allah, my God. To be Faithful Loyal and Honest. To serve Allah with all my strength. To defend his Islam… Allahu Akbar!! Nigeria is dead; her constitution is dead!! Islam and Islam; war by war upon the Kafir who is the unbeliever".
The remaining video showed members of the terrorist group setting fire to the Nigerian flag and reciting a Quranic verse that says "and say the truth has come and false has vanished; for surely all falsehoods are bound to vanish".
Then a Boko Haram member dressed in long gown with a turban around his head, was seen walking over a cache of displayed arms and ammunitions, while he narrated how the arms were obtained.
"All these arms and ammunition you see in their thousands are gotten from Baga. We thank God for makind this possible because He says we should always thank Him for every good thing he does and He shall give us more. Words cannot express our gratitude to Him. It is His mercy for us that is why we got them so easily. God says He would test us with all that He gives us; so we know God will be waiting to see what we would do with these things. Insha Allahu we are going to do His work with these arms at our disposal. We are going to sacrifice our lives in doing God's work.
"As you can see we have thousands of AK 47 rifles, we have so much that we are still conveying them to our camp here. We have AA, we have different kind of them that can be mounted on vehicles. We Shell Car; we have RPGs; we have Mac and so on. We cannot just mention them. We have dozens of vehicles and tanks that God has given us".
The video showed a disturbing assemblage of ammunition many of them in boxes that could be counted in thousands. More and more ammunitions were displayed in the bushes and under shrubs as background voices of Boko Haram members kept on chanting Allahu Akbar!!
Support InfoStride News' Credible Journalism: Only credible journalism can guarantee a fair, accountable and transparent society, including democracy and government. It involves a lot of efforts and money. We need your support. Click here to Donate