Chinedu Onyeizu
First Published on The Guardian Newspaper, The Whistle has obtained (with proof) the Emotional and Provoking Story of a former youth corper whose meeting with Jonathan in 2003 Changed his life and those of many other sick people for ever. Read;
All of the great leaders have had one characteristic in common: it was the willingness to confront unequivocally the major anxiety of their people in their time. This, and not much else, is the essence of leadership. —John Kenneth Galbraith.
There are three kinds of people: Those you meet and instantly forget a few minutes later. Those that give you a negative impression when you meet them, and those that leave long-lasting pleasant memories after you've met them.
I am Onyeizu Chinedu from Obingwa LGA of Abia State a co-founder and member board of trustees, Martha Iyaya Development Foundation; a Harvard University trained professional and a graduate of Petroleum Engineering from the Federal University of Technology, Owerri.
In late 2002, I was posted to Bayelsa State as a "Batch A" National Youth Service Corp member and after the three weeks orientation camp; I was assigned to serve in Kiama Grammar School, Kolokuma/Opokuma Local Government Area to teach physics and mathematics. Of course, I had a pleasant experience teaching in the community school and hanging out with locals, friends and other corps members most evenings under the famous Kiama bridge.
One of the most memorable events of my youth service experience occurred outside the classroom and it started with a visit from an elderly friend of mine, Papa, who supplied fresh plantain and fish to corpers. Anytime he visited, I observed he had a cloudy white substance that covered a large part of his right eye. While we conversed, I remembered the NYSC encouraged corps members to engage in group or personal community development projects (CDP) when posted to their respective primary locations.
Initially, I was a bit worried my meager monthly allowance popularly referred to as allowee, which was a paltry 11, 500 naira back then, would not be enough pay for my needs, let alone fund a humanitarian initiative. But I figured that if Papa didn't hesitate in sharing his bunches of plantains, neither would I spare any effort in the bid to restore his sight; it would be worth my time, energy and allowance.
The first thing I did was to register the initiative as a personal Community Development Project. Then, I began my research, learning the name and cause of his eye infection. When I was told it was cataract, I started surfing the net on weekends to either find a group, an NGO or a medical institution that would be willing to offer free eye surgery to Papa.
After much search, I eventually found a medical charity in the United Kingdom, named Sight 2020 Direct. I sent them an e-mail, asking if they could come to Bayelsa for a free eye surgery camp. After several correspondences, I was able to convince the group to come over.
In all this, I was unaware of a big bureaucratic hurdle I had to jump with the Bayelsa state government ministries. Since this was a group of ophthalmologists and nurses that were coming to carry out a free eye saving surgery for persons blinded by cataract in the state, I assumed that the government officials would be enthusiastic about the project. In this hope and anticipation, I informed the Bayelsa State Commissioner for Health and the numerous special advisers to the Governor on health matters, of my intention. To my utmost surprise, I was turned into a ping pong ball, sent back and forth between officials and ministries. Each day, I was either told "Chinedu come tomorrow," "Chinedu the commissioner is busy with an important delegation," or "Chinedu the initiative is laudable, we will consider it and call you," etc.
After three months of seeking for help and support from the government, I exhausted my resources and that of the corps members who'd volunteered for the project.
Frustrated and tad angry, my small team and I decided to organize the eye camp on our own. We informed the NYSC state office and got approval to go ahead, with a humanitarian branded message and creative ideas we could muster. Shortly, we started making progress as more corps members volunteered. Soon, we had opticians, medical doctors and other professionals on the team. We set up make-shift diagnostic centers across the state, using opticians who volunteered in areas outside Yenagoa. Within weeks, we registered over fifty blind patients and conducted visual acuity tests on them.
I remember organizing a sensitization road walk along the major streets of Yenagoa wearing a white T-shirt, on which was branded, "Sight for all Bayelsans in 2003". Because we had no money, we produced the roadwalk T-shirts using cut-outs from cardboard paper and diluted oil paints. Fortunately, the Bayelsa Radio and TV stations agreed to air our public announcements and jingles free of charge. That helped us reach out to patients who lived outside Yenagoa. I hardly slept for more than two hours in a day. I would co-ordinate and plan project deliverables with the volunteer optometrists, follow up on other corp members that volunteered to support logistics and at the same time, chase after the ministries responsible for health matters in the state. We had nothing to go on, but determination and the passion to serve our nation kept the life line.
When the medical team from the United Kingdom arrived at the Port Harcourt airport on November 14, 2003, I still had no financial or logistical support from any government agency. But before I made the last move towards getting the state government's support, I said a quick prayer. I asked God to intervene, at least for the sake of the poor, blind persons who had made it out of the creeks, in hopes of regaining their sights. This final move was to visit the head of a youth organization there in Bayelsa. I met him and explained my ordeal with the state ministries. He apologized and asked if I'd met the state deputy governor, Dr. Goodluck Jonathan. I hadn't and told him so. I told him that if any help was to come, it needed to be swift, because the expatriate doctors were already on their way to Bayelsa from Port Harcourt.
Right there, he made some calls and together, we drove down to the Bayelsa State Government House. When we got there, we were ushered into the deputy governor's office. We logged in our names and after a few minutes, we were sitting face to face with Dr. Goodluck Jonathan. I told him about the free eye surgery programme and my fruitless efforts to get support from the state. I was specific; I asked him for three things: accommodation, security, and transportation. After listening to me, he smiled and thanked me for initiating such a laudable project in his state. Very courteously, he asked us to wait in the reception. I was exhausted and anxious, still praying for a miracle.
As God could have it, the Chief of Staff soon appeared and relayed a message from Dr. Jonathan.
"You will be given a coaster bus, five mobile policemen and accommodation at the Intercontinental Hotel, Yenagoa," he'd said. In addition, I was also given the sum of two hundred and fifty thousand naira to purchase medical equipment. I couldn't believe my ears. After months of going through hell, I'd finally gotten my miracle.
The free eye surgery programme started on Tuesday, the 18th of November 2003, at Okolobiri General Hospital. The Sight 2020 Direct team performed a total of sixty-eight surgical operations, removing cataracts and inserting intraocular lenses. Over sixty-eight blind indigenes of Bayelsa State had their eyesight restored at the end of the programme. The full story was published in the Sun Newspaper on the 13th of December, 2003; pages 24 and 25.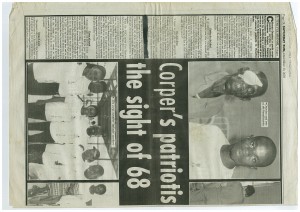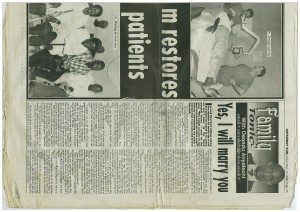 Twelve years have gone by since my youth service in Bayelsa State, but I have never stopped wondering what would have happened to that free eye surgery programme if Dr. Goodluck Jonathan hadn't intervened. What would have happened to Papa and the other sixty-seven patients?
I strongly believe that Dr. GoodluckEbele Jonathan certainly belongs to the group of individuals who leave positive positive memories that last a lifetime. He addressed the major anxiety of his people at a time it was most needed. Although we talked for less than ten minutes, his prompt action that fateful day had a huge impact on my life and the lives of those sixty-eight people.
From that brief encounter with him, I learned that persistence pays off. Problems and challenges may obstruct your progress, but if you believe in yourself and your goal, you will eventually succeed. I remember waiting for hours, particularly at the Ministry of Health, with nobody to attend to me. I remember being referred to this or that special adviser, and being forced to use my meager corper allowance which was less than a hundred dollars, to support the free eye surgery programme. In spite of these setbacks, the breakthrough finally came.
The second thing I learned from my encounter with Dr. Jonathan is that there are government officials who genuinely care about the welfare of Nigerians and strive to improve lives. Even in the midst of corruption and apathy, you will find God-fearing leaders who provide immediate solutions to pressing problems.
The last thing I would like people to learn from this story, is that it is okay to aim high. I could have donated textbooks to the students of Kiama Grammar School and registered the donation with NYSC as a personal community development initiative. But I decided to aim high and touch as many lives as possible, and thanks to Dr. Goodluck Jonathan, I succeeded.
These three lessons have inspired me to share my national youth service experience with Nigerian youths and with those who find it difficult to cope with government bureaucracy and life's challenges. A lot has been written about the upcoming presidential elections in February, and most of the debates revolve around speculation. I already know my choice for the office of the president and it is based on personal experience, not fantasy or rumors. He might not be a perfect president, but he is a man that can listen and act, especially when approached with solutions to our national problems.
My vote will go to the affable former deputy governor of Bayelsa State who believed in a youth corper and acted promptly to improve the health of the helpless.
Support InfoStride News' Credible Journalism: Only credible journalism can guarantee a fair, accountable and transparent society, including democracy and government. It involves a lot of efforts and money. We need your support. Click here to Donate