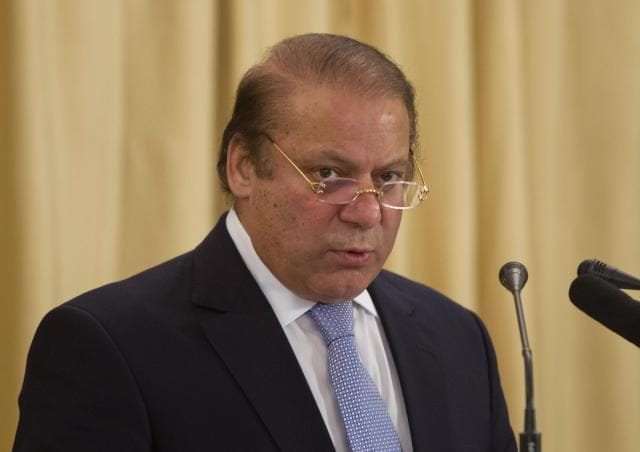 The Prime Minister of Pakistan, Nawaz Sharif, has been sacked from office by the country's Supreme Court after a damning corruption probe into his family wealth, saying he is unfit to hold public office. The court also ordered a criminal investigation of his family
The verdict truncated Sharif's third stint in power and a statement from the prime minister's office said he has resigned.
In a surprise move, the court also dismissed Finance Minister Ishaq Dar, one of Sharif's closest allies who has been credited with steering the economy to its fastest pace of growth in a decade.
Sharif's ruling Pakistan Muslim League-Nawaz (PML-N) party, which has a majority in parliament, is expected to name a new prime minister to hold office until elections due next year.
The Supreme Court ruled unanimously that Sharif was not fit to hold office after an investigative panel alleged his family could not account for its vast wealth.
"He is no more eligible to be an honest member of the parliament, and he ceases to be holding the office of prime minister," Judge Ejaz Afzal Khan said in court.
Prior to the decision, several cabinet ministers, including Sharif's closest allies, said the ruling party would respect the Supreme Court's verdict.
"Go, Nawaz, Go," shouted supporters of the PTI opposition party who had gathered outside the court, and who jeered politicians from Sharif's party.
Sharif's supporters echoed the prime minister's previous declarations of a conspiracy against him.
"Those who are happy and dancing will cry tomorrow," said Abid Sher Ali, a junior minister. "They have stabbed democracy in the back."
Analysts have warned that another bout of political turmoil would spook foreign investors, who are already reticent to invest in Pakistan, deterred by security fears and a tough business climate.
Sharif, 67, has always denied any wrongdoing and has dismissed the investigation into him as biased and inaccurate.
"This is not accountability, it is revenge," tweeted Railways Minister Khawaja Saad Rafiq hours before the verdict. "In an effort dislodge us, the democratic system has been made a target."
Sharif's two previous stints in power were also cut short, including by a military coup in 1999, but he returned from exile to win a resounding victory in general elections in 2013.
"Today the people of Pakistan got real justice, a new chapter has begun," Jehangir Khan Tareen, a member of the opposition PTI, said outside the court.