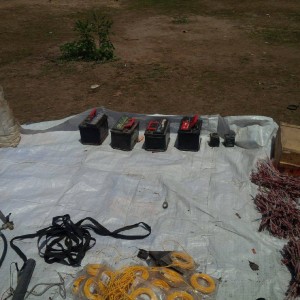 The Department of State Security (DSS) yesterday disclosed that it had uncovered some terrorist cells in the nation's capital city, Abuja, and had arrested 10 suspected terrorists.
The DSS said the arrested Boko Haram sect members were those who migrated from various conflict theatres in the North East to the FCT in order to enable them capitalise on the excitement of the yuletide season to launch attacks in the city.
The sect members according to a statement by Tony Opuiyo, had continued to establish and operate sleeper cells whose (sole) mandates were to conduct surveillance and carry out subsequent attacks in the FCT.
"For instance, on October 29th, 2015, the duo of Muhammed Hassan Idris (a Nigerien) and Baba Abdul Maina were arrested at Panteka area of Apo, Abuja. This was followed by the arrest of Sanni Mohammed (aka Kakase) and Ahmed Umaru (aka Mallam; Mallam Hamdi Garne; Ahmed Daubi) in Lafia, Nasarawa State. Sanni, who hails from Potiskum, Yobe State, fled the area following his involvement in coordinated suicide attacks in Yobe, Plateau, Kano and Kaduna States.
"In a related development, on 19th November 2015, Mohammed Shiwar Abubakar and Musa Ta'ada were arrested at Shoprite Junction, Apo, Abuja. Abubakar hails from Borno State and operates as a taxi driver in Abuja. He is of an unknown address but claims that he sleeps in his Volkswagen Golf car at the Honda line, Apo mechanic village, Abuja. The Gwoza-born Ta'ada also operates under the cover of a suya seller at Apo Primary School along Kabusa Road, Abuja," the statement read.
It further noted that on 23rd November, 2015, one Ahmed Hassan was arrested while carrying out surveillance on a high-profile hotel in the city.
According to the statement, he hails from Katagum, Bauchi State and that the suspect admitted using the cover of a beggar to sustain surveillance on his targets.
"Bulama Ali had previously been arrested in Karu, Nasarawa State, on 22nd November, 2015. Similarly, on 1st December, 2015, Hassan Abubakar and Mohammed Gwale Mohammed were arrested at Madalla, in Suleja LGA of Niger State following intelligence that they were planning to commence attacks in the FCT after a successful surveillance of the city. Before his arrest, Abubakar was working with other sect members in different parts of the country notably Borno, Yobe, Taraba and Adamawa states. Abubakar was arrested in the house of Mohammed Gwale who claims to be a Federal Civil Servant from Niger State. He (Gwale) has made useful statements which are helping with further investigation."
The DSS said preliminary investigations had so far revealed that the suspects and others still at large may have adopted their respective trades as plausible covers to infiltrate the city and its environs in their bid to conduct successful surveillance and map out soft targets for the sect's attacks, adding that its (DSS) operations are, therefore, aimed at pre-empting any attacks by the terrorist elements against the backdrop of the upcoming festive period and beyond.
The service urged residents to remain vigilant especially this yuletide season and promptly report to security agencies any suspicious movements and persons in the FCT and even other parts of the country and also assured the general public that it would continue to carry out its responsibility of ensuring peace and security in Abuja and beyond.
In a related development, the army yesterday said it had arrested the man behind the production of video footages which Boko Haram insurgents usually post on the Internet, Abdullahi Abubakar Sadiq, in Borno state.
Sadiq was suspect No. 58 in the recently published photograph of '100 Wanted Boko Haram suspects' that was circulated by the Department of Army Public Relations in October.
In the published photograph, believed to have been sourced from a screen grab of a video clip, Sadiq, who appeared to be in his late 40s, was seen carrying a video camera tripod.
Spokesman of the Nigeria Army, Colonel Sani Kukasheka Usman, said he was arrested in Uba town of Askira Uba local area of Borno state.
Many residents of Borno state who viewed the video footage that was posted on YouTube showing the Boko Haram leader, Abubakar Shekau, leading his group of insurgents to perform prayers during the last Eid Kabir celebration, confirmed that the video was taken in a community called Pumbum, which was not far away from Uba town: which made some logical sense if the Boko Haram's video man, Sadiq, was arrested in that locality.
Beside the arrest of Sadiq, Colonel Usman said four other suspected Boko Haram members were nabbed in villages around southern Borno.
Usman who is the acting director army public relations described the arrests as "yet another unprecedented achievement."
"Vigilant troops of 28 Task Force Brigade today arrested another Boko Haram terrorist suspect, Abdullahi Abubakar Sadiq, believed to be the terrorists' Chief Cameraman and suspect number 58 on the list of 100 suspected Boko Haram terrorists wanted list", said Colonel Usman.
Since the publication of the photos of 100 suspected Boko Haram insurgents in October this year, about seven persons have been identified and arrested, one of which was an 11-year-old child who said he was trained as a suicide bomber with the hope of attacking inmates at the IDPs camp where he was arrested.
Also yesterday, the Chief of Defence Staff (CDS), General Gabriel Olanisakin, said in Maiduguri the Borno state capital that the December 31 deadline give to soldiers to end Boko Haram insurgency remains achievable if members of the civil society accord troops the needed strategic partnership.
The defence chief said this while speaking to journalists in Maiduguri after his visit to the heartbeat of the on-going Boko Haram insurgency.
"The public must continue to ensure security consciousness and ensure make it their duty to report any issue that is of security threat on their lives and property," he said.
General Olanisakin said his visit to Maiduguri was to inspect the on-going counter-terrorism and counter-insurgency operations against Boko Haram.
He said the December deadline remains sacrosanct and must be met to end terrorism in the country, even as he said the war against terrorism was, so far, a success.
The Defense chief admitted that in the course of executing the war against Boko Haram, the military incurred some losses which he said was inevitable in a war against Boko Haram insurgency and terrorism.
He however said that "the losses and challenges being encountered in the operations would enable the military plan and re-stratagise for further operations to meet the December deadline, return peace in theffected North East."
On December deadline, he said: "It is sacrosanct. We are working and of course we will let you know as time goes on. Of course in operational situations like this, you have challenges; and we are addressing those challenges to make sure that we mitigate them.
"I'm also going to see what is happening in Jakana village and its environs; and assess the position of things in that location. This will enable us give further directives; as to what to do next meet the December deadline on insurgency and terrorism in the nation."
[Leadership]
Support InfoStride News' Credible Journalism: Only credible journalism can guarantee a fair, accountable and transparent society, including democracy and government. It involves a lot of efforts and money. We need your support. Click here to Donate