In the ever-evolving world of the internet, search engines play a pivotal role in helping users find the information they seek. Among the multitude of search engines available, Google and Bing stand out as two of the most prominent players.
While both platforms serve the same fundamental purpose, they have distinct features, algorithms, and user experiences that set them apart. In this article, we'll delve into the ongoing rivalry between Google and Bing, exploring their strengths, weaknesses, and the latest developments in the world of search.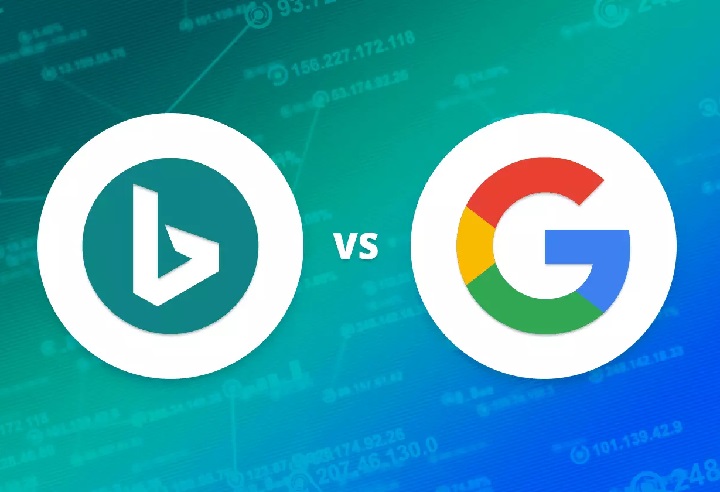 The Power of Google
Google has long been synonymous with internet search, dominating the market with a global market share of around 92% as of 2021. Its name has even become a verb: "to Google." What has made Google the undisputed king of search?
1. Algorithmic Mastery: Google's search algorithm, famously named PageRank, was a game-changer when it was introduced. It revolutionized how search results were ranked, considering not only the relevance of keywords but also the authority and quality of the websites linking to a page. This approach provided more accurate and valuable search results, setting Google apart from its competitors.
Over the years, Google has continued to refine its algorithms, incorporating machine learning and artificial intelligence to better understand user intent and deliver personalized results. Google's ability to continuously improve its search algorithm has been a significant factor in its dominance.
2. User Experience and Speed: Google has always emphasized user experience. Its minimalist homepage design and fast-loading search results have made it a favourite among users. Additionally, features like "Google Instant" and "Voice Search" have kept the platform at the forefront of technological innovation.
3. Diverse Ecosystem: Google's ecosystem extends beyond search. It includes popular products like Gmail, Google Maps, Google Drive, and Android, creating a seamless digital experience for users. This interconnected ecosystem has contributed to Google's ability to retain users and collect valuable data.
The Rise of Bing
Bing, owned by Microsoft, has been the primary contender challenging Google's dominance. While it hasn't reached Google's market share, Bing has managed to carve out a significant space in the search engine landscape.
1. Integration with Microsoft Products: Bing is deeply integrated into Microsoft's products and services, including Windows, Microsoft Edge, and Office. This integration has made Bing the default search engine for millions of users, providing it with a steady user base.
2. Visual Search and AI: Bing has invested in visual search capabilities, allowing users to search for information using images rather than text. Additionally, it employs artificial intelligence to enhance search results and provide relevant suggestions.
3. Privacy Focus: Bing has made privacy a focal point of its platform. It offers features like "Bing in the Classroom," designed to provide a safer search environment for students, and it doesn't use personal data from searches for ad targeting to the extent that Google does.
The Ongoing Battle
The competition between Google and Bing continues to evolve. Here are some of the latest developments and strategies in this ongoing search engine showdown:
1. Bing's "Bing is for Doing" Campaign: Bing has been actively promoting its platform with the "Bing is for Doing" campaign, emphasizing its role in helping users make informed decisions and take action. This campaign aims to position Bing as a practical tool for real-life tasks.
2. Google's Focus on User Privacy: In response to growing concerns about online privacy, Google has taken steps to enhance user data protection. It has introduced features like "Privacy Sandbox" to provide more transparency and control over user data.
3. Mobile-First Indexing: Both Google and Bing have shifted to mobile-first indexing, prioritizing mobile-friendly websites in their search results. This reflects the increasing importance of mobile devices in internet usage.
4. Voice Search Competition: Voice search has become a battleground for search engines, with Google Assistant and Amazon's Alexa competing with Bing's voice search capabilities. As voice-activated devices become more common, this competition is likely to intensify.
5. Emerging Markets: Both Google and Bing are actively targeting emerging markets like India, where internet usage is growing rapidly. These markets represent significant growth opportunities, and both search engines are vying for dominance.
In conclusion, the battle between Google and Bing is far from over. While Google remains the dominant force in search, Bing continues to innovate and challenge its supremacy. The competition benefits users by driving improvements in search technology, privacy protections, and user experiences. As the digital landscape evolves, the rivalry between these two search giants will undoubtedly shape the future of internet search, ultimately providing users with more powerful and useful search engines.
Support InfoStride News' Credible Journalism: Only credible journalism can guarantee a fair, accountable and transparent society, including democracy and government. It involves a lot of efforts and money. We need your support. Click here to Donate