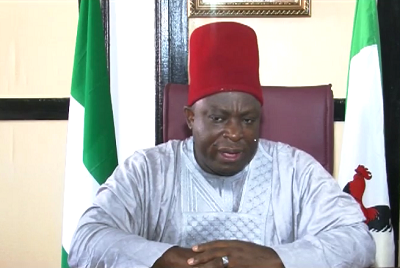 The National Chairman of All Progressives Grand Alliance, APGA, Chief Victor Umeh, has taken a former Minister of Defense, General Theophilus Danjuma (retd.), to the cleaners for allegedly insulting the former Biafran warlord and Ikemba Nnewi, late Dim Chukwuemeka Odumegwu Ojukwu.
Danjuma was quoted to have told reporters last Wednesday after President Goodluck Jonathan paid him a private visit in his Asokoro, Abuja residence that had the late Ikemba conceded victory to the federal troops after the fall of Enugu during the civil war in the same manner President Jonathan accepted defeat after the March 28 presidential poll, the nation would have been saved "a full year of bloodshed".
Reacting to the statement Tuesday in Abuja, Chief Umeh wondered why some Nigerians, who could not summon courage to talk ill about the late Ojukwu have suddenly woken up from their slumber to insult the man who was and is still seen as the symbol of the Igbos, adding that any insult on the late Biafran warlord, is an insult against Ndigbo and they will not take it from any Nigerian.
"Danjuma displayed cowardice attitude for not talking while Dim Chukwuemeka Ojukwu was a life, of course how dare he talk before a lion, a strong man is always avoided, and those of them who talk ill against Late Ikemba were in the lower carder from him in terms of education and wealth.
"As at the time Ojukwu was involved in the Nigerian affairs in the 1960's he had a Masters Degree from the University of Oxford, those insulting Ojukwu now had no education, they shut themselves into the Nigerian oil and got rich overnight.
"For insulting Ojukwu who is a symbol of Ndigbo, Danjuma will be judged rashly as one of the people who contributed in marginalization of Igbo's in Nigeria, he has always being a hater of Ndigbo, now that his memory and brain is failing him, he can talk anyhow, people should ignore him, at the end of his journey in Nigeria and on this earth he will be judged very rashly", he said.
Umeh, who could barely hide his anger, noted that most Nigerians are having their past time by insulting prominent and ordinary Igbomen. "We have in recent time become a laughing stock for some irresponsible men who gets up and start talking nonsense about Igbo people, if it is not about voting in an election, it is about one nonentity insulting respected Igbo men".
He continued: "Well Ojukwu our leader has passed on, so, instead of joining issues with Gen. Danjuma, Ndigbo should rather wait for him to pass on since, he belongs to the generation of late Ikemba Nnewi, one day he will pass on.
"I believe he is suffering from insomnia, loss of memory, it is a sickness he is actually suffering from, he loses memory intermittently, his brain is no longer connecting well and instead of us joining issues with him, we will wait for him to join his generation that is already exiting, we cannot begin now to bite ourselves because somebody whose time is almost up is talking very irresponsibly".
According to the APGA chairman, "Ojukwu from every account of history, was a bold man who resisted the injustice being handed down on his people. Gen. Danjuma does not belong to that league of strong personalities; he only became relevant after the Nigerian Biafran war which he used the advantage of being on the Nigerian side to amass oil wealth in Nigeria.
"Danjuma is having plenty oil money, he can afford to abuse anybody, including President Jonathan who visited him, but what consoles us is that he is a human being, one day he will also pass on like Ikemba he insulted and history will record him for what he has done.
"He has oil wealth in Nigeria today, he is richer than many state in the country, he was the one who fought the war and took advantage of the war to appropriate oil wealth to himself, common wealth of Nigeria, he appropriate for himself and family", he said.
Chief Umeh further lamented that some Nigerians stole oil wealth belonging to the country to the extent that they do not know what to do with it again, and they do not even know that people are suffering and need help.
"Millions of Nigerians are unemployed, yet some people who shot themselves into oil wealth with guns and became richer than some states cannot provide jobs for them with our common wealth they stole, instead they are saying and doing things that can make the people revolt against them
"I know that in no distant time the Nigerian people will take their revenge on all the oil thieves who stole their oil wealth through the guns and their ill-gotten wealth will be taken and recovered from them, if we did not do it now, one day our children will go after their children and recover all the fathers stole from Nigeria, and it will become history".
"They were settled with oil wealth for carrying gun against Biafrans, they shot themselves into riches at the expense of Nigerians, so they did not understand the issue that led to the war because at that time, somebody like Danjuma was not mentally developed to appreciate what Ojukwu saw and confronted at that time", he said.
Support InfoStride News' Credible Journalism: Only credible journalism can guarantee a fair, accountable and transparent society, including democracy and government. It involves a lot of efforts and money. We need your support. Click here to Donate