We Acknowledge Tinubu's Contribution To APC's Success, But Other People Also Contributed And They Want To Be Relevant In The Party – Oyegun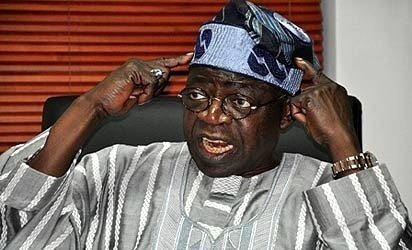 Chief John Odigie-Oyegun, the National Chairman of the All Progressives Congress (APC) has described those accusing the President Muhammadu Buhari-led administration of tardiness as being unfair. He also noted that not only party leader Asiwaju Bola Tinubu contributed to the success of the party in the last election and therefore it was only normal that they want a sense of relevance within the system.
"Like I always say, we are not talking of 16 years, we are talking of over 50 years. Since independence, this country has been ruled by the same tendencies. So, it is good to go with deliberate speed, deliberate steps, make as few mistakes as you can  in the appointment that will come," Oyegun told Vanguard in an interview.
"So, I think that process is nearing the end now. As you can see, appointments are being rolled out, the activities people thought were slow are taking place, even the implementation of some aspects of the program of the party that we promised are already underway. I think all that is left now is the list of the ministerial appointees and it will come out anytime from now and we will be up and running. So, there is the need for us to be cautious, given the fact that this is our first experience in governance," he said.
Oyegun said he has heard speculations that politicians from the North are aligning ahead of 2019. "If that is true, it makes me very, very sad indeed because these people are playing god. We still have almost four years to go and people are already posturing for 2019; is something between them and their Creator.
"Like I said earlier, we have a pact with the Nigerian people in the next four years, and what concerns us today is to work to justify their confidence; 2019 will take care of itself. If we don't start working now to make us a desirable party in 2019, then all the playing god, all the posturing would have come to nothing; so we are concentrating as a party and I can say Mr. President is concentrating on the promises we have made to the people and we are not going to be diverted by any individual who may be playing god by posturing for 2019."
Commenting on the allegation that some norther leaders in the APC are doing their best to make National Leader Asiwaju Bola Tinubu less visible despite his work to ensure the party won the 2015 elections, Oyegun reminded Nigerians that the APC is an agglomeration of three parties and fractions of others. "As a result, it is quite clear that there are interest groups within the party as it is, and they just want to be relevant to actualize their goals.
"But, again, that will continue, that will not stop in any party, that is always there. And, of course, it is accentuated in a party where independent parties came together to sink their individuality and became one party. So those interests are there, there are pressures from outside, there are power groups within, interest groups within the APC, but I am not aware Tinubu is trying to take over the way you are putting it. And the job of the Chairman is to arbitrate between these interest groups within the party and I think we are managing to do that, but, of course, it is not always that everybody will be happy and satisfied and, again, it is the job of the Chairman to make sure everybody has the sense of belonging in the party.
"People have contributed immensely to the success of the party and Tinubu is one of those people who contributed immensely, there is no question about that; we have to accept that and give all due credit to him, but so did a lot of other people contributed to the success that is the APC today. And all everybody wants is a sense of relevance within the system and that we are determined to provide for all these groups that have created the success that is APC today," Oyegun said.
The post We Acknowledge Tinubu's Contribution To APC's Success, But Other People Also Contributed And They Want To Be Relevant In The Party – Oyegun appeared first on INFORMATION NIGERIA.
Support InfoStride News' Credible Journalism: Only credible journalism can guarantee a fair, accountable and transparent society, including democracy and government. It involves a lot of efforts and money. We need your support. Click here to Donate