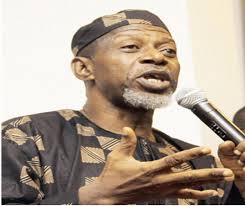 Popular Nigerian poet Odia Ofeimun has urged Nigerians to join him to vote in President Goodluck Jonathan for another term.
According to him, his decision to vote Jonathan in the March 28 presidential election is because he has outperformed all his predecessors in office. He particularly praised the president for convening the national conference and fighting corruption in the country.
"Listen, in the case of Goodluck Jonathan, I always wanted to support him because I knew he would do a national conference and he went after it methodically; and even Tinubu admitted it that he was methodical in the way he called civil society organization, had a Belgore commission, had a National Assembly, Senate, House of Reps deal with the constitution before the national conference," Ofeimun told Sahara TV on the sidelines of the 8th Pan African Congress held in Ghana.
"What that means is that we had a president while everyone was saying he was clueless, actually was very diligent in going after it. I have given a lecture on the national conference which I feel very good about. I will tell you this, if they did not start saying he was clueless, I would not have taken the pains of following the things Goodluck has done.
"He outclassed every presiding president and I would say that anywhere because in fact I have a friend, when I told him there is a brand new railway line coming from Kaduna to Abuja, he said it's a lie it never happened, but you can go there and take a photograph.
"That lie that the man was clueless and hasn't done anything in my view was a good way to fight a good election. It showed that the opposition had good propaganda weaponry but for God sake why couldn't they put that propaganda weaponry into convincing Nigerians to do what we expected," he said.
He also commended Jonathan for fighting corruption with technology.
"When you are dealing with corruption, Goodluck managed to use modern technology to remove the corruption mafia in agriculture, also to remove them in the ghost workers department in the federal service.
"The corruption that is going on in NNPC is based on the lies of people. Sanusi was about to be sacked, 18 months to that time he should have been sacked but Goodluck gave him time because Goodluck did not want to be seen as oppressing someone from the north.
Commenting on why the audit report over the allegedly missing $20 billion oil money was yet to be published, Odia said it was typical of Nigerian governments not to publish full details of report.
"This one was brought out because people we re asking for it. The point I want to make and that's question I want
everybody to ask themselves. How can you have a sitting central bank governor who cannot count? Who starts by telling you $49 billion is missing, then reduces to 29, then 10 billion dollars, then raises it to 20.
"A central bank governor who cannot count like that is a disgrace to his country and a disgrace to the position he takes," he said.
Support InfoStride News' Credible Journalism: Only credible journalism can guarantee a fair, accountable and transparent society, including democracy and government. It involves a lot of efforts and money. We need your support. Click here to Donate