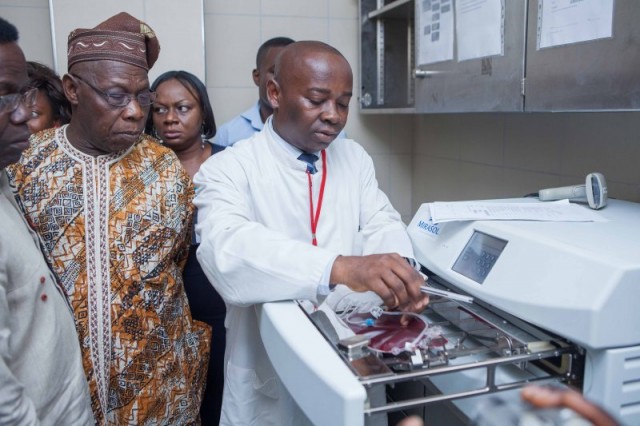 CHIEF Olusegun Obasanjo AT THE KOMFO ANOKYE TEACHING hospital (KATH) IN KUMASI, GHANA, FOR World SICKLE CELL DAY 2013
Former Nigerian President, Chief Olusegun Obasanjo has donated nine blood transfusion machines to university teaching hospitals across the country and the Sickle Cell Foundation of Nigeria.
Obasanjo, who was the guest speaker at an event marking the World Sickle Cell Day themed 'Improving blood safety in Developing nations', organised by the Olusegun Obasanjo Foundation at the Eko Hotel & Suites, Thursday, presented certificates of acquisition to Lagos-based Sickle Cell Foundation of Nigeria and eight teaching hospitals across the country.
Addressing guests at the event, the former president said that the machines would enhance safe blood transfusion for any purpose, including stemming out the menace of sickle cell disorder in the country.
"I believe that the future of the health care industry in Nigeria will be better and brighter if we can have safe blood transfusion for whatever purpose it may be used for, including the absolute cure of sickle cell disorder. I, therefore, salute and appreciate the efforts of Terumo Europe BCT industry in making these machines possible", he said.
Also speaking at the event, the Lagos State Commissioner of Health, Jide Idris, stressed the importance of blood safety for blood transfusion in Nigeria. "We are doing quite a lot in blood safety with robust sickle cell programme. We have issue like hepatitis that is more severe than sickle cell. We are ready to do more in ensure that blood is safe. We assume the foundation of government support", he said.
The hospitals presented with the certificates included the University College Hospital, Ibadan; Aminu Kano University Teaching Hospital, Kano; University of Benin Teaching Hospital; Ahmadu Bello Teaching Hospital; University of Port Harcourt Teaching Hospital; Lagos University Teaching Hospital and Sickle Cell Foundation of Nigeria.