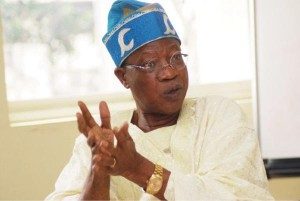 Minister of Information and Culture, Lai Mohammed has said that persons who vandalize government facilities are responsible for the poor power situation in the country.
Mohammed made the statement while speaking in Abeokuta, Ogun State capital after being named the National Grand Patron of the S'Adatul Abadiya organization, Channels TV reports.
"We are going to appeal to Nigerians to be patriotic and they should please stop attacking and destroying critical facilities. On the part of government, what we have done now is looking for other means of gas such as non-associated gas," he said.
"We have also been trucking gas from Utorogu to Warri and Ughelli so as to allow for the stations around Sapele to have gas. By February this year, we were able to generate and transmit 5,074Mw of power but we are in this situation today mainly because of the attack on the Forcados export line.
"So now we have capacity to generate but we don't have enough gas and as soon as this platform is repaired we will be able to generate and transmit more than 5,000MW. Therefore, aiming at 10,000MW for 2019 is quite feasible," he added.
Meanwhile, President Muhammadu Buhari has said that his government will deal with vandals the same way that it had dealt with Boko Haram.