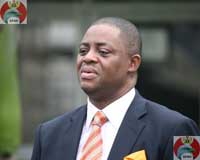 Former Minister of Aviation, Chief Femi Fani-Kayode, says he was protected by Boko Haram suspects during his detention at Kuje Prison.
He said before he was transferred to Kuje Prison, he spent more than two weeks in the underground cell of the Economic and Financial Crimes Commission (EFCC).
Fani-Kayode revealed this on Wednesday, November 16, in an article titled, 'Head bloodied but not bowed and the ascension of President-Elect Donald Trump'.
He said, "At Kuje I was kept in the terrorist wing of the prison which was built by the British government specifically for Boko Haram convicts and suspects. There were 47 of them in the facility and I was with them throughout. These were tough, disciplined, hardened, surprisingly well-educated and intimidating men.
"This was a frightful place and those that were locked up there were very dangerous and frightful people yet thankfully the Lord went ahead of me.
"The single cells, though small, were clean, well-ventilated, dry and very neat. The inmates were surprisingly very kind and friendly towards me and turned out to be my best friends and bodyguards whenever I toured the other parts of the prison.
"Most of those men were not Boko Haram killers but had been falsely accused, tortured and just dumped into prison and I felt nothing but pain and sorrow when I heard their stories."
According to him, he also met with the leader of the Indigenous Peoples of Biafra (IPOB), Nnamdi Kanu, in the prison.
He said him and Kanu, who has been in the prison for over a year, spoke for nearly three hours.
"When I went to visit the great and brilliant freedom fighter, Nnamdi Kanu, who is the leader of IPOB and easily the most courageous, powerful and credible Igbo leader in Nigeria today in his cell we had a very instructive and long discussion," the ex-minister said.
"I had never met Nnamdi before and I was amazed at his depth of knowledge, his immense courage and his deep convictions. There is no doubt in my mind that that man is going places and in him the Igbo have an Ojukwu and a Nnamdi Azikiwe all rolled into one. He is destined for greatness.
"My Boko Haram friends accompanied me to that meeting, drew a 10-man security cordon around me when we entered the general population of the prison and waited outside as Nnamdi and I spoke for almost three hours."
Fani-Kayode was released from detention on Monday, November 14, after meeting all his bail conditions.