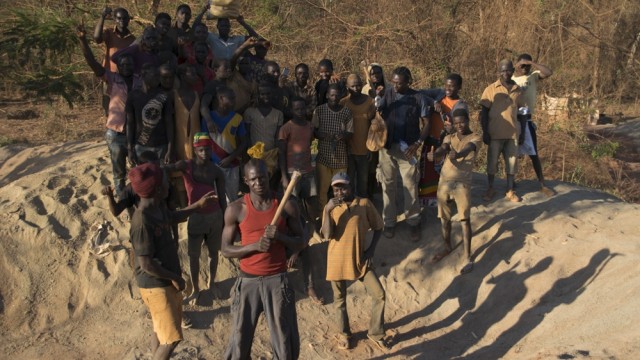 Six years ago local hunters stumbled on one of the world's largest deposit of rubies in the northern province of Mozambique, a potential source of riches for a country in which much of the population lives on less than a dollar a day.
The deposits are now being mined by a local company, Mwriti, in partnership with a British company, Gemfields, which owns the luxury Fabergé brand and prides itself on the ethical sourcing of precious stones – "completely traceable from mine to market". Their joint venture, 75 percent owned by Gemfields, controls a concession that covers 340 square kilometres of land and promises to be hugely profitable.
But disturbing allegations have emerged that threaten to cast a dark shadow over the project.
For this episode of Africa Investigates, Mozambican journalist Estacio Valoi joined forces with award-winning filmmaker Callum Macrae to find out more.
---
FILMMAKER'S VIEW
By Callum Macrae
Last month a great Mozambican journalist, Estacio Valoi, and I were led a short distance from a small village in Cabo Delgado Province, past mango trees and children playing football, to the village burial ground.
There, standing by two recent graves, we were told a terrible story by two grieving fathers. They claimed that earlier this year their sons had been shot dead by members of the Mozambique police's Rapid Intervention Force. They also said that they were so scared of the consequences should they complain that they had taken their bodies and buried them, quietly, without even telling the authorities.
It was a shocking illustration of the tragic and unexpected consequences of a discovery which – just six years ago – many hoped could transform the lives of local people and bring desperately needed development and prosperity to this region.
It all began in 2009 when a local man found a small red stone in the ground. Within three years it was clear that these remote forests contained a treasure of huge value – perhaps the largest deposit of rubies in the world. By 2012 a new partnership, 25 percent owned by a local company and 75 percent owned by British mining operation called Gemfields, had been granted a concession to mine 340 square kilometers of land.
So here is the story as it is perceived internationally: The mine has already been a great success and shows even greater promise. Before actual production has got underway – they are still in a stage known as "bulk sampling" – Gemfields has sold rubies from this mine for a total of $120m in international auctions. It has also made many pledges of social and corporate responsibility, including a pledge to commit at least 1 percent of gross sales from the ruby mine to fund "local social and environmental projects".
And it has used their professed commitment to the ethical sourcing of gems as a key part of their marketing strategy – producing several promotional videos featuring their "global ambassador", Hollywood star Mila Kunis, as what Gemfields CEO Ian Harebottle describes as "our face of ethical gemstones".
But as Estacio and I travelled and filmed in the concession area – talking to the people who live there and hearing their stories – it became clear this was not the way the locals see it. For them, the issue is clear-cut. They have always regarded this land as their own. When rubies were discovered in it, they wanted a share of that wealth. As things stand, the legal position is unambiguous. Only the company has the legal right to mine the area and anyone who takes rubies from its concession without permission is breaking the law. But locals say they've seen few, if any, of the promised benefits from the company or from the bounty beneath their feet.
Against this background, then, it is perhaps not surprising that many hundreds of local people have started illegally digging (along with hundreds of migrant workers from neighbouring countries) within the concession area in an attempt to find some of the ruby red wealth which they feel has so far been denied them. This illicit mining has created tension, which in turn has led to conflict and thus to allegations that local security forces, including Mozambican police officers and private security companies, have been using excessive force, including beatings and shootings, to protect the assets of the legal mine owners.
But, significantly, those allegations have now been echoed by the local chief prosecutor, Montepuez's Attorney General, Pompilio Xavier Wazamguia. He told us that he knew of 18 deaths by shooting since 2009 – most of which, he said, could be linked to security forces guarding the mine.
Some locals we spoke to claimed the figures were even higher. Certainly the two grieving fathers we met by that village graveside believe their sons are among that hitherto uncounted number.
There are, of course, at least two sides to this story, different perceptions of who is entitled to what, who is right and who is wrong. But, internationally at least, only one version of that story has been heard until now. This film lets you see more of the picture.
Note
Gemfields CEO Ian Harebottle was interviewed for this film and was given an opportunity to fully respond to the issues it raises. However, after the film was completed and a few hours before its first transmission on Al Jazeera, the company sent a further statement to the producers. In the interest of fairness we have included three points from that statement.
The first deals with Gemfields' further response to allegations that security forces protecting its concession area in Mozambique had been involved in violence. The company denied any association with the group known as the 'Nacatanas' and said:
"Government security personnel are not managed or directed by the Company and have been sent to the area to safeguard national interests. Gemfields does not sanction or condone acts of violence. The Company's Human Rights and Security policy requires operational leaders to inculcate a zero tolerance approach to physical, sexual, racial, religious, psychological, verbal, mental or any other form of harassment, threat or abuse whether manifested in behaviour, language, writing or gesture by our employees or contractors. All of the Company's employees undergo human rights and conflict resolution training, designed and carried out by independent international experts."
Its statement also referred back to a point made to Ian Harebottle, Gemfields CEO, by filmmaker Callum Macrae during the interview, who told him: "A huge gulf exists between the Company's promises and the local community's expectations. Everyone interviewed felt Gemfields should be doing more and felt betrayed by the Company. This was echoed by three community chiefs, including that of the Nsewe village."
The company's statement said: "Gemfields is highly disappointed with this allegation and suggests the interviewees would seem to be manipulating the facts. It can be categorically stated that no individual promises were made to any of the individual chiefs or villages. However, in compliance with Mozambican legislation and as part of the ongoing process with respect to exploration, project development and community interaction, various consultative work sessions (including independent third-party baseline studies) have been held with the people and leaders of each of the various villagers. During these meetings the various component parts of the mining process as well as their individual and collective rights were explained to the people in detail. It was also explained that agreed community projects could only be initiated post discussions and direction from the National Government."
Finally Gemfields said it "called into question" statements made to the producers by Montepuez's chief prosecutor, Attorney General Pompilio Xavier Wazamguia, about the criminal conviction of security personnel engaged in protecting its concession area. It said it knew only of two guards who had been accused of violence or shooting, and that both of these had been questioned by the police and found innocent.
[Al Jazeera]
Support InfoStride News' Credible Journalism: Only credible journalism can guarantee a fair, accountable and transparent society, including democracy and government. It involves a lot of efforts and money. We need your support. Click here to Donate