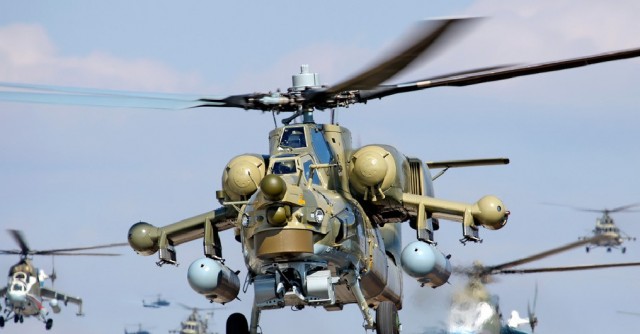 In its determination to rid the North-East and parts of the North-West of Boko Haram insurgents and eliminate terrorism, the Federal Government has ordered 40 attack and transport helicopters from the United States of America and Russia for the Nigerian Air Force.
It was learnt that the attack helicopters ordered would arrive in the country as early as next month while the remaining "will be received certainly before the end of the year to boost the Nigerian Air Force".
Reliable sources in the Presidency, which made the revelation said that "The arrival of the weaponry before the end of the year will be a game changer as it will help to ensure successful execution of the counter-terrorism and counter-insurgency operations, especially against the Boko Haram terrorists.
"Some military and other security forces are currently frustrated about their inability to storm the notorious Sambisa Forest where Boko Haram militants are keeping the abducted Chibok secondary school girls and also serving as operational headquarters of the group.
"The reason, according to the findings, is that security operatives are not only aware of the locations of the girls but are also closely monitoring the way that the girls are being moved around but are afraid of the backlash should any harm befall the girls in the course of a forced rescue".
Also confirming the planned purchase, a top security source, who pleaded for anonymity noted: "Past incidences during attempts to rescue British and Italian nationals in Sokoto and SETRACO workers which boomerang are the reasons that the security forces have been reluctant in storming the forest and rescuing the girls.
"I wish we could have a consensus of opinion from Nigerians that we should storm the forest and rescue the girls. The day Nigerians decide on that with one voice, to clear the forest will take less than one week".
Already, Security Forces have succeeded in smoking out cattle rustlers from Zamfara, Kaduna, Jigawa and part of Bauchi States. "These have been completely eliminated", the source added.
The source stated further noted that although terrorism like any asymmetric wars have proven to be difficult to combat anywhere in the world, "the Nigerian security forces would have found it easier to deal with it, had there not been politicisation of the issue".
According to a source within the Office of National Security Adviser (ONSA), these choppers also include night vision technology to enable soldiers monitor and take out the terrorists who move mainly under the cover of night to carry out their dastardly acts.
The source added: "In fact, we now have the latest aircraft for surveillance and intelligence gathering. More of these weapons are on their way but these (helicopters) are for urgent purposes. I can assure you that more equipment are coming; serious ones".