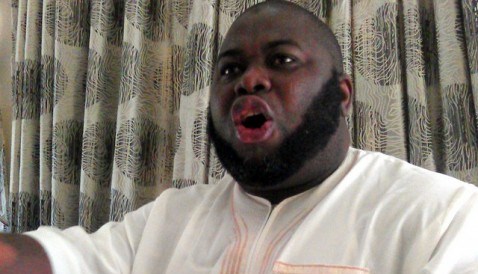 Ex-militant and leader of the defunct Niger-Delta People's Volunteer Force, Alhaji Mujahedeen Asari Dokubo has flayed the recent statement attributed to the First Lady, Dame Patience Jonathan that she is solidly behind Supervising Minister of Education, Nyesom Wike's quest to govern Rivers State come 2015.
Asari-Dokubo warned that any attempt to impose Wike on the people of Rivers State would adversely affect the political fortunes of President Goodluck Jonathan and the Peoples Democratic Party.
"To make Wike a governor in Rivers State in 2015 is not morally right. All the fellows endorsing him for whatever reason should know that it will injure PDP, it will injure Goodluck Jonathan. If Goodluck's name is brought into it, that he is in support of the perpetuation of an Ikwere hegemony in Rivers State, which is not right by population, which is not right under any calculation, it will injure him and PDP". Dokubo warned in a recent chat with Leadership.
The First Lady had in reaction to a media report that she had withdrawn her support for the minister as well as planning to install three governors in the 2015 general elections, declared her total support for Wike and reaffirmed his position as leader of PDP in Rivers.
Mrs. Jonathan in a statement through her media aide, Ayo Adewuyi said, "In the case of Rivers State, the First Lady wishes to state categorically that the Supervising Minister of Education, Chief Nyesom Wike, is the leader of PDP in Rivers State and he enjoys the followership of the people of the State. The First Lady is solidly behind Chief Wike.
"The people of Rivers State are also solidly behind Chief Wike and are prepared to follow him. It is therefore mischievous to insinuate that Mrs Jonathan is working to ensure that the governorship candidate comes from one of the riverine areas of Rivers State which may not be where the people are going.
"It is also imperative to state that the First Lady is always with the people and will continue to go with the wish and expectations of the people. Mrs Jonathan has not withdrawn her support for Chief Wike at any time and will always work for the interest and the good of Rivers people. As far as the First Lady is concerned, there is NO SHAKING in Rivers State".
But Dokubo countered the first lady, saying Wike cannot become the next governor of the state.
According to him, an Ikwerre man has no business in Rivers Government House in 2015, adding that it would amount to political suicide for PDP to field Wike, an Ikwerre man, in the next polls.
"As far as we all know, there are three ethnic clusters in Rivers State: the Ijaws, the Igbos (Ikwerre is part of the Igbo cluster) and the Ogonis. After Bayelsa was excised from Rivers State, the Igbos have ruled for many years. Odili was an Idoni Igbo; he ruled for eight years. Omehia/Amaechi, who are also Ikwerres, by 2015 would have ruled for more than eight years, making over 16 years", he explained.
Asari-Dokubo insisted that it is impossible for an Ikwerre man to succeed Governor Rotimi Amaechi who is also of that ethnic stock.
His words: "It is morally wrong for any anybody to say that Igbo cluster should produce the next governor in 2015. I am an Igbo man also, by virtue of my origin, and so I am not against the Ikwerre people or against the Igbo. I repeat, I am an Igbo man; I can narrow it down: I have Ikwerre blood flowing in my veins.
"Having said that, the next cluster are the Ijaws, made up of the Kalabaris, the Obolo and Ibani people, the Wakrike; Okirika is just one town in Wakrike, Ukoro and others. These people have produced a governor. In terms of local government spread, they are in 11 local government areas out of the 23 local government areas; the Igbos are spread in eight and the Ogonis in four local government areas.
"In terms of population, when you remove the cosmopolitan population of Port Harcourt and Obiakpor, which is about 80 per cent of the population, is non-indigenous of those local governments. That is old non-Rivers indigenes and Rivers indigenes, who are not indigenes of Port Harcourt and Obiakpor local governments. If you remove those populations, the Ijaws are the majority as a single block.
"When you look at that, for somebody to say another Ikwerre man should become governor is wrong. Yes, constitutionally, he has a right to aspire, everybody is free to aspire, but it is not moral, it is not right. Something can be legally right but it might not be morally right", he added.
Support InfoStride News' Credible Journalism: Only credible journalism can guarantee a fair, accountable and transparent society, including democracy and government. It involves a lot of efforts and money. We need your support. Click here to Donate