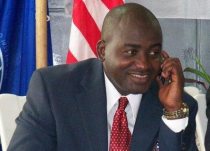 Hassan Musah Bility has been re-elected president of the Liberia Football Association for a second term.
Bility, who has headed the body since March 2010 saw his mandate extended at the Association's Elective Congress on Saturday, 22 March 2014 in Buchanan, third largest city in the West African country.
He was retained unopposed at the congress attended by 51 of the 54 representative bodies.
Musa H. Shannon was also re-elected 1st Vice President, Cassell A. Kuoh – 2nd Vice President and Ciata Bishop – Female representative on the Executive Committee.
Other elected members of the Executive Committee are Ansu Dulleh, Wallace G. Weiah, Samuel Y. Karn, Sheba Brown, Rochell G.D. Woodson, John Allan Klayee, Matthew P. Smith, Dee-Maxwell Kemeyah and Urias Glaybo.
CAF 2nd Vice President, Almamy Kabele Camara observed proceedings just as Sampon Kablan, FIFA Development Officer for West Africa.
Confederation of African Football (CAF) News