Report from Federal Civil Service Commission.
The Chairman, Federal Civil Service Commission (FCSC), Deaconess Joan O. Ayo has paid tribute to the founding fathers of Public Service for working hard to build up the Civil Service.
Dns. Ayo stated this in her welcome address at the 60th anniversary celebration of the Public Service Commission held recently in Abuja.
He noted that the essence of the celebration was to show-case the founding fathers for their achievement pointing out that these founding fathers like Chief Phillips Asiodu, Alh. Adamu Fika and others who played significant role in the life of the nation as top civil servants. She specifically noted that top civil servants like Phillips Asiodu took up the duty of keeping the nation together at a time when there was confusion in the country as a result of leadership vacuum after a military coup in the 60s.
Bringing the founding fathers to the celebration she said, was to enable civil servants decide if they were ready to go the way these quality civil servants had gone in the discharge of their duties.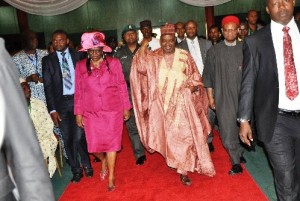 The Chairman urged civil servants to uphold the core values of the service especially meritocracy and political neutrality which were highlighted at various conferences that produced the Public Service Commission and also enshrined in the 1960 constitution.
While speaking along same line, the President of the Senate, David Mark urged civil servants to maintain its core values pointing out that as a body, it is professionally strategic to the effective execution of government policies. He assured that the National Assembly would always support the Federal Civil Service Commission through the appropriate over sighting committee.
In his goodwill message, Governor Theodore Orji of Abia State described the Civil Service as the engine room of Government and enjoined civil servants to be disciplined and upright.
The Celebration with the theme, "Civil Service Core Values: The Sine qua- non for National Development" featured lectures and discussions on the evolution of the Civil Service. Notable among the lecturers was Professor Costantinos B. F. Costatinos, a Professor of Public Policy, School of Graduate studies, College of Business and Economics, from Ethiopia. He was represented by Prof. Richard Levin, Secretary, African Association of Public Service Commission (AAPScom).